Investor Focus on AI Stocks for Growth
Artificial intelligence has been thrust back into the spotlight following ChatGPT's debut, a chatbot that quickly captured public attention. For investors, AI companies are back in the spotlight following a multi-year hiatus when cryptocurrencies were seen as the next investment opportunity.
As with any technological breakthrough, profit potential drives investment, perhaps at a rate only outmatched by the speed at which these technologies are advancing. Since gaining widespread attention back in November with the launch of GPT-3.5, Microsoft stock is up more than 17% versus a modest gain of 1% in the S&P 500.
Riding the Artificial Intelligence Wave: Top 3 Stocks to Watch in April
We are looking at three AI stocks that are well positioned to take advantage of the AI hype:
Baidu Inc. (BIDU)
Alteryx Inc. (AYX)
Alphabet Inc. (GOOGL)
1) Baidu (BIDU) and its Ernie Bot
The Chinese-based search engine company Baidu (BIDU) is the front-running contender to go up against its overseas OpenAI rival. Baidu's chatbot, named Ernie bot, was launched on March 16 by the company's CEO, displaying a wide range of functionality in a pre-recorded presentation. While investors initially punished the lack of live presentations, the hype around the product remains, with early testers reporting positive results.
So, can Baidu's Ernie bot pose a formidable rival to ChatGPT. Ernie is so far punching below its weight against its American counterpart. However, that gap may quickly close as competitors rush to develop a viable alternative. If a live presentation of Ernie comes in April, investors will likely reward the company with a higher stock price, assuming it impresses. Still, concerns about China's stricter regulatory environment and concern of government censorship may continue to temper optimism around Baidu's AI future.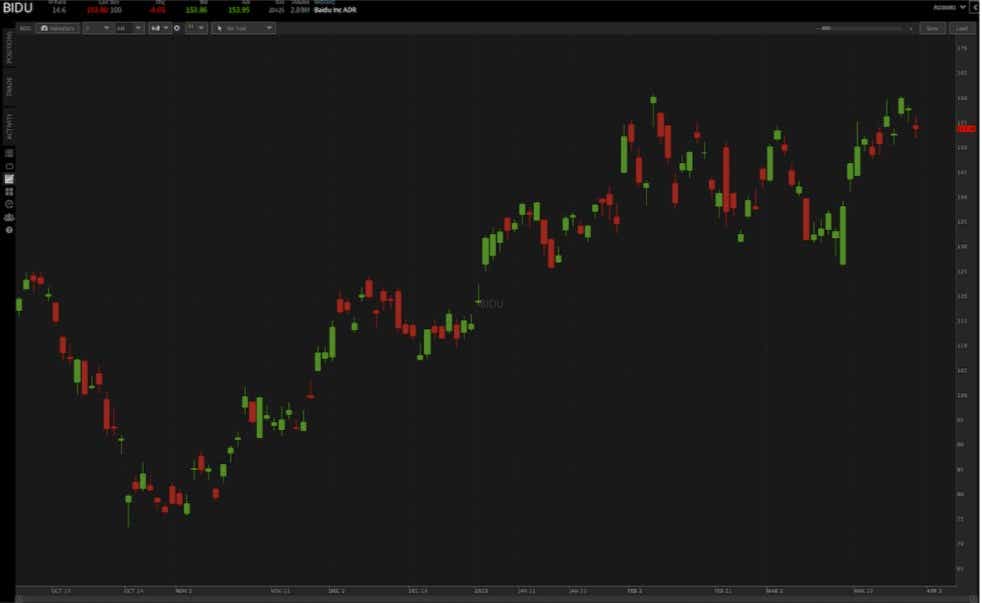 2) Alteryx (AYX) and its Datasets
Already a growth stock prospect before ChatGPT entrance, Alteryx (AYX) looks poised to take advantage of the AI gold rush. The data analytics services company provides a suite of services, with software solutions including graphs, visualizations, trends, and other data-driven information from various sources to inform business decisions and drive automation processes.
As the appetite for data likely increases exponentially alongside developing AI technologies, Alteryx may satisfy that hunger as CEO Mark Anderson recently reaffirmed the company's commitment to focus on data analytics. After a nearly 14% pullback in March, investors may see a buying opportunity in April.
3) Google (GOOGL) and Anthropic
Terrified of losing its top spot as a data-driven search engine company, Alphabet—Google's parent company—in February, announced a "code red" following ChatGPT's newly found acclaim. While Google is three years behind Microsoft's $1 billion investment in OpenAI, the code red led to a $300 million investment in Anthropic, an AI startup that was utilizing some Google services. The investment translates to about a 10% stake in the company and comes with a cloud computing contract, according to the Financial Times.
Investors treated Google well in March, pushing the stock price nearly 12% higher following a 9.58% decline in February when the investment hit the news wires. Anthropic must close some ground to catch up to its Microsoft-backed rival, but that is very possible with the backing of a powerhouse like Google. The public debut of Claude, Anthropic's so-far publicly unreleased chatbot, may boost the stock price when the time comes, but a clear timeline hasn't been released.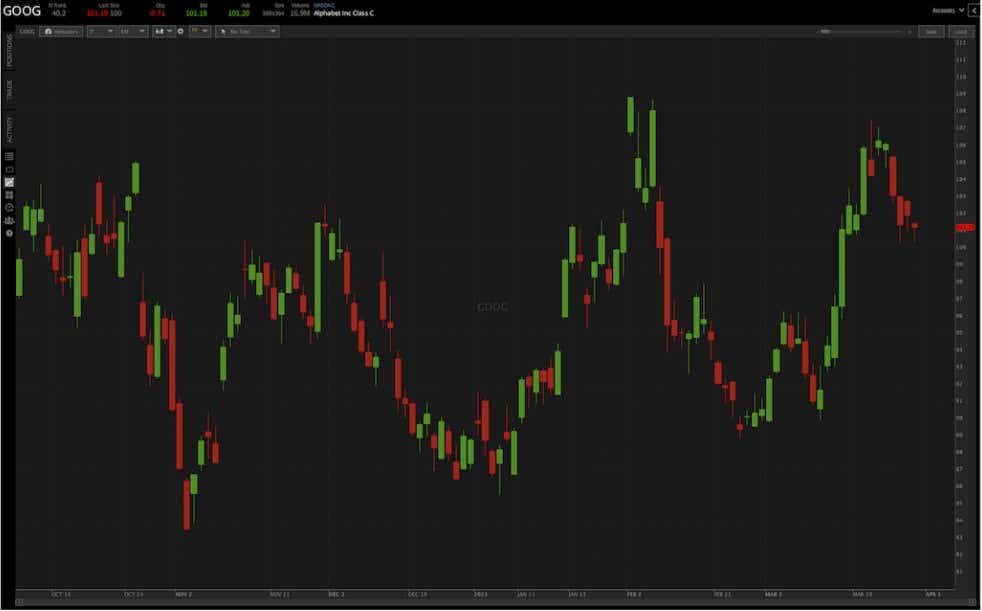 Current Landscape Favors Established Companies Versus Startups
Overall, we must consider what will enable companies to best leverage their current resources to develop generative AI abilities. These primarily come down to two things: capital and data. Capital is required to invest in this cost-intensive endeavor, which requires a highly skilled team of workers, immense computing power, and substantial energy requirements. A large amount of data is needed to inform and improve the AI models and algos. These data and capital requirements favor companies that are already well-established and funded, such as Microsoft. While not impossible for a startup to bust into the space, any company that does so will likely be quickly acquired and consolidated.