The stocks that the internet chat rooms are buzzing about, semiconductors, banking stocks, Chinese stocks, and more.
Palantir Tech is getting a lot of attention because it's an AI stock, but one analyst likes it and another doesn't.
Chinese stocks with relatively low implied volatility are still expected to move more than the S&P 500.
Late-night TV ads aside, I lean toward buying stocks in gold companies, as opposed to physical gold.
We looked for the stocks generating the most buzz in the chat rooms. Below is what we found.
SoFi (SOFI) was launched in 2011 as a student loan refinancing company. Investors are discussing the expiration of the student loan payment moratorium as a positive for the firm. Prices reflect that and the stock is up considerably over the past few months.
Palantir Tech (PLTR) specializes in big data analytics, and there's talk that its AI innovations through large language models will provide extra growth potential. Bank of America raised its price target on the stock, while Raymond James downgraded it. Its IV Rank is high—so no matter what opinion you hold, there's a potential options play.
In all of the tables, we've made comparisons against the S&P 500 (SPY).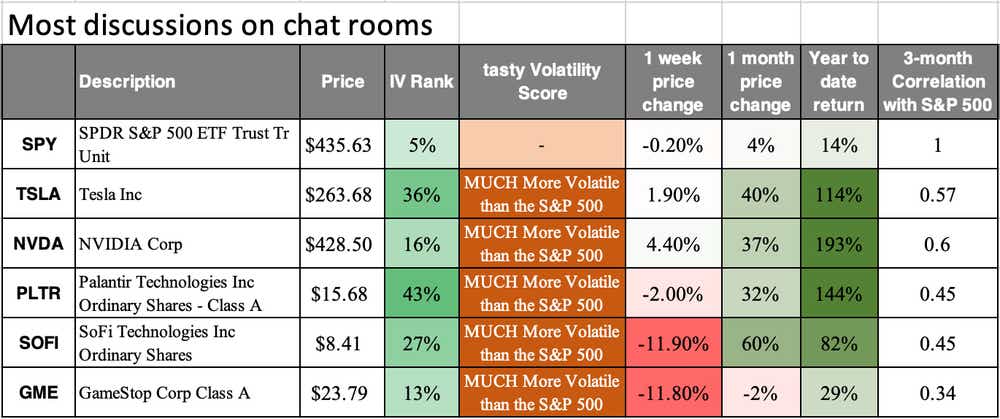 The Chinese stocks below have a relatively low implied volatility rank (IV rank), but their expected movement is considerably greater than the S&P 500.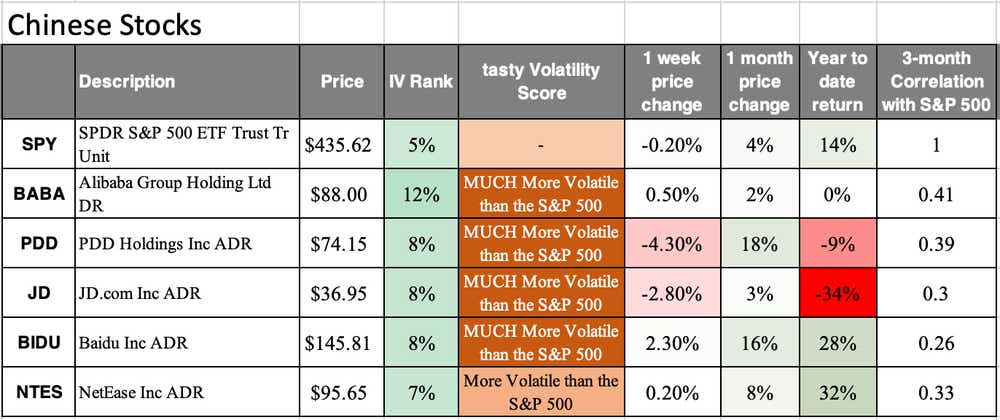 A friend once told me to buy utility stocks, and eventually the dividend will cover the utility bill. Let's use Duke Energy (DUK) as an example.
Duke pays a 4.38% dividend—roughly equivalent to $1.00 per share—four times per year.
Let's do the math to figure out how much stock you will need to cover a $100 per month bill:
Yearly bill = $100/month x 12 months = $1,200 required per year.
$1,200 / ($1 x 4) = 300 shares.
Those 300 shares x $92.06 last price = $27,618 worth of Duke to cover a $100 a month bill.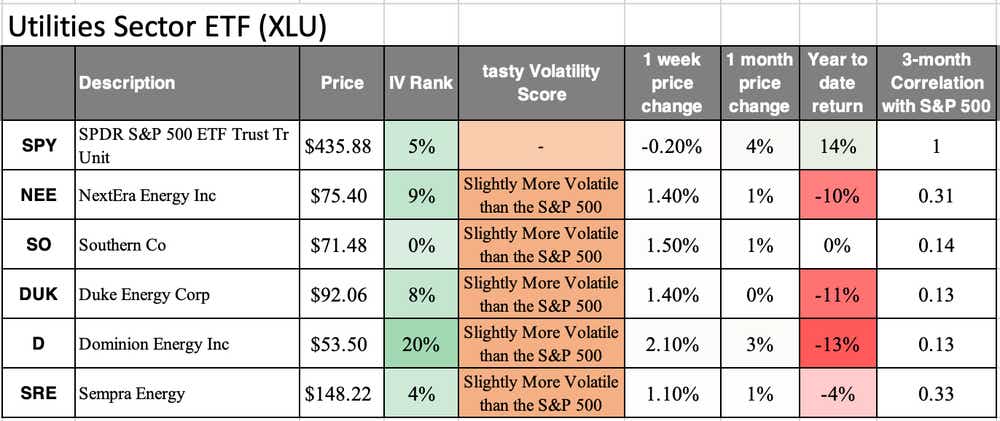 Remember when energy was the best-performing sector? Yeah, not so much now.
Intel (INTC) has the highest IV ranks of the bunch. NVIDIA (NVDA) has the love of "The Street" right now.
Late-night television talking heads beseech viewers to invest in gold. In general, I tend to lean toward purchasing stocks in gold companies, as opposed to buying physical gold or Gold (GLD). Alternatively, the bullish strategy of selling puts also appeals to me. Part of my hesitance to invest directly in gold stems from an unfortunate incident 20 years ago when I misplaced a gold coin, an event that still irks me to this day.
Banking stocks aren't doing too well.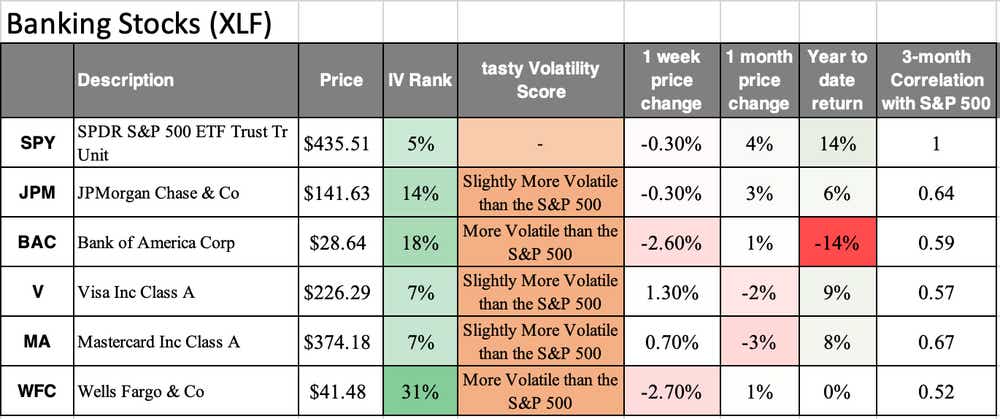 Below are the five largest components of the Dow compared to the S&P 500 (SPY).
Microsoft
(MSFT) and
McDonald's
(MCD) are doing pretty well.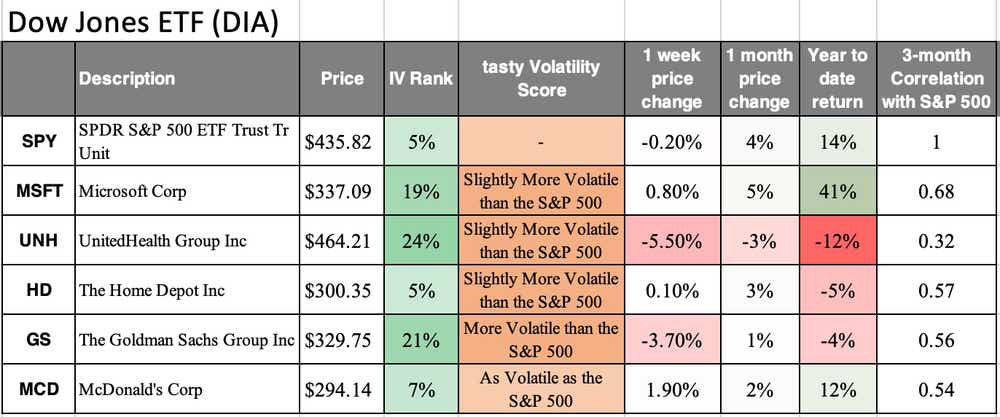 Healthcare (XLV) has not seen the bounce the rest of the stocks are seeing. Here are a list of some of the popular drugs Eli Lilly (LLY) makes: Forteo, BAQSIMI, Basaglar, Glucagon, Glyxambi, Jardiance, Jentadueto, Jentadueto XR, Synjardy, Synjardy XR, Trajenta, Trijardy XR, Prozac, Cymbalta, Zyprexa, Humalog and Trulicity.
Is coming up with drug names a job title? Why are they so difficult to pronounce?

Michael Rechenthin (aka "Dr. Data"), managing director of Research and Development, has 25 years of trading expertise and markets experience. He's best known for his weekly Cherry Picks newsletter. On Thursdays, he appears on Trades from the Research Team LIVE. 
Sign up here to receive Cherry Picks every Tuesday.
For live daily programming, market news and commentary visit tastylive or the YouTube channels tastylive (for options traders), and tastyliveTrending for stocks, futures, forex & macro.
Trade with a better broker, open a tastytrade account today. tastylive, Inc. and tastytrade, Inc. are separate but affiliated companies.