Corn Prices Steady After Big Drop
Corn futures (/ZC) are trading slightly lower on Friday, steadying from a sharp Thursday selloff when the grain dropped 21 cents (-3.37%). That move brought prices below a critical support level from early March. The July 2022 low may be threatened if the downward trend since mid-April continues.
Strong Planting Season Drags Prices Lower
Several factors are weighing on corn this marketing season, with supply and demand factors in play. On the supply side, above-average progress on corn planting due to optimal weather conditions across much of the United States has buoyed optimism for a bountiful harvest later this year. According to data from the U.S. Department of Agriculture (USDA), the corn crop was 14% planted as of April 23. That compares to an 11% average for the 2018-2022 seasons.

Weak Exports Another Cause for Concern
U.S. corn exports are underwhelming, and analysts don't expect a rebound to occur. Orders from China—a historically heavy U.S. corn importer—have been lighter than in prior years as relations worsened between Washington and Beijing. Export data from the USDA shows a nearly 40% drop in accumulated exports for the week ending April 20 compared to the same period a year ago.
Brazil's corn crop has done remarkably well so far in the marketing year. The USDA estimates a record harvest of 22.7 million hectares (mha), which would be 4% higher than last year and with a total yield that is 3% higher over the same period. China will likely source more corn from Brazil after they canceled several orders for U.S. corn over the last several weeks.

Corn Bulls Capitulate Despite Prices at Multi-Year Lows
Money managers flipped to a net short position on corn for the week ending April 25, according to Friday's Commitments of Traders Report (COT) from the CFTC. From the week before, money managers added 34k short positions and dropped 30k long positions. The factors discussed above likely played a role in the subdued sentiment among these speculative-type traders.
Corn Technical Chart Shows Prices Oversold
According to the Relative Strength Index (RSI) for corn futures, prices are in oversold territory—denoted by the lower red bar at the 30 level. The oversold conditions don't necessarily mean prices are due for a rebound. Instead, longs may wait for the indicator to make a cross back above the 30 level before positioning to take advantage of a rebound. If an upward trend manages to develop in that case, the 20-day Simple Moving Average (SMA) may offer a target, but such a move would likely see several intermediate pullbacks on the way.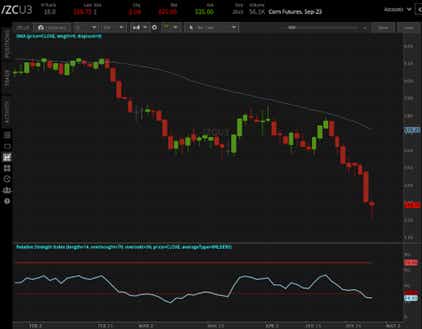 INFORMATION All BELOW
Corn: Net sales of 400,000 MT for 2022/2023 were up 28 percent from the previous week, but down 49 percent from the prior 4-week average. Increases primarily for Japan (177,200 MT, including 111,500 MT switched from unknown destinations and decreases of 900 MT), Mexico (141,200 MT, including 26,000 MT switched from unknown destinations and decreases of 10,400 MT), Colombia (110,400 MT, including 89,700 MT switched from unknown destinations and decreases of 36,200 MT), Peru (77,500 MT, including 26,000 MT switched from unknown destinations and decreases of 400 MT), and Venezuela (13,000 MT), were offset by reductions for China (64,300 MT), unknown destinations (54,700 MT), and El Salvador (48,600 MT). Exports of 1,076,300 MT were down 17 percent from the previous week, but up 7 percent from the prior 4-week average. The destinations were primarily to Japan (342,600 MT), Mexico (256,900 MT), China (141,700 MT), Colombia (90,700 MT), and Peru (72,100 MT). https://apps.fas.usda.gov/export-sales/highlite.htm