Stocks slide as the U.S. credit rating is downgraded from AAA to AA+
Fitch Ratings surprised markets on Tuesday night with an unexpected downgrade of the U.S. credit rating.
Citing expected fiscal deterioration and a high and growing general government debt burden, the U.S. credit rating was cut to 'AA+'.
Initially, U.S. equities declined modestly while U.S. Treasury bonds held steady. Gold rallied, as did the U.S. dollar.
After the U.S. avoided defaulting on its debt in June, no credit rating agencies made any significant announcements - that is until yesterday.


Fitch Ratings announced that it was downgrading the U.S. credit rating from 'AAA' to 'AA+', citing "the expected fiscal deterioration over the next three years, a high and growing general government debt burden, and the erosion of governance … over the last two decades that has manifested in repeated debt limit standoffs and last-minute resolutions."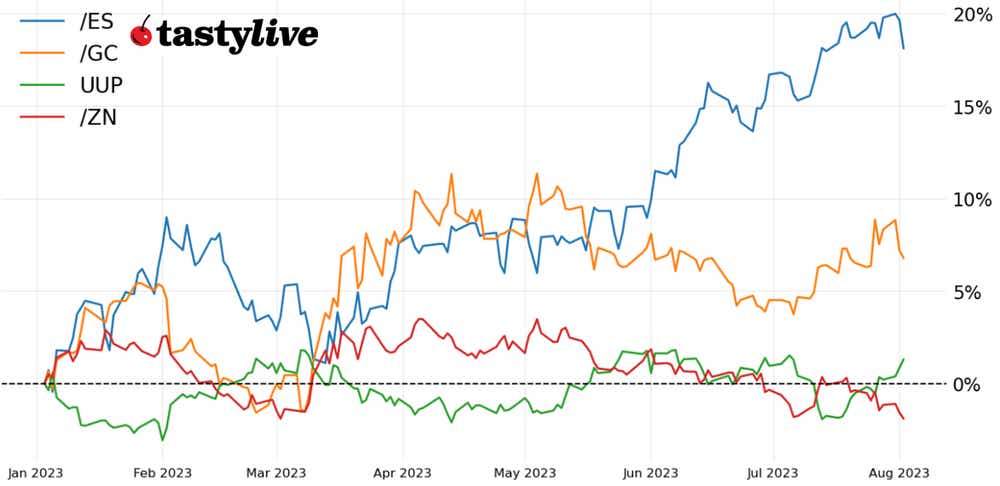 What do the ratings mean?
According to Fitch Ratings, here are the criteria for credit ratings:
They are forward-looking opinions on the relative ability of an entity or obligation to meet financial commitments.
Credit ratings are indications of the likelihood of repayment in accordance with the terms of the issuance.
Fitch's credit rating scale for issuers and issues is expressed using the categories 'AAA' to 'BBB' (investment grade) and 'BB' to 'D' (speculative grade) with an additional +/- for AA through CCC levels indicating relative differences of probability of default or recovery for issues.
The terms "investment grade" and "speculative grade" are market conventions and do not imply any recommendation or endorsement of a specific security for investment purposes.
Investment grade categories indicate relatively low to moderate credit risk, while ratings in the speculative categories signal either a higher level of credit risk or that a default has already occurred.
Why should traders care?
U.S. equities initially fell on the news in overnight futures markets, and gold rallied. U.S. Treasury bonds and the U.S. dollar rallied as well. Traders levied their vote and decided that this news was more negative for general risk appetite rather than something that would drag down US-centric and USD-denominated assets.
The initial reactions pale in comparison to the carnage that was unleashed on markets in August 2011, when S&P Global Ratings downgraded the U.S. credit rating from 'AAA' to 'AA+', which yielded four consecutive days of +/-5% swings in stocks. Since the Fitch Ratings announcement,
U.S. equity futures were down less than -1% today prior to the release of the July U.S. ADP Employment Change report (which provoked a spike in U.S. Treasury yields and a bigger pullback in U.S. equities).
What happens next?
The timing of the U.S. credit rating downgrade comes against a backdrop of complacency in markets. In last week's and this week's episode of Let Me Explain, we discussed how the seasonal tendency for volatility to rise in August and September could be a headwind for stocks, which may be due for a period of corrective price action.
Certainly, the price action shaping up today is starting to undercut what has been a reliably bullish trend in stocks for the past three months; further technical damage would warrant an immediate reassessment of the near-term outlook, with more downside becoming increasingly likely in E-mini S&P 500 futures (/ES), E-Mini Nasdaq futures (/NQ), E-mini Russell 2000 futures (/RTY) and E-mini Dow $5 Futures and Options (/YM).

Christopher Vecchio, CFA, tastylive's head of futures and forex, has been trading for nearly 20 years. He has consulted with multi-national firms on FX hedging and lectured at Duke Law School on FX derivatives. Vecchio searches for high-convexity opportunities at the crossroads of macroeconomics and global politics. He hosts Futures Power Hour Monday-Friday and Let Me Explain on Tuesdays, and co-hosts Overtime, Monday-Thursday. @cvecchiofx 
For live daily programming, market news and commentary, visit tastylive or the YouTube channels tastylive (for options traders), and tastyliveTrending for stocks, futures, forex & macro.
Trade with a better broker, open a tastytrade account today. tastylive, Inc. and tastytrade, Inc. are separate but affiliated companies.