Where is the Dow?
Two weeks ago, we observed the Dow as it was selling off after having hit the upper channel range boundary. Since then, the market has continued to press upward. Last week the Dow retested the 32,900 level and pressed through.  
The Dow is currently sitting at 33,769, about 700 points above the channel that has formed in 2022. However, this price level comes after nearly four weeks of rallying in the Dow. Although buyers pushed us above the channel, there seems to be less steam than there was in late October.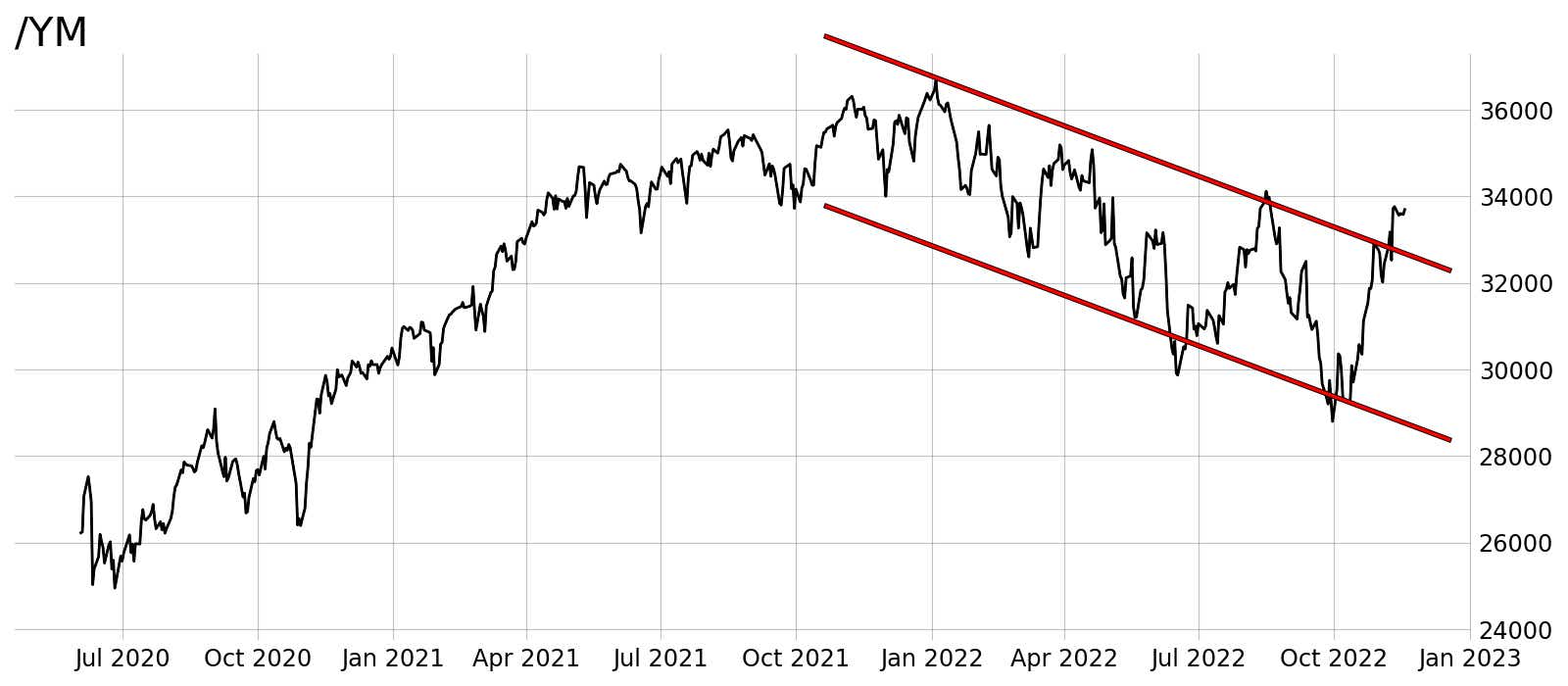 Where Is the Dow Going Now?
Buyers have made a statement since our last update. Sellers tried to take control last week but were unable to overcome buying pressure. This week, we are finally seeing some weakness from buyers, above our channel, around the 33,600 price level. 
This week, the Dow has been moving sideways in a tight range between 33,250 and 34,000. This tells us that buyers and sellers have somewhat agreed upon price recently. Tight ranges in price action tend to lead to breakouts, either to the upside or the downside.  
Sellers are sensing weakness from buyers, and sellers want to take price back down into our channel, back to the status quo that has persisted through 2022. For that reason, it is likely that price will test the upper channel range around 32,690.  
If that test happens, sellers will find out if our current breakout is a false breakout or if that market wants to continue its bullish moves. Buyers will need to prove that this breakout is real if they want to stay above the channel range. 
What's Moving the Market?
It is important to remember that next week we will have a shortened trading week due to the Thanksgiving holiday in the United States. Historically, we experience less trading volume during a shortened trading week or weeks with market holidays. 
For that reason, it is likely that we will not see aggressive market movements next week. It is more likely that the market moves in orderly patterns that respect known support and resistance levels. 
This is an opportunity to sell premium going into an extended period without trading. However, next week is already priced in and premium will come out of the market quickly if it hasn't already. 
Based on current price action and how far we've come since 2022 lows, it seems that we are in for a quiet week ahead. The last week of November will give us insight into how the Dow will trade for the rest of 2022 and the holiday season ahead.