Cardano (ADA) Explained
Cardano, the sixth largest crypto asset by market cap, is now available to trade on tastytrade. Here's what you should know.
Cardano (ADA) is one of the many smart contract networks competing with Ethereum, second in size only to Solana. It was created by Ethereum co-founder Charles Hoskinson in 2017 and while similar in nature, Cardano aims to improve against the existing version of the Ethereum network, through its proof-of-stake consensus protocol named Ouroboros.
All blockchains use a consensus mechanism to validate transactions and ensure network security, but not all networks use the same mechanism. The two most common are proof-of-work (PoW) and proof-of-stake (PoS). We will dive into the more technical details of consensus mechanisms in a future post, but in simple terms, PoW is arguably more secure, but less scalable, while PoS is viewed as more scalable.
The scalability of Cardano's PoS consensus is evident in the number of transactions per second that can be processed compared to PoW. This is one of the main differences between Cardano and both Bitcoin and Ethereum, though in fairness, Ethereum is currently in the process of upgrading to ETH 2.0 which will also use a PoS consensus mechanism.
In addition to using a PoS consensus mechanism, Cardano is working towards improving network interoperability so it can interact with other blockchains, seamlessly moving assets across various protocols. Another factor leading to its rise as one of the top ten crypto assets by market cap.
Trading Cardano
Now, an asset's fundamentals are important to understand when evaluating opportunities, but at this stage in the cycle, the majority of crypto assets are all positively correlated to one another. This will likely change as the market matures, but for now, cryptos tend to trade together directionally, with the volatility levels of individual assets being the main differentiator.
To get a better sense of this, let's look at how Cardano stacks up against both Ethereum and Bitcoin, as well as more traditional investments.
Cardano (ADA) Market Cap
Cardano is the 6th largest crypto by market cap. At $50 billion in value, it is just behind Solana ($65B) and ahead of Ripple ($44B). Of the crypto assets currently available to trade on the tastytrade platform, it ranks 3rd, behind Bitcoin and Ethereum.
Cardano Correlations
As you might expect given its similarities, Cardano has shown a fairly strong positive correlation to both bitcoin and ethereum over the past 3 months. Though compared to traditional assets such as gold, the S&P500, the dollar, or oil, there has been little to no correlation across price performance.
Cardano Volatility
Cardano is positively correlated to other crypto assets, but its token price has exhibited more volatility over the past year, compared to ethereum and bitcoin.

Cardano Performance
Cardano's positive correlation and higher volatility relative to ETH and BTC can also be observed when analyzing its relative and absolute returns.

Finally, Cardano has experienced a significant underperformance recently, but buying ADA against BTC or ETH on a 1-year basis has outperformed as both the BTC-ADA and BTC-ETH spreads have tightened on a Y/Y basis.

BTC-ADA Spread (1Y)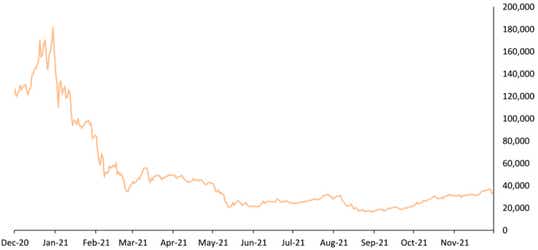 ETH ADA Spread (1Y)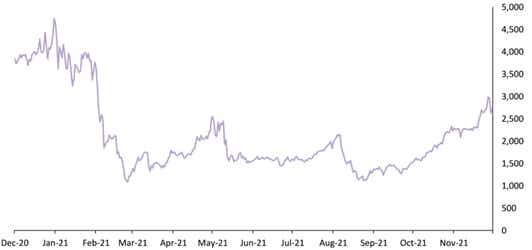 To trade Cardano (ADA) on the tastytrade platform, locate it on either the crypto watchlist or within tastycrypto on the Trade page.
Want more Cardano content? Don't miss Crypto Regulation & the Future of Finance with Cardano founder Charles Hoskinson and tastylive Co-CEO Tom Sosnoff.