As Elon Musk and Mark Zuckerberg battle in the App store and trade barbs online, here's a META-TSLA pairs trade to consider
Elon Musk and Mark Zuckerberg may not be taking their animosity to an actual octagon to fight for billionaire supremacy, but they're definitely taking their fight to the App Store. Instagram's Threads is a direct competitor to Twitter and it's generating buzz and millions of downloads. But how did we get here, and why does the internet feel increasingly broken these days? 
What is Threads?
Instagram's Thread app (META), a text-based social media platform slated to be a "Twitter Killer," is now available in more than 100 countries. As of this writing, the app has attracted more than 30 million downloads. For reference, the hottest AI tech to hit the open markets, ChatGPT, took five days to reach 1 million users; Threads did that in an hour. The app was released Wednesday July 5, a day earlier than scheduled, probably due to Twitter's self-inflicted glitchiness over the Fourth of July (more on that later). The standalone app enables users to sign up instantly from their Instagram accounts and to import their contacts, photos and videos with the press of a button. Given Meta's worldwide dominance, that's 2 billion (with a B) potential monthly active users right out of the gate that already have Instagram. 
Zuckerberg, who has not tweeted in a decade, posted the Spiderman meme as a nudge, nudge, wink, wink to his followers. Does this count as imminent internet domain? Zuckerberg wrote in his first Thread, "It'll take some time, but I think there should be a public conversations app with 1 billion+ people on it. Twitter has had the opportunity to do this but hasn't nailed it. Hopefully we will." Musk then drolly responded, "It is infinitely preferable to be attacked by strangers on Twitter, than indulge in the false happiness of hide-the-pain Instagram." Y'all, this is the whackest trash talk I have ever heard in my life. Where are the yo mama jokes? Your app is so unstable, it just got its own show on Bravo. 

Posts on Threads can be 500 characters long, compared to the 280 character limit for standard users on Twitter, and Threads allows for uploads of high-quality videos. Threads doesn't have a tiered user system like Twitter Blue where users who pay a monthly subscription get additional app benefits. Also, there are no ads on Threads. Unlike the random ads that often appear in your Twitter feed. Zuckerberg said monetization isn't a pressing issue for him until the site garners 1 billion users.
As of the writing of this blog, Threads has already generated more than 95 million posts from 30 million users.
What's Threads Like?
I downloaded Threads last night from the Apple app store and the process was seamless. You keep your same Instagram handle, but you have the ability to change your bio and the links on your page. If you're verified on Instagram, your blue check will carry over to Threads. The Threads feed is a chaotic, convoluted amalgamation of cultural zeitgeist, joie de vivre and maybe some schadenfreude? Okay, how many languages did I just use to try to explain Threads? Unlike Twitter, however, you do not have separate feeds for people you follow and people the app thinks you should follow. This was confusing to me at first because I'm seeing posts and I have no idea who these people are. It was like watching a reality show with my mom. "Who is that?" or "Is that the girl from that thing, with that other dude?" But Threads doesn't have to make sense Honey. It's VIBES. And I will say, the vibes are immaculate. Threads is a campy, good time. My feed is mainly (this is true) famous animals, sassy gay men and motorcycle content.  But you can't search for hashtags, you can't edit Threads and you don't have any control over whose posts you see. 
For 2023, the app feels very 2010. Threads head (hee, hee) Adam Mosseri says those changes are on the way, but the app just feels unfinished.  Also, buried in the Terms & Conditions you'll note that if you ever want to leave Zuckerberg's baby you have to nuke your entire Instagram profile to do so. 
But forget T&C, man! The vibes. Threads is full of people having fun dunking on Elon, being as openly liberal, disabled, LGBTQ+ and extra as possible. A flagrantly provocative response to Musk and Twitter where verified users with sometimes offensive posts get pushed to the top of the replies simply because they paid $8. 
What happened to Twitter?
Over the Fourth of July holiday weekend, Twitter put a limit on the number of tweets users can see each day. Verified accounts can now read 6,000 posts per day, unverified accounts 600 posts and new un-verified accounts 300 posts. After that, users will get a message that says, "rate limit exceeded." Musk added that those limits would be increasing, but that caps had been put in place to, "address extreme levels of data scraping and system manipulation". 
But internet sleuths are pointing to Musk's miserly nature as the true cause of Twitter's rate-limiting. In 2018, Twitter signed a $1 billion dollar contract with Google to host some of its services on the company's Google Cloud servers. Some media report that Twitter didn't want to renew the contract on June 30, but that it was not wholly able to move all of its services off of Google's teat, I mean infrastructure, thus resulting in rate limits for all users.
You don't have to have a Wharton degree to know that kicking users off your platform after a certain amount of time is bad news for advertisers. What if slot machines had rate limits? Or strippers? Sorry Bill, you've reached your nipple limit. Hit the bricks. This is not a good business model—advertisers need for people to be addicted to things. Look at America's unnatural addiction to Taco Bell's Mexican Pizza. Twitter is already reportedly worth a third of what Musk paid for it. So where does that leave us? 
A more-divided internet 
Perhaps Threads feels so full of zest and joy because the internet in 2023 is weird. Everything is paywalled. Google searches that normally supplied content from Reddit and Twitter are clunky and awkward as both sites are dealing with API battles. Twitter was rightfully the free, open public square. But now, not even the president is not allowed to talk to social media companies? Twitter was never perfect, but it did serve as an important touchstone to learn about emergencies, political upheaval and who got voted off The Masked Singer in a convivial atmosphere. But now, it's unstable and unreliable. The Dutch government said Twitter is not suited for emergency communications. You know how bad you have to be to piss off the Dutch? That's pretty bad. 
What's the play?

Meta's volatility is more jacked than a billionaire training for a Jiu-Jitsu match, and Meta's volatility expanded 6% in just five days. The VIX (VIX) is also up over 14% today, but I like my underlyings the way I like my men—rich. Meta's got a 35.9 IV Rank, and Meta's current price is higher than it's been in the previous 17 months and It's outperforming the broader market.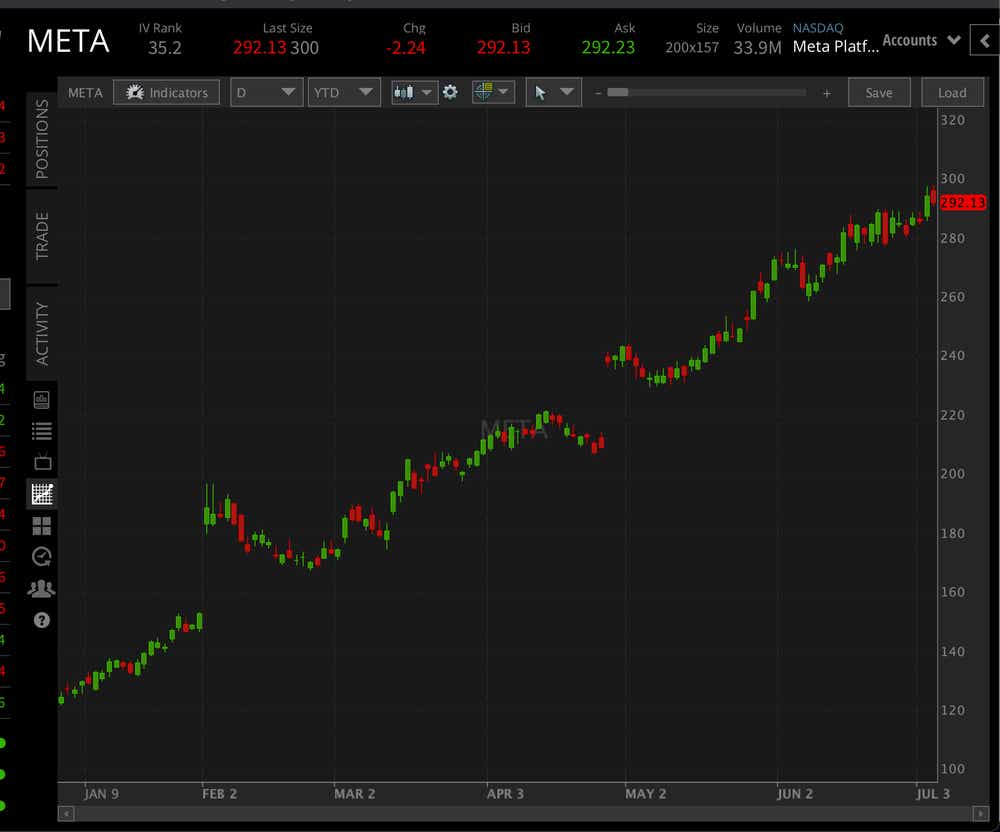 META's OTM calls are trading over equidistant OTM puts, indicating that the market sees risk to the upside. There's a ton of short premium strategies here that you could take advantage of. If you really wanted to pit two tech titans against each other, do a pairs trade and go long Meta (META) and short Tesla (TSLA).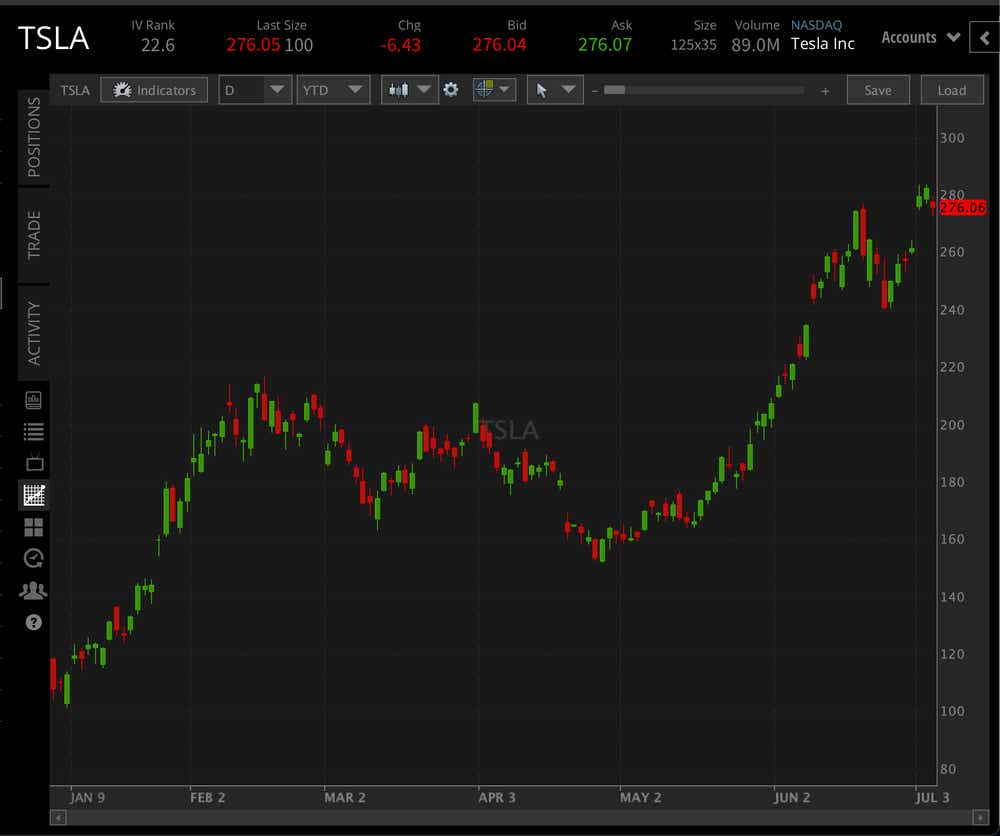 Tesla has an IV Rank of 22.8 and its OTM calls are also trading over equidistant OTM puts, indicating that the market sees risk to the upside. 

Jermal Chandler of Engineering the Trade recommended the following: 
Place a calendar put spread in TSLA. Buy the Aug 250 put and sell the Jul 250 put. In META buy the Aug 330 call and sell the July 330. META has earnings on July 26 after the close and TSLA has earnings on July 19.

You can download Threads from the Apple and Android app stores. 
Vonetta Logan has more than a decade of markets experience and has been a trader for five years. She is an on-air personality, creative writer and news correspondent at tastylive. She appears Monday-Friday on Daily Dose and contributes to Luckbox magazine. @vonettalogan
For live daily programming, market news and commentary, visit tastylive or the YouTube channels tastylive (for options traders), and tastyliveTrending for stocks, futures, forex & macro.
Trade with a better broker, open a tastytrade account today. tastylive, Inc. and tastytrade, Inc. are separate but affiliated companies.
Image generated with Midjourney.