Hawkish guidance from Fed Chair Jerome Powell may pour cold water on stock markets cheering amid fading worries about the banking crisis and the US debt limit while the central bank ends its rate-hike streak.
S&P 500 soars as tail risks cool, FOMC ends back-to-back rate hike streak
Priced-in 1- to 2-year disinflation path implying slowing economic growth
Hawkish testimony from Fed Chair Powell might put markets on defense
Wall Street cheers as tail risks fade, Fed ends rate hike streak
The bulls have been out in force on Wall Street. The bellwether S&P 500 stock index is pace to give June 2023 the strongest performance in five months with a rise of nearly 5 percent. More potently still, the rally broke close to a year of stubborn consolidation, pushing prices to the highest since April 2022.
At surface level, the chipper mood seems understandable.
The banking crisis that broke out with the collapse of Silicon Valley Bank (SVB) in early March and rumbled on into the first half of April seems to be in remission – at least for now. Tellingly, Treasury yields have mostly returned to pre-crisis levels, yet measures of credit stress are at their lows for the year.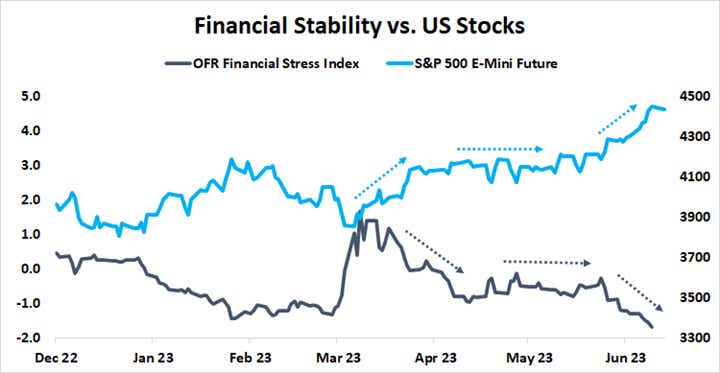 Data Source: Bloomberg
Next, the markets seemed to conclude at the start of May that – ongoing fire and fury in Washington, DC notwithstanding – the debt ceiling debacle would end without major incident. That this was not confirmed until month-end did not matter: US stocks, rates, and the Dollar rose in tandem for three weeks before the just-in-time deal got done.
The Fed's decision not to raise interest rates at the June policy meeting – ending a cycle of ten consecutive increases – appears as the cherry atop this bullish sundae. That this stoppage came with hawkish rhetoric which is still seen translating into a hike later this year seems to have left the symbolism entirely untarnished.
The stock market rally may be self-defeating
It is from here that the vulnerabilities in the bullish argument begin to emerge.
Inflation expectations priced into the market envision rapid disinflation to just above the Fed's 2 percent target within two years, with the bulk of the drop – a move below 2.5 percent – happening within the next 12 months. Using the latest CPI data as benchmark, that would amount to nearly halving the 4 percent rate recorded in May.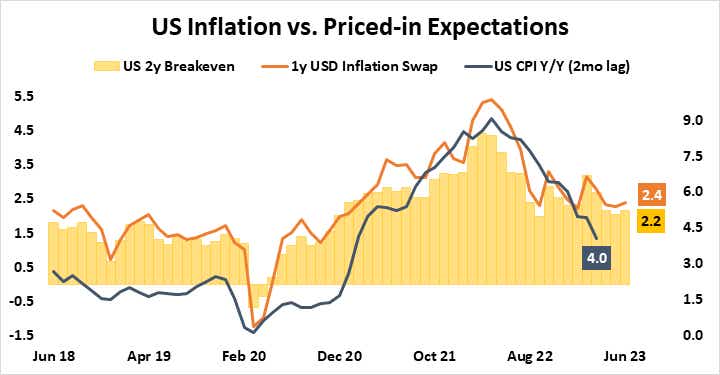 Data Source: Bloomberg
Where does such a drop in price growth come from? Probably not from improving supply chain efficiency much further. Seaborne shipping costs have dropped to pre-pandemic levels. Growth in the cost of moving goods through the production process has slowed to pre-pandemic levels or lower. For intermediate goods, they fell in April and May.
If not from the supply side, this disinflation must come from demand. Put simply, economic growth must slow such that inflation cools with it. If stock market optimism is to be taken at face value, it follows that investors expect this to be relatively benign – the proverbial "soft landing".
This might prove self-defeating. Rising assets are a form of credit easing because they can be used as collateral for borrowing, which feeds prices and pulls the Fed off course. Market-implied inflation bets have tellingly risen even as rate cut expectations fell away in recent weeks. This may demand more hawkish action than has been penciled in already.
With that in mind, all eyes turn to Fed Chair Jerome Powell as he sits for semi-annual testimony to Congress. A feisty outing where the central bank chief hammers home the point that returning to the inflation target will require a significant degree of economic pain and that policymakers find this acceptable may give equity buyers cause for pause.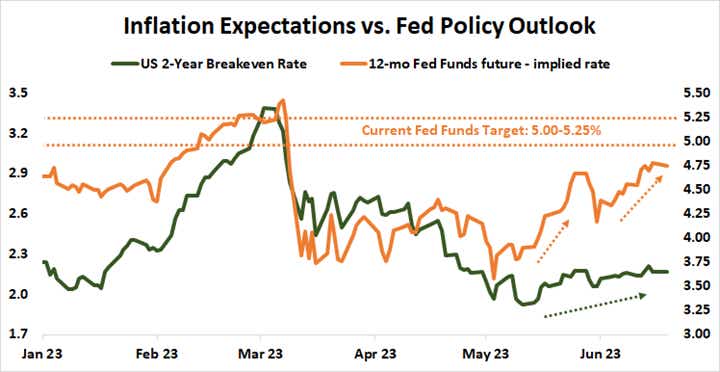 Data source: Bloomberg
Ilya Spivak is the Head of Global Macro at tastylive, where he hosts Macro Money every week, Monday-Thursday.