A look at tastytrade's options trading tracker and order chains feature
tastytrade's Order Chains feature tracks your options trades automatically to keep track of overall P/L after adjusting strikes or expirations.
Replace your options trading journal or spreadsheet with the Order Chains view \on your positions page.
View linked orders in six different timeframes, ranging from intra-day to a full year.
As an active options trader, I'm frequently adjusting my strikes and expirations so that I have control over my risk exposure, extrinsic value and much more.
When I first started trading, I used to keep track of options trades in a spreadsheet that was cumbersome. I already spent enough time figuring out trades, but I felt like it was a necessary evil to keep track of results. I also kept a trading journal.

When I heard tastytrade was releasing an options tracking feature that would keep track of trades, the average cost basis for both debit and credit positions, and overall profit or loss, I was over the moon! The feature pulls in transactions related to the opening trade for options trades and can look back on six different timeframes, from intra-day to a full year.
This feature has saved me a ton of time over the years, and it's one of the most powerful tools an options trader can ask for on any platform. Let's dive into the example of Tesla (TSLA) to show how it works.
Order chains example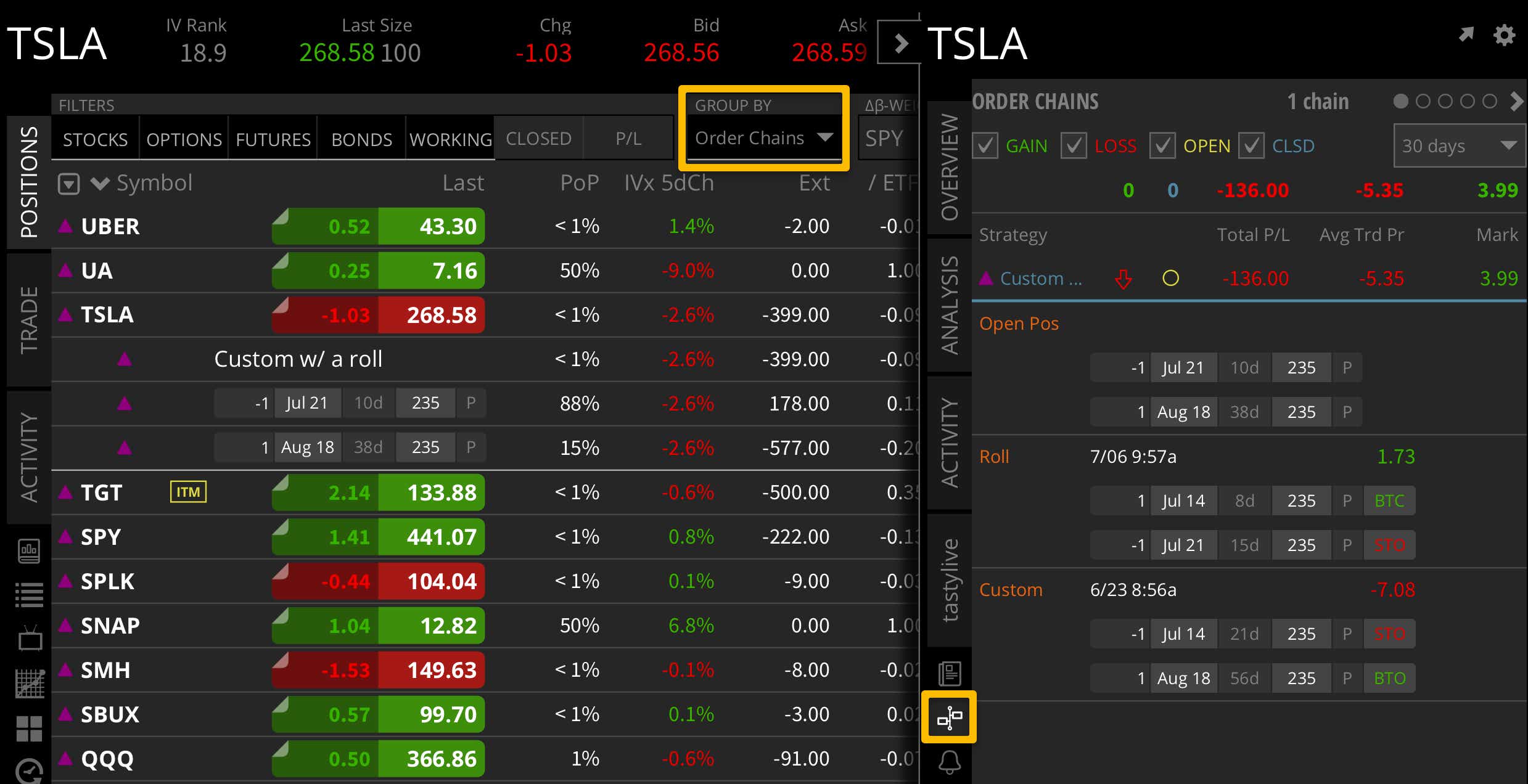 When looking at the positions tab on tastytrade, you can change your trade groupings from "Symbol" or "Custom" to "Order Chains" to pull in your total P/L from trade adjustments. To see your strike adjustments from start to finish, pop out the arrow in the upper right corner of the platform and navigate to the Order Chains tab highlighted in the image above.
Along the top row, you can see the following headers:
Total P/L: Total Profit/Loss—the current profit or loss of the position including all adjustments.
Avg Trd Pr: Average Trade Price—the total credit or debit for the overall position, including all adjustments. A red number is a debit trade, and a green number is a credit trade.
Mark: The current value of the position.
You can see additional trade information by clicking the arrow in the upper right corner, but this first page is the default.
As you can see from my opening position on the Order Chains tab, I opened a put calendar spread at the 235 strike in TSLA on June 23, 2023. My short strike had an expiration of July 14, and my long strike had an expiration of August 18. The total debit cost for this put calendar spread was $7.08.
When I adjusted the trade on July 6, I bought back the 235 July 14 put and sold the 235 July 21 put for a net credit of $1.73. This was my only rolling transaction on this trade so far, and this credit of $1.73 reduced my cost basis from $7.08 to $5.35 which is reflected in the "Avg Trd Pr."
My open position or "Open Pos" is listed as the current open position that I would see on my positions tab—I own the Aug. 18 235 put, and I'm short the July 21 235 put. This current position is trading for $3.99, which you can see under the "mark" price, and this is $1.36 less than my net debit paid on the position of $5.35.
Options trade tracking by position

One important aspect of this feature is that in most other platforms, once you roll a trade, your P/L will reset, and your trade will look new. The Order Chains grouping feature allows you to see the NET P/L on the position as a whole, so it will match up with the Order Chains P/L, even if the "raw" position is worth a completely different value.
The raw value of my current position pictured above is $1,143 ($1,347-204), but the Order Chains grouping allows me to see my net cost basis of $535 and how that weighs against the current "mark" or "net liq" (net liquidating value) of the position. This gives me my net P/L, and without the Order Chains feature I'd have a tough time knowing where I stand on the trade after the roll adjustment.
The Order Trades feature allows me to focus on other things and ditch the tracking spreadsheet or trading journal.
Learn more about the Order Chains feature on the tastytrade platform
Sign up for a live interactive platform demo here!

Mike Butler tastylive director of market intelligence, has been in the markets and trading for a decade. He appears on Options Trading Concepts Live, airing Monday-Friday. @tradermikeyb

For live daily programming, market news and commentary, visit tastylive or the YouTube channels tastylive (for options traders), and tastyliveTrending for stocks, futures, forex & macro.
Trade with a better broker, open a tastytrade account today. tastylive, Inc. and tastytrade, Inc. are separate but affiliated companies.