The People's Bank of China managed to pause the yuan's plunge but deeper trouble looms, promising more pain ahead
Chinese yuan selloff pauses at 10-month low as the PBOC steps up defensive efforts.
Depreciation reflects rate cuts meant to reboot growth, underpin property market.
No gain, all pain from the yuan's decline as officials struggle and China-linked assets fall.
The Chinese yuan has paused for a breather after a five-day losing streak that pushed it to the lowest since November 2022 against the U.S. dollar. The respite comes after the People's Bank of China (PBOC) stepped up efforts to counter weakness by setting the daily exchange rate "fix" at a stronger level than the markets expected.
China's foreign exchange (FX) management system is a complex web with multiple currency benchmarks. The on-shore USD/CNY spot rate used to transact within the mainland economy is allowed to trade in a band of +/- 2% around a daily "fixing" rate defined by the China Foreign Exchange Trade System (CFETS), an arm of the central bank. This is distinct from the USD/CNH offshore exchange rate transacted out of Hong Kong, which is allowed to float freely.
The spread between the actual fixing rate announced by officials and expectations for what it will be at major banks polled by Bloomberg has widened dramatically, showing the central bank is trying to signal to the markets that it intends to push back on the selloff. Appropriately enough, the gap is the widest since USD/CNY last traded at comparable levels.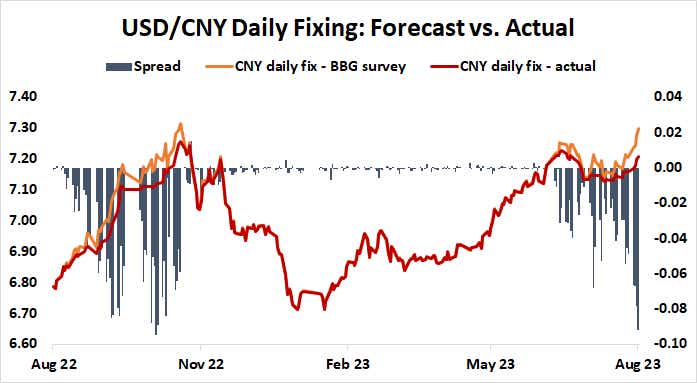 Fighting yuan weakness sets the PBOC against itself
These PBOC efforts amount to managing the fallout from its own actions. Earlier this month, it surprised markets with another round of interest rate cuts, reducing its 7-day and one-year lending benchmarks by 10 and 15 basis points (bps) respectively. That was meant to help the flagging economy still struggling to reboot after emerging from zero-COVID lockdowns in December.
Officials also hope to arrest weakness in the beaten-down property market. Price growth has been slowing since mid-2019. Home values have been outright falling since April 2022. Data from Bloomberg shows that – after a brief pop just after the reopening—less than 30% of Chinese cities now report house price gains. That means they are falling across most of the property market. Worries about a default at Country Garden (CTRYF), one of the country's biggest developers, have captured headlines. It missed a bond payment of a meager $22.5 million on August 6.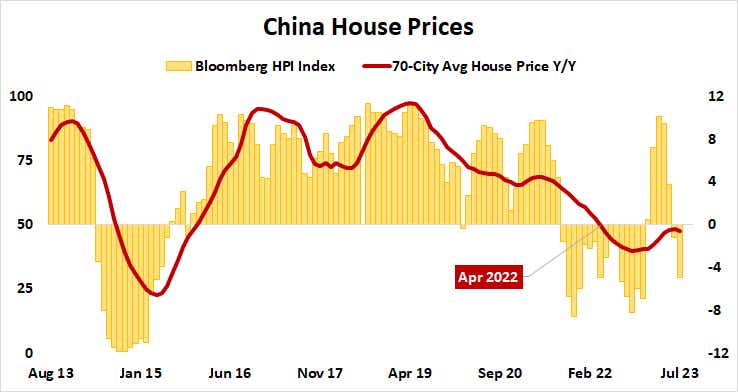 Chinese officials are struggling to manage a tricky policy path. So far, stimulus measures have proven insufficient to revive growth or stop the bleeding in the property sector. Official borrowing data showed new loans fell to the lowest level since April 2022 in July. A Citigroup (C) measure of financial conditions shows that despite the PBOC's efforts, credit flows are no freer than they've been since the beginning of the year. The markets price in more easing to come.
A cheaper yuan: all pain, no gain
That is likely to put further pressure on the yuan even as the typical benefit of a cheaper currency—a boost to exports—has not materialized and seems unlikely to appear in earnest.
China's belated move to remove COVID-era restrictions has meant that it reopened for business nearly 18 months after its main customers in the U.S. and Europe. By then, those markets were making strides toward diversification away from China-dependent supply chains. They'd also worked down the demand pop linked to their own emergence from lockdowns and much of the stimulus money still burning a hole in consumers' pockets.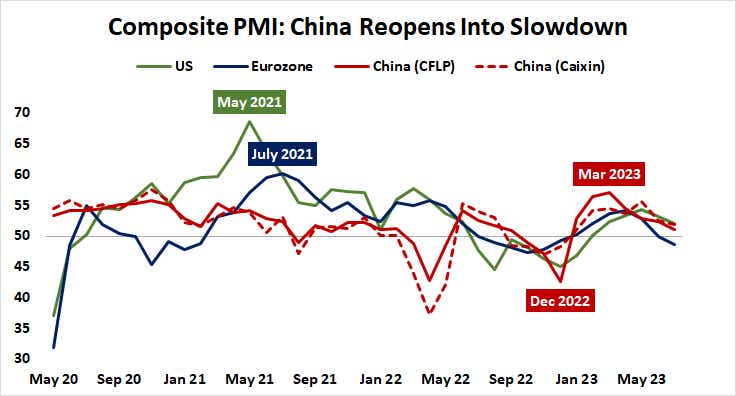 Growth was further cooled by combative central banks' rush to raise interest rates to tamp down inflation, with the Federal Reserve at the forefront. More the same seems likely, at least in the US. Minutes from July's meeting of the policy setting FOMC committee struck a decidedly hawkish tone, as expected. That stands to underpin the U.S. dollar, compounding pressure on the yuan.
Meanwhile, the weaker currency undermines Chinese consumers' purchasing power of imported goods. This is most critical for food, which makes up close to 20% of the typical household's consumption mix according to Bloomberg.
The country's dependence on foreign food has dramatically increased over the past two decades. It has been a net importer of agricultural products since 2004. The South China Morning Post reports that it produced 65.8% of the food that it consumed in 2020, down from 93.6% in 2000.
Lackluster demand at home and abroad, a crisis in the property market that commands an outsized part of the economy—from employing a large swathe of the labor force to dominating investment portfolios—and the prospect of ever-rising food prices make for a toxic mix. It portends ongoing trouble for a host of China-sensitive assets, from ETFs tracking local stock markets like FXI and ASHR to commodities like copper and currencies like the Australian dollar.
Ilya Spivak, tastylive head of global macro, has 15 years of experience in trading strategy, and he specializes in identifying thematic moves in currencies, commodities, interest rates and equities. He hosts Macro Money and co-hosts Overtime, Monday-Thursday. @Ilyaspivak
For live daily programming, market news and commentary, visit tastylive or the YouTube channels tastylive (for options traders), and tastyliveTrending for stocks, futures, forex & macro.
Trade with a better broker, open a tastytrade account today. tastylive, Inc. and tastytrade, Inc. are separate but affiliated companies.