Political prediction markets suggest Trump was the winner and Ramaswamy the loser, with Haley and DeSantis holding their own
Former President Trump apparently made the right call. He skipped the GOP presidential debate last night and rose two points in this morning's prediction markets.
Before the debate at the Ronald Reagan library in Simi Valley, California, Luckbox reviewed PredictIt's GOP Presidential Nominee market to see where the candidates stood among those willing to put money on the line.
On PredictIt, Trump traded at 72 cents, far ahead of his rivals. Nikki Haley, former South Carolina governor and one-time United Nations ambassador, was second at 11 cents.
In prediction market parlance, where binary options assign real-time pricing to various election and political outcomes, there is an implied correlation between the (1¢-99¢) "price" a candidate trades at and the probability of that specific outcome.
In other words, before the GOP debate, prediction market traders had assigned a 72% probability that Trump will be the eventual GOP nominee.
Also, pre-debate, Florida Gov. Ron DeSantis and entrepreneur Vivek Ramaswamy were tied at 9 cents. Former New Jersey Gov. Chris Christie was at 4, while Sen. Tim Scott of South Carolina and former Vice President Mike Pence were tied at 2 cents each.
At 4 cents, Virginia Gov. Glenn Youngkin—not a declared candidate—ranked equal to or higher than Christie, Scott and Pence.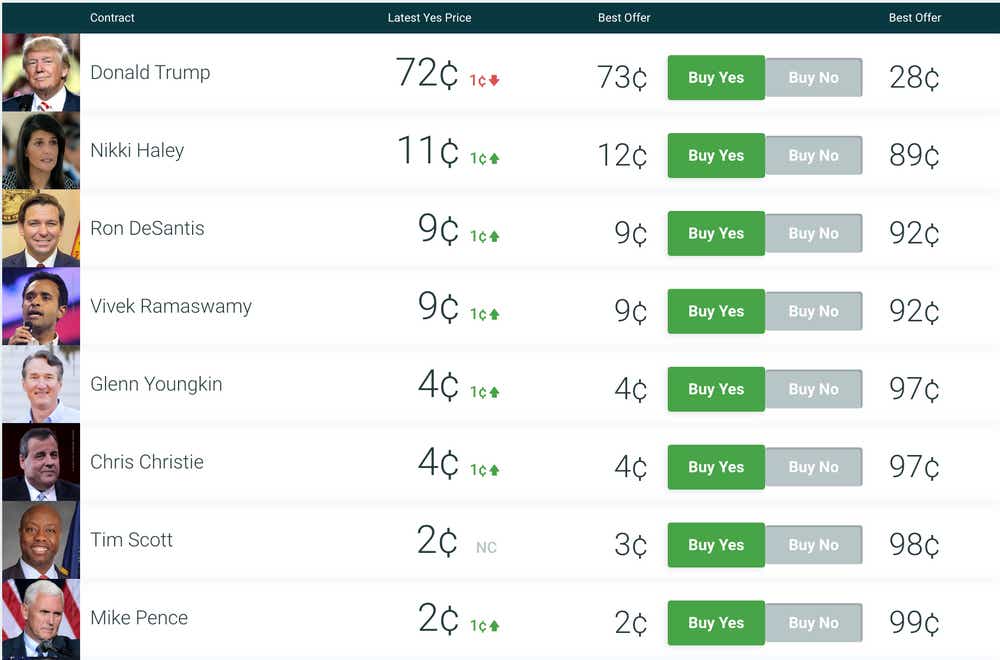 The PredictIt website enables users to bet on the outcomes of political events, including elections. In 2014, the Commodity Futures Trading Commission (CFTC) issued a no-action letter to the New Zealand-based website, which allowed the company to operate without having to register as a futures exchange.
However, in 2022, the CFTC withdrew the no-action letter, arguing that PredictIt had violated the terms of the letter by offering bets on events that were not related to commodities and ordered it to shut down. As of July 21, 2023, the Fifth Circuit Court of Appeals awarded PredictIt an injunction to continue operations under exemptive relief while the court reviews the case. 
Elsewhere, Trump, who leads by 42.2 points, according to RealClearPolitics, which showed DeSantis with an aggregate polling average at 14.4%, Haley with 5.8% and Ramaswamy at 5.1%.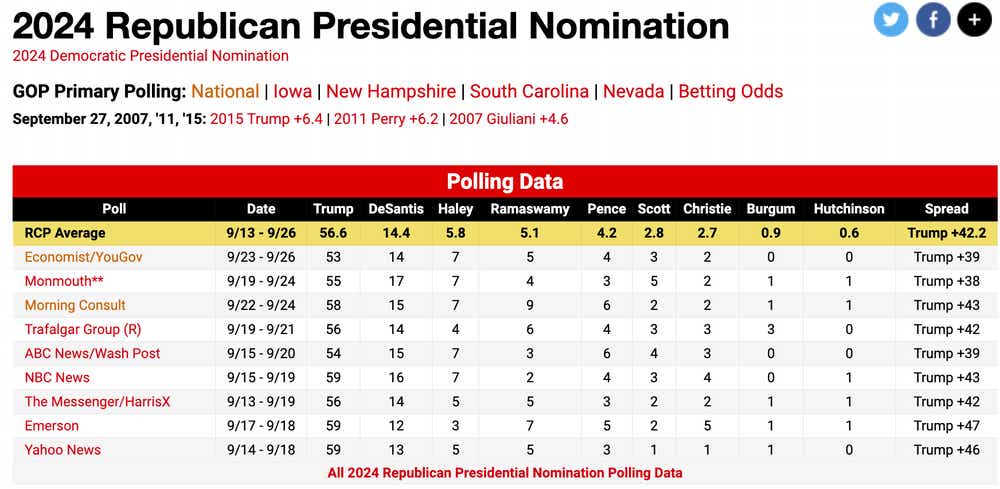 Winners and losers of the debate
The debate and price movement the following morning, indicate Trump's absence did not hurt his prospects. His price rose to 74 cents after a rally at a non-union auto parts plant during the United Auto Workers union strike. Top runnerup Haley held her own at 11 cents, while DeSantis' stronger performance brought him up to 10 cents. Ramaswamy, Christie, Scott and Pence all fell, with Ramaswamy tumbling the most by 3 cents. As the target of the night, Ramaswamy took shots from all of the candidates about his relations with China, his use of TikTok and his political inexperience.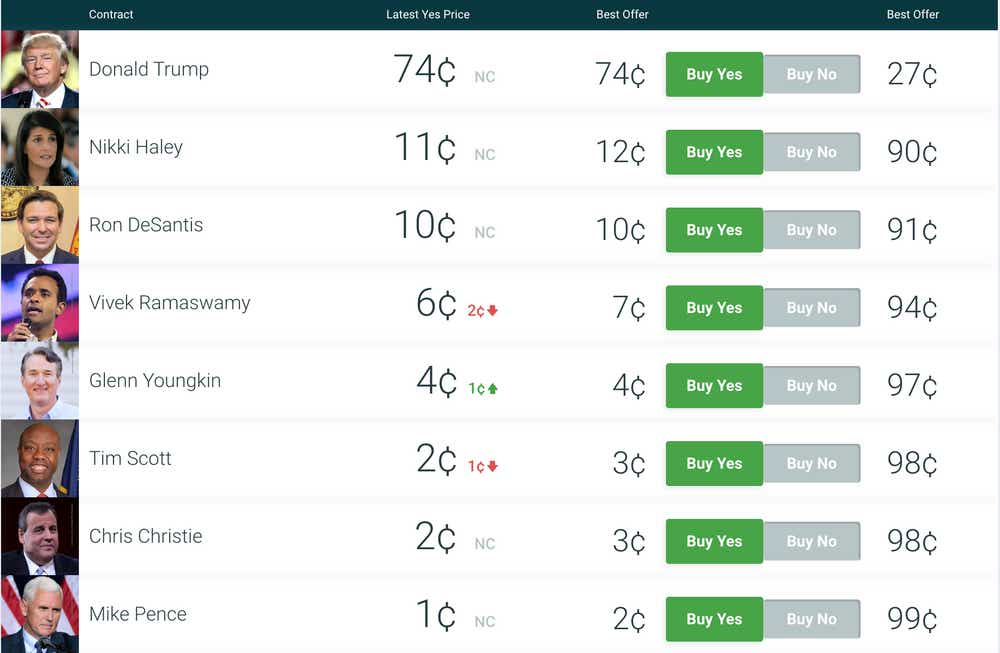 A Drudge Report poll drew nearly 100,000 responses and aligned with the prediction market pricing. Thirty-seven percent of respondents said Haley won, compared with 22% for DeSantis. Ramaswamy came third and Pence came last.
A speaking analysis in The New York Times recorded how many minutes each candidate spoke, putting DeSantis at 12 minutes and 27 seconds, Ramaswamy at 11 minutes and 53 seconds, and second-to-last Haley at 9 minutes and 5 seconds. 
In an unusual upcoming matchup, DeSantis is scheduled to debate Democratic California Gov. Gavin Newsom on Nov. 30. Sean Hannity of Fox News will moderate.
Navpreet Dhillon is the associate editor at Luckbox magazine.
For live daily programming, market news and commentary, visit tastylive or the YouTube channels tastylive (for options traders), and tastyliveTrending for stocks, futures, forex & macro.
Trade with a better broker, open a tastytrade account today. tastylive, Inc. and tastytrade, Inc. are separate but affiliated companies.