SPOT stock has nearly doubled so far this year. Will Rogan remain on their roster?
Joe Rogan never needed Spotify. And he likely doesn't need them now. But with his Spotify contract ending at some point in early 2024, the streaming service will have to determine whether they need Rogan, or if they can even afford to keep him.  
The Joe Rogan Experience debuted on Spotify in September 2020, after Rogan signed a 3.5-year contract with the audio platform, and his show went exclusive in December that same year. The Joe Rogan Experience has been at the top of the platform's podcasts ever since. Not to mention Spotify's stock saw an 8% jump the day his podcast deal with the service was announced in May 2020—which is said to have been over $200 million.  
Alex Cooper is in a similar position with her podcast, Call Her Daddy, which has been exclusive to Spotify since 2021. Cooper's Spotify contract is expected to end in 2024 as well, after signing a $60 million three-year deal. Her show was the most popular podcast globally behind Rogan on Spotify Wrapped for 2022. 
With more than 11 million listeners per episode, according to MIDiA Research, Rogan has helped Spotify secure its spot in the podcast industry. And as of June 2023, The Joe Rogan Experience had the biggest weekly audience in the U.S. so far this year, according to Edison Research.  
Rogan was brought on the platform for his ability to tackle controversial topics and bring on interesting guests, but it has also raised issues for Spotify. Artists including Neil Young and Joni Mitchell left Spotify temporarily, removing their music catalogs, in response to Rogan's podcast topics. In response, Spotify created a Safety Advisory Council and ended up removing some of Rogan's episodes from the platform.  
Does Spotify need Rogan? 
So, why does this matter? Many of Spotify's other exclusive podcast contracts have unraveled recently, and with layoffs hitting the company, Spotify CEO Daniel Ek stated the company would not "overpay or overinvest" in future podcast deals. With Rogan's Spotify contract ending within the next year, the company will have to decide if it's worth spending more on the podcast host in order to keep him, or dissolve the exclusivity of his podcast content on the platform.  
It's a tough decision because it's difficult to produce a hit podcast, and Rogan's has grown Spotify's podcast user base. But recent MIDiA Research indicates it could be an all or nothing deal.  
Spotify stock 
Spotify has around 5 million podcast titles, according to Demand Sage. By the start of 2021, about 25% of Spotify users, or roughly 86 million people, listened to podcasts on the platform. The stock traded at more than $300 a share, valuing the company at more than $50 billion.  
Spotify, the largest audio service in the world, has more than 420 million users and about 182 million paid subscribers. It's the dominant platform in music streaming, "but the company has struggled to convince Wall Street that its spending spree has been worth it," Bloomberg noted last year.  
Spotify Technology S.A. (SPOT) has provided mixed revenue results recently. In Q2 2023, it reported good subscriber estimates, but missed on profitability—with gross margin now down to 24.1%. 
Spotify's price at publication is $153.75, with an average price target of $165.56.  

And despite Spotify's iffy revenue outlook, its stock remains a strong buy according to analysts consensus.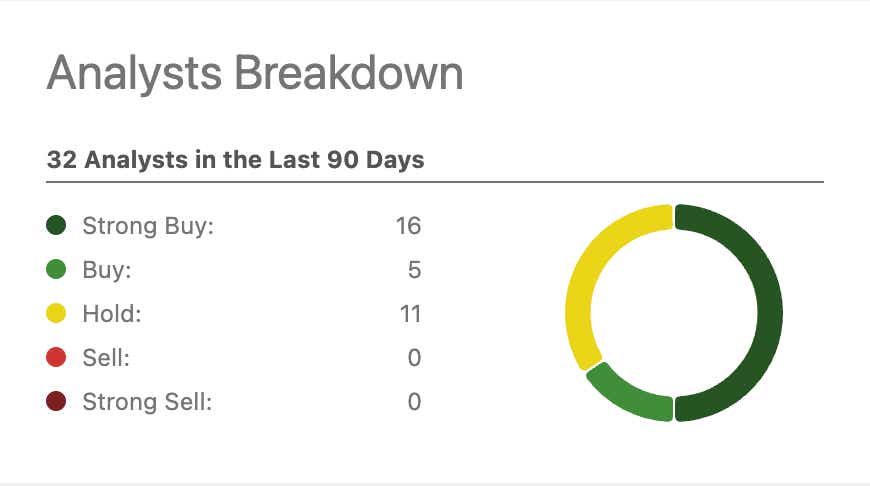 Some market experts warn of risks associated with Spotify, shown through a significant quarterly loss, plummeting free cash flow and a stock that dropped 14% in one day. 
But others offer two arguments: Spotify is still a growth story with monthly active user growth (MAUG) of 551 million in Q2 2023—and the company is increasing its premium subscription prices. Those actions will likely push Spotify's gross margin to ~27.5% and break-even, according to Cavenagh Research.
Spotify invested around $1 billion on podcasts at the onset, and with the help of shows like Rogan's the platform has become the leading service for podcasts. By growing its advertising arsenal, the company could soon see the investment start paying off. But the platform's leading shows might not renew their exclusive contracts next year, leaving it unclear what direction the company will take.  
Kendall Polidori is an associate editor, music industry reporter and resident rock music critic at Luckbox Magazine. Follow her music reviews on Instagram and X @rockhoundlb.
For live daily programming, market news and commentary, visit tastylive or the YouTube channels tastylive (for options traders), and tastyliveTrending for stocks, futures, forex & macro.
Trade with a better broker, open a tastytrade account today. tastylive, Inc. and tastytrade, Inc. are separate but affiliated companies.