What does Activision Blizzard do?
Activision Blizzard, Inc. is a leading developer and publisher of console, online, and mobile games. Activision Blizzard, Inc. is the result of a merger in 2008 between Activision, Inc. and Vivendi Games. Activision Blizzard is best known for their video game franchises Call of Duty, World of Warcraft, Crash Bandicoot, Spyro, Hearthstone, and Overwatch, among others.
Activision Blizzard consists of five entities, including Activision Publishing, Blizzard Entertainment, King, Major League Gaming, and Activision Blizzard Studios. King, also known as King Digital Entertainment, is known for their Candy Crush Saga series. King was acquired by Activision Blizzard in 2016. Major League Gaming is a professional esports organization, founded in 2002.
On January 18, 2022, Microsoft announced its plans to acquire Activision Blizzard for $68.7 Billion. In December of 2022, the Federal Trade Commission (FTC) announced it would challenge the merger.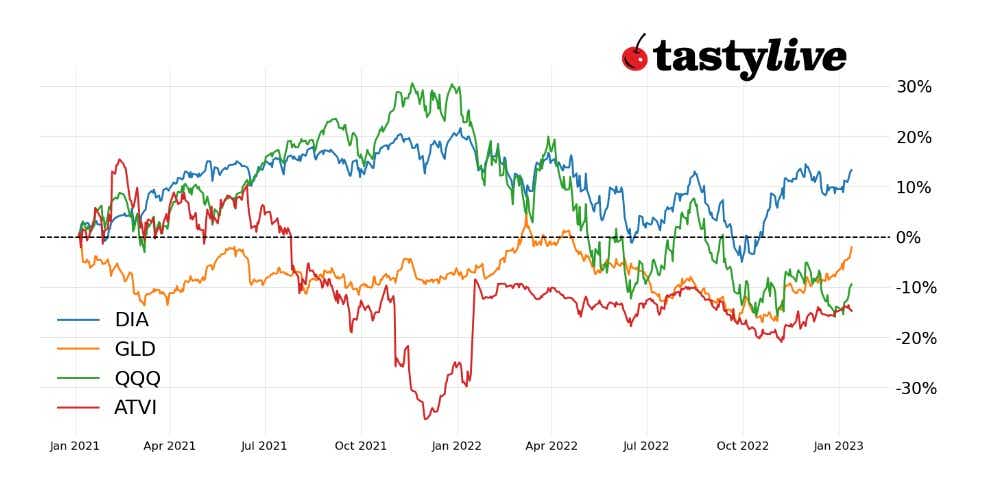 How has ATVI traded recently?
Looking at ATVI's price action over the last decade, we see price move from the lower left of the chart to the top right. Generally speaking, for almost a decade of trading, ATVI has been in a bullish trend.
The last five years have been profitable for ATVI. The last five quarters of earnings reports have also been profitable.
ATVI recorded its all-time high on February 1st, 2021, at $104.53. ATVI is currently trading at $76.37, down 26.94% from its all-time high.
Based on price action, support exists for ATVI in the $50.15 to $56.00 range. ATVI helped to define this range on December 3rd, 2021, when price dropped into the $56 handle and then reversed for an 11-point rally.
How should I trade ATVI right now?
ATVI currently has an IV Rank of 58.0 based on the tastytrade calculation. At the money options have a bid-ask spread of about $0.05 to $0.15. February options are very liquid, and ATVI is trading with good volume daily. January options are less liquid, and I would stay away for now.
This setup is great for premium selling in February. However, it is important that we respect ATVI's earnings report approaching on February 6th, 2023.
If you want a position now, selling premium before earnings is reasonable, but should be kept to defined risk strategies this far out from the reporting date. Once early February arrives, neutral strategies may play out well through earnings.