For a buy-and-hold investor with money burning a hole in their pocket, the Dow Jones should be an ideal investment. The Dow Jones (DIA) is down 7.6% from its peak made in January of last year.
The old investment saying goes something like this: "If I liked the stock at 364, I should love it at 337". And if your attitude toward the market hasn't wavered, this could be a great opportunity to buy more stock at a lower price. Right?
Regret can get in the way – of having not bought the price even lower. Why buy the Dow Jones currently off 7.6% from its peaks, when, just a few months ago, it was off by 20.8%?
There is a name for it – "price anchoring". This is a cognitive bias in which a person is influenced by the last price they see and use it as a reference price when making subsequent decisions.
It can be very difficult buying, when that price was just recently, considerably lower.
So, what is still on (or near) price lows?
In this morning's Cherry Picks, we examined four of the most popularly traded equity ETFs and compared their peak-to-trough price performance against where those same ETFs are now.
While the Dow Jones (DIA) has recovered over half of its decline from its peak made nearly 1 year ago, the Nasdaq is still very much near its lows made last month of 32.9%. It is currently down 30.9%.

Here are three bullish trade ideas in three of the biggest components of the Nasdaq with all three down over 60% year-over-year: Paypal (PYPL), Meta, previously Facebook (META), and Tesla (TSLA).
Paypal (PYPL) is down 60% year-over-year with a price-to-earnings (P/E) ratio of 16x forward earnings. The following bullish trade, a short put, requires only $650, has a potential profit of $136 and by selling a put below the market means the stock could drop a further 18% and it could still make money.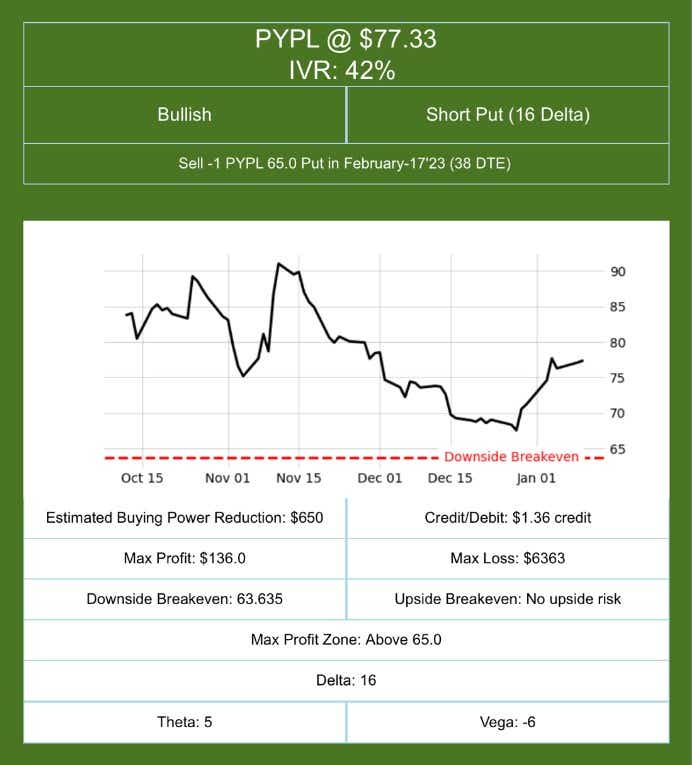 Tesla (TSLA) is another stock that has been massively hurt – it is down 66% year-over-year. The following short put ratio spread is a bullish trade with a profit potential of $585 if the stock continues up from here. If the stock pins 110 at expiration, a maximum profit of $1,085 is possible. The breakeven on this trade is 16% below the price.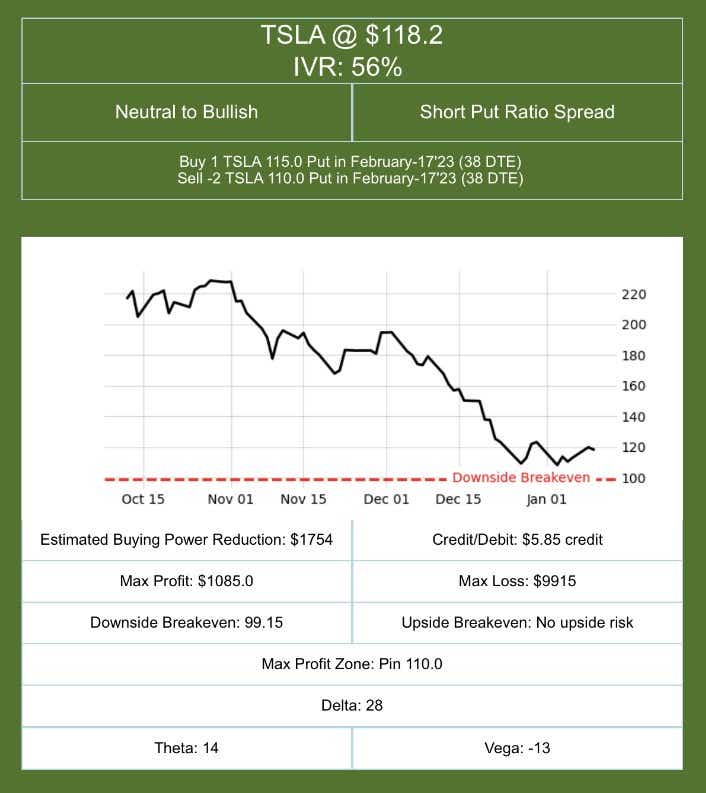 Meta, previously known as Facebook (META) is down 62% year-over-year. The following trade, a put broken wing butterfly requires $1754 to initiate and has no risk to the upside either – meaning it is a solidly bullish trade as well. If the stock continues up from here, there is a possible profit of $232. A maximum potential profit of $732 is possible if the price hits 125.0 at expiration.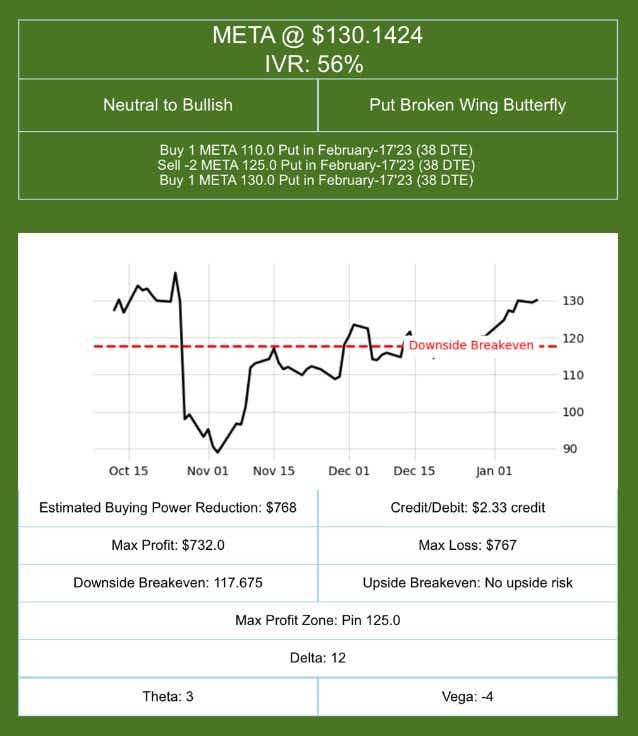 To read Cherry Picks each week, subscribe here: https://info.tastylive.com/cherry-picks
Authors: Michael Rechenthin, PhD and James Blakeway