It wasn't a great year for the stock market in 2022. It was worse for Tesla. A Wall Street darling, the eclectic vehicle stock came under intense selling pressure, providing a long-awaited win to the company's bears and naysayers. As of late December, Tesla stock was tracking an astonishing year-to-date loss north of 60%. Over the same period, the tech-heavy Nasdaq fell around 30%. This will be the first annual decline since 2016 when Tesla closed the year down by 10.97%.
A bearish repricing in technology stocks isn't surprising at a time when global interest rates are rising although the pace and depth of losses has shaken even the most ardent Tesla investors. Still, the stock price was trading at more than 200 times its earnings at the start of the year—an unsustainable premium in today's rate environment many investors would argue, even when considering its favorable margins and sales growth in the sector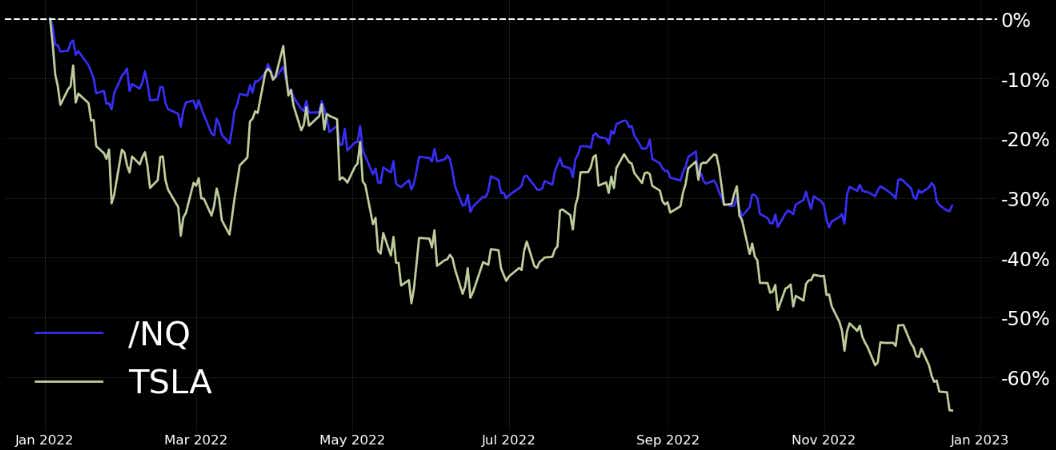 The Tesla bears, of which there are plenty, have been waiting for some time to see the stock price collapse like it did, arguing that the fundamentals didn't support the lofty valuation. If you look at Tesla as an automobile company, those bears were undoubtedly correct. In fact, by market capitalization, Tesla was trading at around ten times the market capitalization of GM and Ford. In December, Tesla traded at a modest $430 billion capitalization, only around 4.3 times that of GM and Ford.
Even so, valuing Tesla as a traditional auto stock misses the mark. As many have found out the hard way, valuing a leader in a developing industry is difficult, and analysts' price targets for Tesla have turned out to be wildly inaccurate. That may be comforting to the bull camp as various Wall Street analysts have downgraded their price targets over the past several weeks. Colin Rusch, an Oppenheimer analyst, downgraded the stock from outperform to perform in December, citing a severe degradation in sentiment.
Tesla Stock 2023 Outlook: Slowdown in Sight?
However, a return to its previous valuation may be unrealistic. Sales in China have slowed, a concerning factor for what was recently seen as a vital growth avenue. Another argument is that the competition is catching up. Indeed, that is the case, but Tesla got a big head start, and it would take a lot for competitors to close that lead anytime soon. That doesn't mean that rivals, like Ford, with its electric F-150, can't take away market share. But Tesla is already producing vehicles with superior margins and losing market share is something investors have expected.
Some argue that Twitter is distracting Elon Musk, which may be true; Mr. Rusch at Oppenheimer believes the negative attention from Twitter could drag on Tesla. If that is hurting sentiment it may abate shortly, as Mr. Musk stated that he is planning on stepping down as Twitter CEO. Given the price decline in 2022, a positive shift in market sentiment whether it be specific to Tesla or the broader market, may arrest the selling and attract those waiting on the sidelines to jump in at what could be seen as a more favorable price.
Tesla Stock 2023: Attractive Trading Opportunity?
All things considered, even if Tesla's price continues to slide in 2023, the stock should continue to offer unique trading opportunities. Tesla stock has a relatively high implied volatility (IV),boasting an< IV in December of around 80%. And, of course, the stock offers a highly liquid assortment of options. That presents an opportunity for selling premium for bulls and bears alike.
How to Trade Tesla in 2023
Those with a neutral to bullish bias may want to sell put spreads. And because Tesla options are highly liquid and volatility in the options is skewed—meaning that put options trade with a relatively higher premium—a Jade Lizard strategy may be attractive. For those with a neutral to bearish bias, the high IV makes selling call spreads an enticing option to collect premium.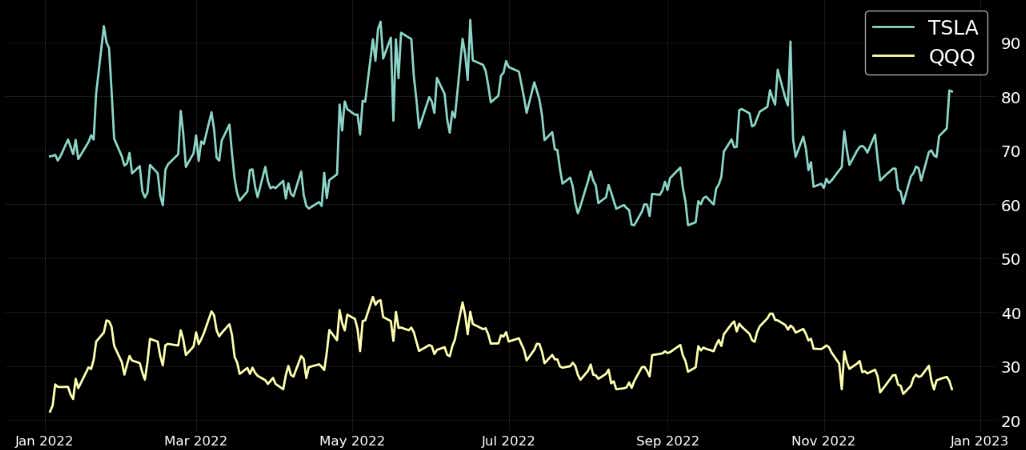 - Written by Thomas Westwater