TSLA announced price cuts on some of its cars in China, and the stock fell with the broader market this week. TSLA reached a new 2022 low of $198.59 on October 24th, a few days after the earnings announcement that, surprisingly, didn't yield much movement in the stock price. What is the stock price projection through the rest of the year? Let's look at the implied volatility landscape to find out!

Tesla stock price: what to expect?
With so many big-name earnings coming out this week (MSFT, AAPL, AMZN, META, GOOGL), it's not surprising to see that TSLA has a relatively large expected move for the rest of the week of just over $10. Like many positively correlated underlyings, if the NASDAQ skyrockets with good earnings reports, it would not be surprising to see TSLA rallying along with the rest of the market. The same can be said if the earnings reports are poor and the market sells off. Seeing a big rally today, Tuesday October 25th, it appears that the market is largely ignoring the price cuts for TSLA cars previously announced.
Through December 16th, the options market is projecting an expected stock price move of +- $39.26, which is just shy of 20% of TSLA's stock price. The next week or so could result in some big moves in the overall market, so keep your eyes peeled for big earnings numbers this week!
How to trade TSLA options
With TSLA trading right around $220, we can look at equidistant out of the money (OTM) put and call options to see if there is a volatility skew – the more expensive option tells us where the market perceives a high velocity move to be, if it happens: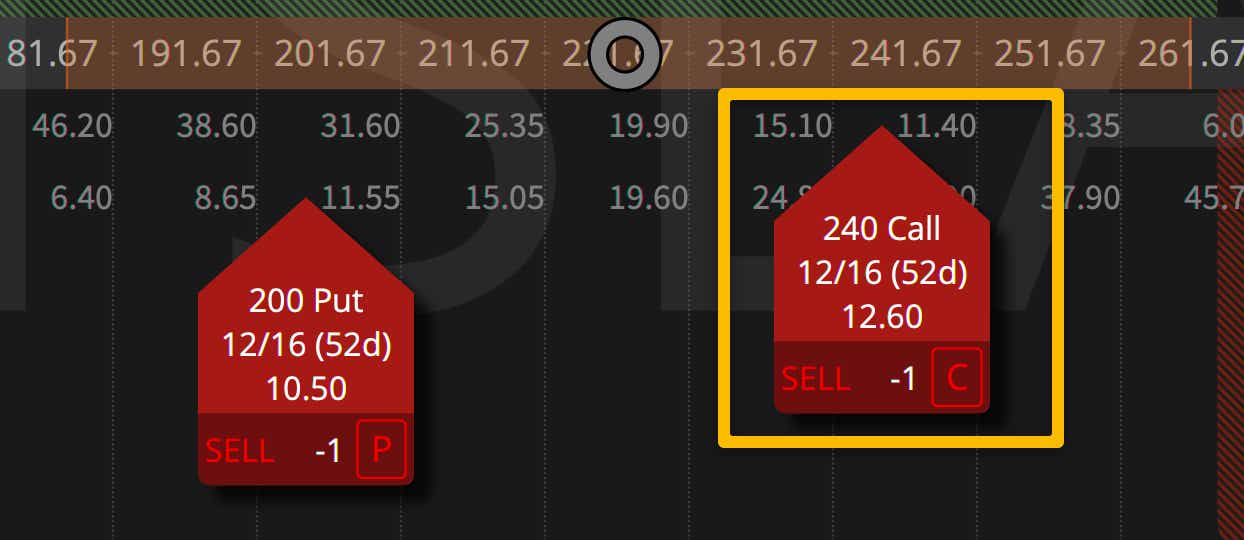 Given the massive selloff from $300 to under $200 in a few months, it's not surprising to see that the options market is reflecting call skew – this doesn't mean that the stock is going up, but it does mean that the market is pricing in the risk of a high-velocity move to be to the upside.
For bullish assumptions, call skew plays into short premium on the call side, so call diagonal spreads, call calendar spreads and call debit spreads all have aggressive cost basis reduction characteristics, and could be interesting for bullish options traders in TSLA.
For more in-depth analysis of popular stocks like TSLA, check out options trading concepts live at 11am CST and join in on the YouTube chat discussion!
Ready to start trading? Get all your products in one platform, low and capped commissions, and support with no upselling. Have it all with tastytrade!
tastytrade, Inc. andtastylive, Inc. are separate but affiliated companies.