MARIJUANA STOCKS: WHAT YOU NEED TO KNOW

Cannabis stocks include the shares of companies who either manufacture, distribute or research recreational pot, medicinal weed or related products. The Cannabis industry is an ever-evolving space with constant innovation and an influx of new companies joining the marketplace. The past few years have shown traders how cannabis stocks are for portfolio diversification, or as a thematic investment.
Prices for pot stocks and exchange traded funds (ETFs) have fluctuated significantly if we take a look at historical data. Volatility in the cannabis market is typically impacted by factors like regulation, industry-related news as well as supply and demand; while slower-than-expected market growth can also be attributed to price wars. To keep an eye on marijuana stocks, traders can build curated watchlists and get a unique view of the cannabis equity market.
Cannabis ETFs can deliver a high-growth complement to a broad-based equity allocation. Savvy traders can also use this industry to trade pairs. Instead of buying a stock outright, you can also utilize small cannabis futures, which are made up of more than a dozen names in the pot stock sector.
10 BEST CANNABIS STOCKS AND ETFS TO WATCH

Pure US Cannabis ETF (MSOS)
Tilray (TLRY)
Cronos Group (CRON)
Universal Corporation (UVV)
Aurora Cannabis (ACB)
HEXO Corp (HEXO)
Canopy Growth (CGC)
AbbVie (ABBV)
GrowGeneration Corp (GRWG)
Molson Coors Beverage Company (TAP)
You can trade cannabis stocks and ETFs listed on this page at most major brokerage firms, like the award-winning tastytrade platform.1 Create an account to get started.
The underlyings mentioned on this page aren't necessarily the best cannabis stocks or ETFs, but they're selected for several reasons. Factors taken into consideration include demand, market cap, macroeconomic environment, investors' interest, volatility and historical performance data.
Top 10 Cannabis Stock Price Change Over 1, 3, 12 Month(s)


 Pure US Cannabis ETF (MSOS)

Pure US Cannabis is the first exchange traded fund (ETF) to offer U.S exclusive cannabis exposure. The fund is listed on the New York Stock Exchange (NYSE) under the ticker MSOS – it gives access to multiple cannabis securities in a convenient, single trade. More specifically, the MSOS ETF consists of exposure to US based cannabis companies via derivatives, including Trulieve, Green Thumb Industries, Curaleaf, and Verano among others. This an alternative approach for investors who don't want to seek out U.S cannabis companies' stocks in smaller, foreign exchanges. 
BNY Mellon, considered one of the largest U.S custodial banks, holds the Pure US Cannabis assets, while Dan Ahrens, the Managing Director of AdvisorShares, is the portfolio manager. The fund's Index average market cap was around $133.1 billion towards the end of March 2022 with the implied volatility (IV) rank 64%.

 Tilray (TLRY)

Tilray is a Canadian company which trades on the Toronto Stock Exchange and the NASDAQ under the ticket TLRY. Under the leadership of Irwin D. Simon, Aphria's (which merged with Tilray) chairman, Tilray is a pioneer in the cannabis market. It's known in the industry for being diverse when it comes to cultivating, processing, distributing and selling recreational and medical marijuana.
One of the key things that sets Tilray apart is that it's the first "good manufacturing practices" (GMP) certified medical cannabis producer to supply cannabis flower and extract products to a variety of physicians, pharmacies, hospital and researchers. With a reach stretching over five continents, this global leader's market cap was around $5.2 billion towards the end of March 2022 and its IV rank was 105.77%, though it has since reverted to the mid-20s.

 Cronos Group (CRON) 
Cronos Group, a global cannabinoid company with headquarters in Toronto, specializes in advancing cannabis research, technology and product development. Mike Gorenstein is at the helm as the CEO and the company's portfolio includes Peace Naturals, Cove, Spinach, Lord Jones, Happy Dance and PEACE+.
CRON started trading on the NASDAQ on February 27, 2018 and on the Toronto Stock Exchange on May 23, 2018. The company is the exclusive cannabis partner for the tobacco giant Altria, who has a 45% stake in the business. The market cap as of end of March 2022 was over $1.5 billion with an IV rank of 93.39%.

 Universal Corporation (UVV)
Universal Corporation is the leader in the global leaf tobacco business with $1.41 billion in market capitalization at the end of March 2022. Formed in 1886 as the J.P Taylor & Company, it became known as the largest shipping and exporting establishment in the South. Today, UVV procures and then processes leaf tobacco from farmers, then sells it to manufacturers of consumer products. 
In 2022, Universal announced its 52nd consecutive annual increase in common stock dividends and paid out a yield of $0.78 in the first quarter of the year. Investors also have the option to increase their holdings in shares of the company's stock with its automatic dividend reinvestment plan.
3-Month Correlation of Top 10 Marijuana Stocks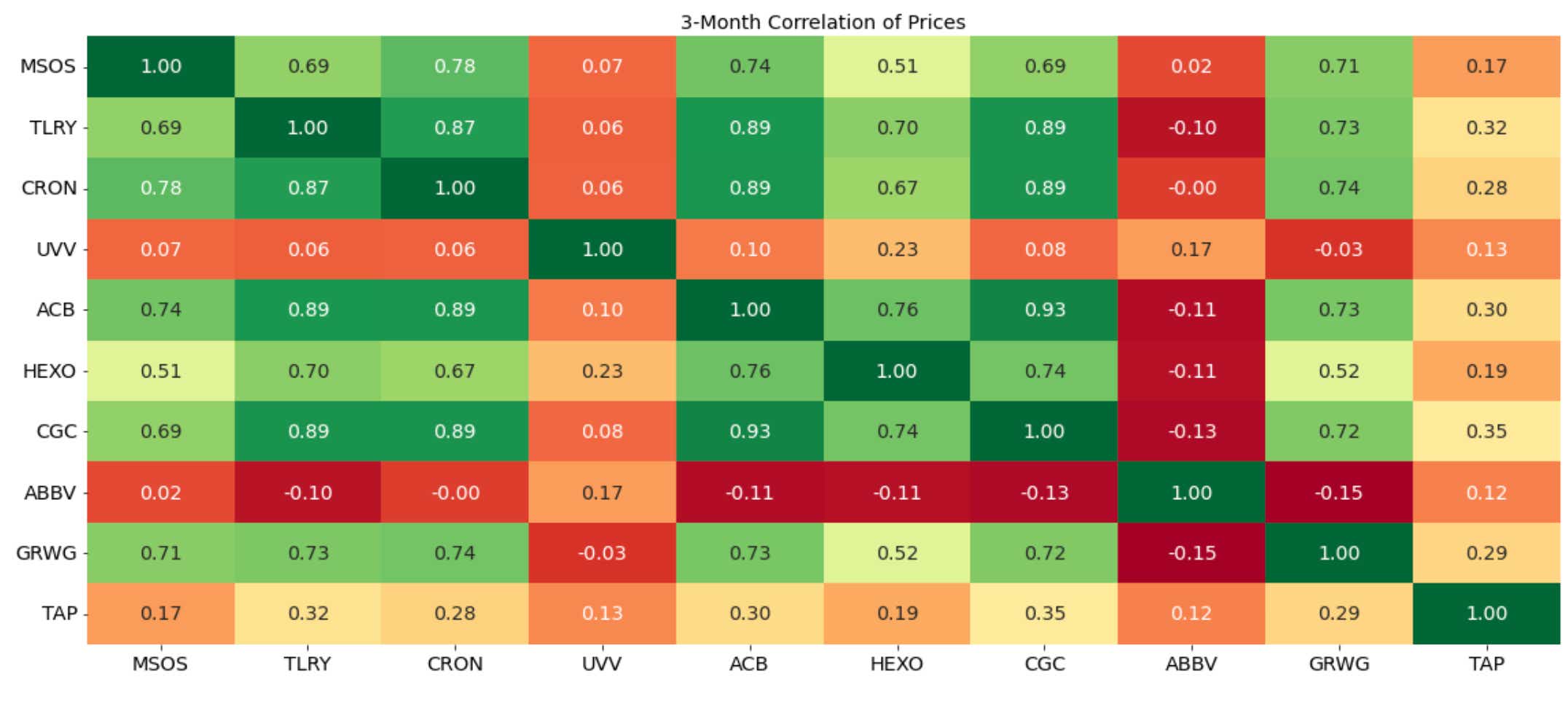 Aurora Cannabis (ACB)
Aurora Cannabis, based in Canada, has a global reach in more than 20 countries and is one of the major producers in the world, cultivating and selling medicinal as well as recreational cannabis. Its portfolio includes brands like Aurora, MedReleaf, Daily Special CanniMed, and San Rafael '71 which deliver high quality products and access for patients and consumers.
Trading on NASDAQ and the Toronto Stock Exchange as ACB, its market cap at the end of March was 878.42 million and the IV rank 72.67%. In 2021 Aurora committed to support TOQI Fellowship for Cannabis Amnesty, a non-profit organization. The goal of the paid internship is to create economic prosperity for individuals who come from communities harmed by years of cannabis prohibition.

 HEXO Corp (HEXO)
HEXO Corp is a leading producer of high-quality cannabis products, with its headquarters in Ottawa, Canada. It became publicly listed in 2017 under the ticker HEXO. It creates and distributes innovative products to serve the global cannabis market under the following brands - HEXO Plus, Up, Original Stash, Bake Sale and HEXO medical cannabis.
In the first quarter of 2022, HEXO maintained its number one market share position in Canada, with a $50 million in total net revenue – an increase of 70% year-over-year. Its international reach includes the U.S, Europe, Israel, Australia and South Africa. The company has partnered with Fortune 500 companies in the cosmetics, health and wellness, vapes, beverages and edibles sectors.
 Canopy Growth (CGC)
Canopy Growth set the hallmark in 2014 for the industry by being the pioneer of going public as a cannabis stock in North America under the ticker CGC. CGC was the first producer listed on the NYSE in 2018. It has also pushed boundaries globally by being the first to secure approval for the exportation of dried cannabis to pharmacies in Germany. CGC holds an option to acquire Acreage Holdings upon U.S. federal cannabis legalization.
Operating from its headquarters in Smiths Falls, Canada, it cultivates and sells medicinal and recreational cannabis and hemp through a portfolio of brands – CraftGrow, Spectrum Therapeutics and Tweed. The market cap for Canopy Growth towards the end of March 2022 was $3.1 billion with an IV rank of 78.29%.

 AbbVie (ABBV) 
AbbVie is a pharmaceutical company that launched in 2013 with a dividend yield of 3.48% in the first quarter of 2022 for their common stock, which trades under ABBV on the NYSE. Its approach to combine advanced science with expertise to make progress in drug and treatment discovery has resulted in them making their mark fields like immunology, oncology, neuroscience, eye care, virology and women's health.
Half of the company's profits is contributed by their top drug Humira a prescription medicine used to treat moderate to severe Crohn's disease. The company invested $50 billion in the research and development of new medicines – including $5.8 billion in 2020. Its market cap is 286.08 billion at the end of March 2022 with a 23.66% IV rank.

 GrowGeneration Corp (GRWG)
GrowGeneration Corp is a Colorado-based specialty retailer focused on products including hydroponics, lighting, nutrients, fans, irrigation supplies, and tools used for specialty gardening. GRWG caters to both commercial and retail customers with a wide range of product offers. GRWG is listed on the NASDAQ with a roughly 500m market cap as of March of 2022. GRWG trades at around $8 per share as of the end of March 2022, near a 52-week low.

 Molson Coors Beverage Company (TAP) 
Molson Coors is the fifth-largest beer producer globally who invested in the cannabis market in 2018 when it partnered with Hexo Corp. In November 2021, the company launched a beer-style cannabis beverage range in Canada. Molson Coors owns several brands, including Blue Moon, Coors, Miller, Vizzy and Staropramen.
The IV rank for TAP stocks is sitting at 21.60% as of the end of March 2022 with a market cap at more than $11.5 billion. In February 2022, Molson Coors registered over 2.6 billion in sales figures for their fourth-quarter results. Its dividend yield was 2.04% in the first quarter of 2022.
INVESTING IN MARIJUANA STOCKS: WHAT YOU NEED TO KNOW
You can start trading and investing in the cannabis market with these steps:
Learn about cannabis stocks and how to trade them via stocks and options
Create a trading plan and a risk management strategy
Choose a cannabis stock or ETF and open your position
Monitor and close your position
You can profit from cannabis underlyings either by owning the stocks or by trading options on them. Options traders profit by speculating on what will happen to the price of the underlying as well as any changes in volatility. Here's a breakdown of the difference between becoming a company shareholder (investing) and options trading.
| | |
| --- | --- |
| Investing (Owning Physical Shares of a Stock) | Options Trading |
| Take full ownership of stock share | Trade without having to own the underlying asset |
| Buy and sell physical shares of underlying cannabis stocks and ETFs | Speculate on the price of cannabis stocks rising, falling, or staying within a certain range |
| Pay the full value of the share | Lower buying power is required for options trading in certain account types |
| You may get back less than you put in because the value of shares can fall as well as rise | Gains and losses are influenced by stock performance, but they're also influenced by changes in volatility relative to the options strategy, stock price, time until expiration, etc. |
| Owning shares of a company allows you to vote for the board of directors | No voting rights |
CANNABIS MARKETS
An alternative cannabis market, which investors looking for capital efficiency can explore, is the small cannabis futures. The smalls are a low-cost alternative to individual pot stocks and ETFs, and provides easy access to being long or short.
The Small Cannabis Equity Index measures the performance of companies involved in the cannabis industry. All its equities are listed on the NYSE or the NASDAQ.

/S420 SMALL CANNABIS EQUITY INDEX
| | | | | |
| --- | --- | --- | --- | --- |
| ACB | CRON | OGI | SWM | VFF |
| CARA | GRWG | PM | TLRY | VGR |
| CGC | HEXO | SMG | TPB | XXII |
| CRBP | MO | SNDL | UVV | ZYNE |
Source: dxFeed Index Services

BEST CANNABIS STOCKS SUMMED UP
Cannabis stocks are made up of companies who sell, produce or research medicinal weed or recreational pot
Investing in cannabis underlyings can help to diversity your portfolio
Volatility in the cannabis market can be attributed to a number of factors like the legalization of cannabis, supply and demand and industry related news
Traders with any account size or risk tolerance can find a suitable stock, options, ETF, or futures strategy in cannabis related products.
1 Named the Best Online Broker by Investor's Business Daily (IBD) in its ninth annual survey.
tastytrade, Inc. and tastylive, Inc. are separate but affiliated companies.