Pre-earnings bullish and bearish outlook
Adobe will release its earnings Sept. 14 with an earnings-per-share (EPS) expectation of $3.98 on $4.87 billion in revenue for the quarter.
Adobe will start paying stock image contributors whose work is selected to train Firefly.
Adobe is launching AI updates to some popular products like Premiere Pro, After Effects and more.
Adobe (ADBE) announces its quarterly earnings figures on Thursday, Sept. 14 at 3:05 p.m. Central Time after the stock market closes.
The multi-billion-dollar tech company recently released a lot of AI-based information ahead of earnings, which is in line with a lot of other popular tech companies that are seeking to boost its post-earnings stock price results.
Adobe's stock price is up 62% in 2023, soaring in the wind on the back of the artificial intelligence sail that has brought many other popular names like Nvidia (NVDA) to all-time highs.
The company is just off the 2023 stock price high of $570.24, which is surprisingly lower than the all-time high of $699.54, which the company realized in November 2021.
Adobe is expected to release an earnings-per-share (EPS) figure around $3.98 on $4.87 billion in revenue. The company has beat EPS expectations four quarters in a row, and it also beat revenue expectations two out of the past four quarters.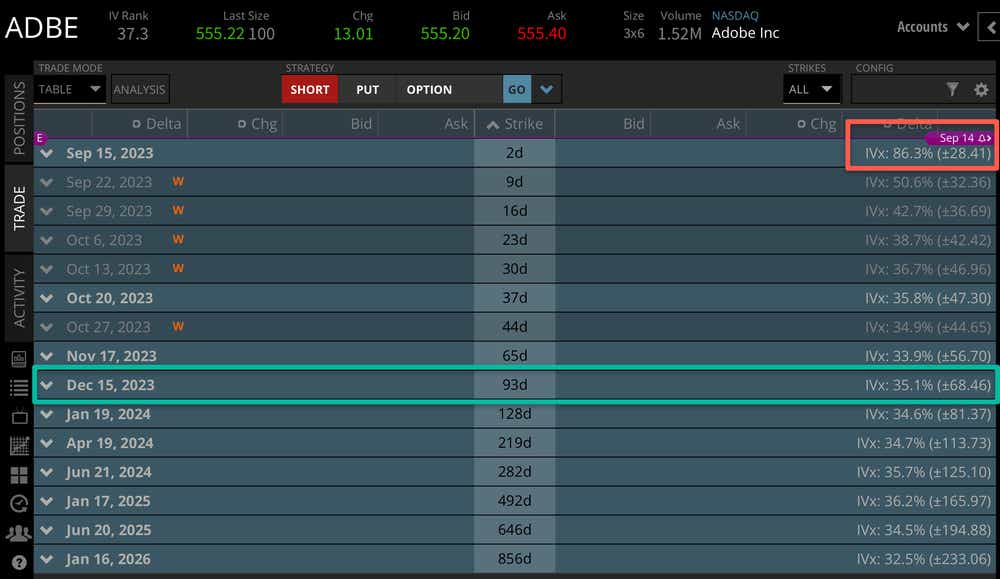 The earnings expected stock price move, based on current implied volatility, is +-$28.41 from the current stock price. This is a relatively tame number for a $500+ stock. But the expected move is not so low that it will be ignored. This weekly expected move figure is about half of the expected move of the December 2023 options cycle, which means the stock market is placing a decent amount of weight on this earnings announcement for potential movement through the rest of the year.
Adobe to pay bonuses to Firefly trainers
Adobe Stock, the company's stock image library, is one of the primary sources of training for Firefly, the company's generative AI model. Artists who contributed to this library will now be paid a bonus on an annual basis for any content that is used to train Firefly. This is great news for contributors, as it can create a sort of passive income for creators who own content in Adobe Stock. No official figures have been released so far, but a bonus is a bonus.
Adobe launches AI updates to Premiere Pro, After Effects and Frame.io
Ahead of earnings, Adobe announced updates to three of its most popular audio and video products—all related to AI—surprise, surprise!
Adobe announced that it will release an update to Premiere Pro, which will transform poorly recorded audio into something that sounds like it was recorded professionally in a studio. Enhance Speech can automatically remove background noise, remove "ums" and "uhs" automatically, and much more!
A 3D workspace is being added to After Effects for motion graphics and VFX, that is compatible with imported AI models. This feature will help creators to edit and enhance visual content with more robust dimensions.
Frame.io is getting a new feature that allows creators to view and compare files side-by-side in its comparison viewer - this will be compatible with audio, video, design file, photo, and PDF files.
A bullish case for Adobe Stock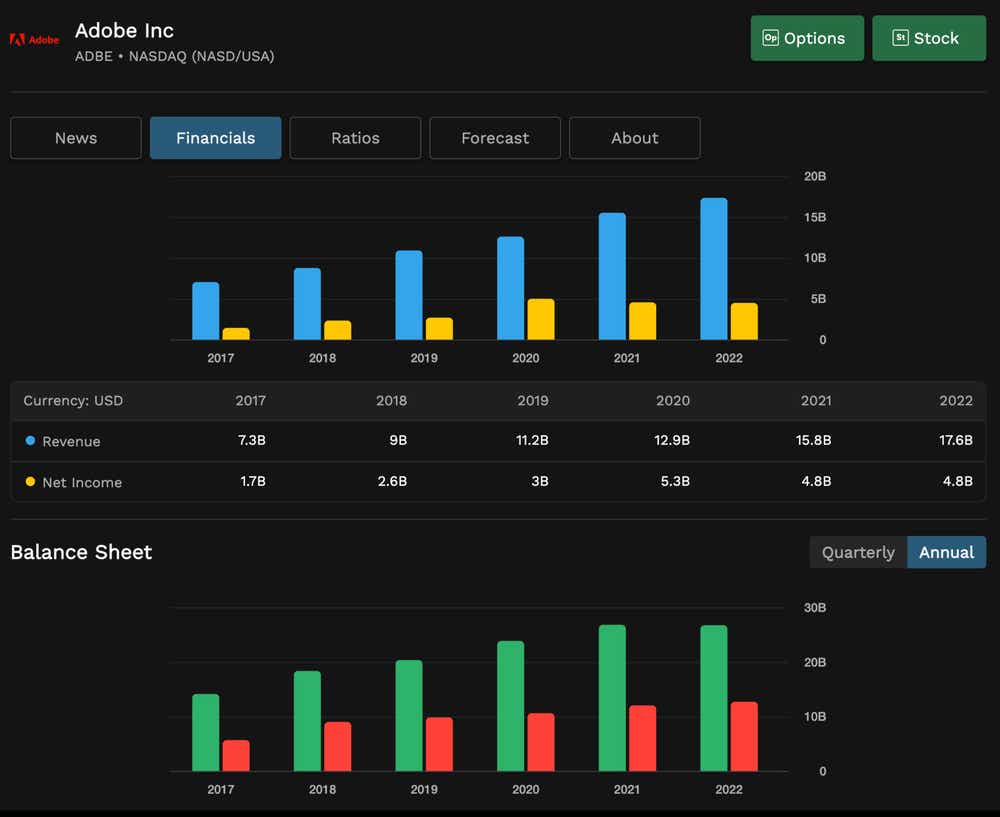 Adobe has done a good job of staying ahead of the AI curve, announcing updates and implementing them quickly to its popular product suite. The company continues to compound revenue year over year, while income is more variable. With many AI stocks seeing strong gains through the year, I would not be surprised to see ADBE stock follow suit after earnings, especially with all the AI updates Adobe released prior to the earnings call.
A bearish case for Adobe Stock
It's tough to bet against a tech stock that just announced massive AI-oriented updates to its product suite, but if you're a non-believer, the company has more pressure to produce results now than it may have ever had. Pressure can burst pipes, and if there is a big EPS or revenue miss or a weak forecast for the rest of the year, it could send the stock tumbling lower.
All eyes are on Adobe after the stock market closes at 3:05 p.m. Central Time on Sept. 14, when it releases quarterly earnings.
Tune in to Options Trading Concepts Live on Thursday for a full earnings strategy breakdown for this popular tech stock!
Mike Butler, tastylive director of market intelligence, has been in the markets and trading for a decade. He appears on Options Trading Concepts Live, airing Monday-Friday. @tradermikeyb
For live daily programming, market news and commentary, visit tastylive or the YouTube channels tastylive (for options traders), and tastyliveTrending for stocks, futures, forex & macro.
Trade with a better broker, open a tastytrade account today. tastylive, Inc. and tastytrade, Inc. are separate but affiliated companies.