For many investors and traders, 2022 was a year to forget. The bears were firmly in charge last year, with the S&P 500 dropping by 19%, and the Nasdaq Composite pulling back by 33%.
That said, a down year in the major indices doesn't mean that every stock was down in 2022. In fact, there were plenty of upside single-stock winners last year, just as there were plenty of downside single-stock losers.
However, when it comes to the 11 market sectors within the S&P 500, only a single one ended the year in the green. That was the energy sector, as illustrated below.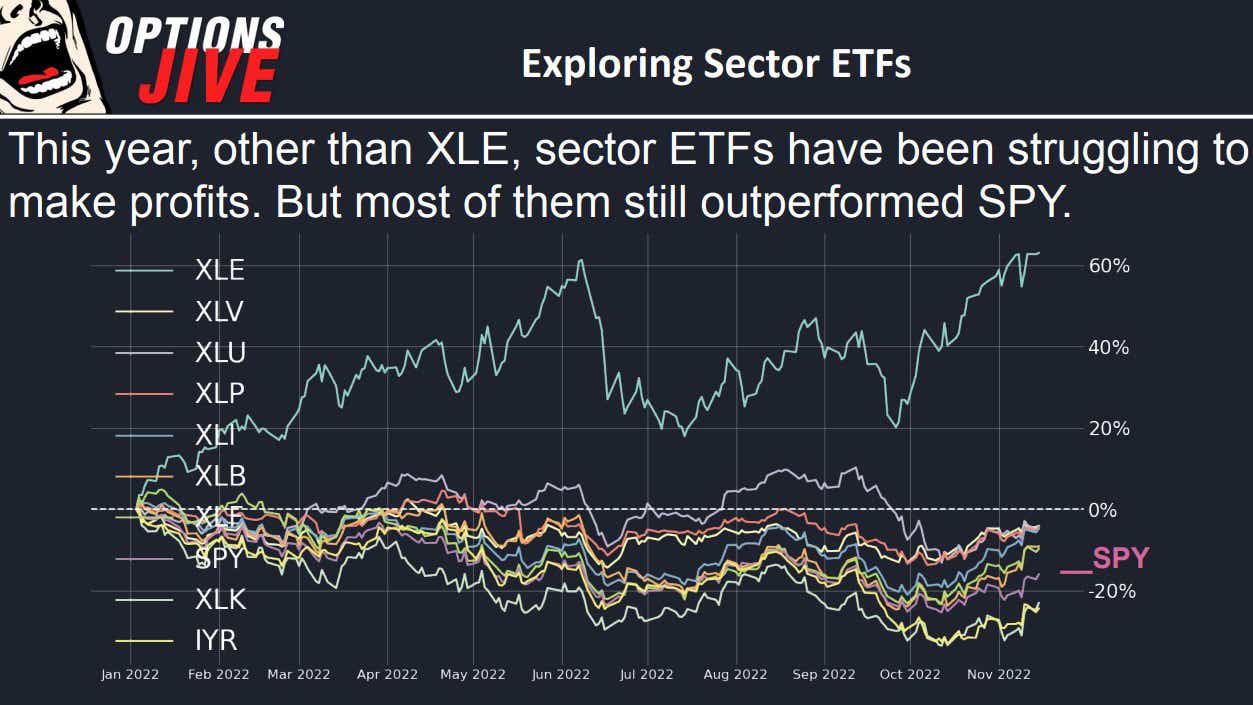 As highlighted above, the energy sector was up about 60% last year, as evidenced by the +57% return in the Energy Select Sector SPDR Fund (XLE) during 2022.
Not surprisingly, the list of single-stock winners and losers from 2022 closely mirrors overall sector performance, with energy stocks producing some of the most attractive returns, and technology stocks posting some of the worst.
Listed below are the 10 biggest winners from the S&P 500 during 2022, as well as the 10 biggest losers.
Top-Performing S&P 500 Stocks in 2022
Occidental Petroleum (OXY), +117%
Constellation Energy (CEG), +109%
Hess Corp (HES), +94%
Marathon Petroleum (MPC), +87%
Exxon Mobil (XOM), +87%
Schlumberger (SLB), +78%
Apache (APA), +74%
First Solar (FSLR), +72%
Halliburton (HAL), +72%
Marathon Oil (MRO),+65%
Worst-Performing S&P 500 Stocks in 2022
Generac Holdings (GNRC), -74%
Match Group (MTCH), -69%
Align Technology (ALGN), -68%
Tesla (TSLA), -67% SVB
Financial (SIVB), -66%
Meta (META), -65%
Signature Bank-New York (SBNY), -64%
Catalent (CTLT), -64%
PayPal (PYPL), -62%
Carnival (CCL), -61%
Last year, companies in the energy sector clearly benefited from surging prices for oil and gas—primarily driven by Russia's invasion of Ukraine. The energy sector saw considerable earnings growth in 2022, which was contrary to the broader market trend.
On the flip side, the technology and communications sectors experienced sharp reversals in 2022, with higher financing costs (via higher interest rates) taking a big bite out of profits.
The recent slowdown in the global economy was another strong headwind for many businesses in 2022, resulting in softening demand.
From the Nasdaq 100, the best-performing stock in 2022 was Enphase Energy (ENPH), which jumped by 45%. The biggest loser in the Nasdaq 100 during 2022 was Rivian Automotive (RIVN), which crashed by 82%. Lucid Group (LCID) was the second-biggest loser in the Nasdaq 100 last year, dropping by almost as much as Rivian.
Depending on one's unique market outlook and trading approach, the biggest winners and losers from 2022 may offer some fresh ideas for the new trading year. For more details on stock market performance in 2022, readers can check out this new installment of Options Trading Concepts Live.
To follow everything moving the markets in 2023, readers can monitor tastylive, weekdays from 7 a.m. to 4 p.m. CDT.