A preview of NVDA earnings.
Nvidia reports earnings on Wednesday, Aug. 23 at 3:20PM CST.
Earnings-per-share (EPS) is expected to be $2.07. Revenue is expected to come in at $11.07 billion.
The tech giant beat EPS and revenue expectations for the past two quarters.
Nvidia (NVDA) surged in 2023 as one of the leading products in the AI boom. The stock opened the year at $148.51 and is now trading around $440—almost a 300% increase this year alone.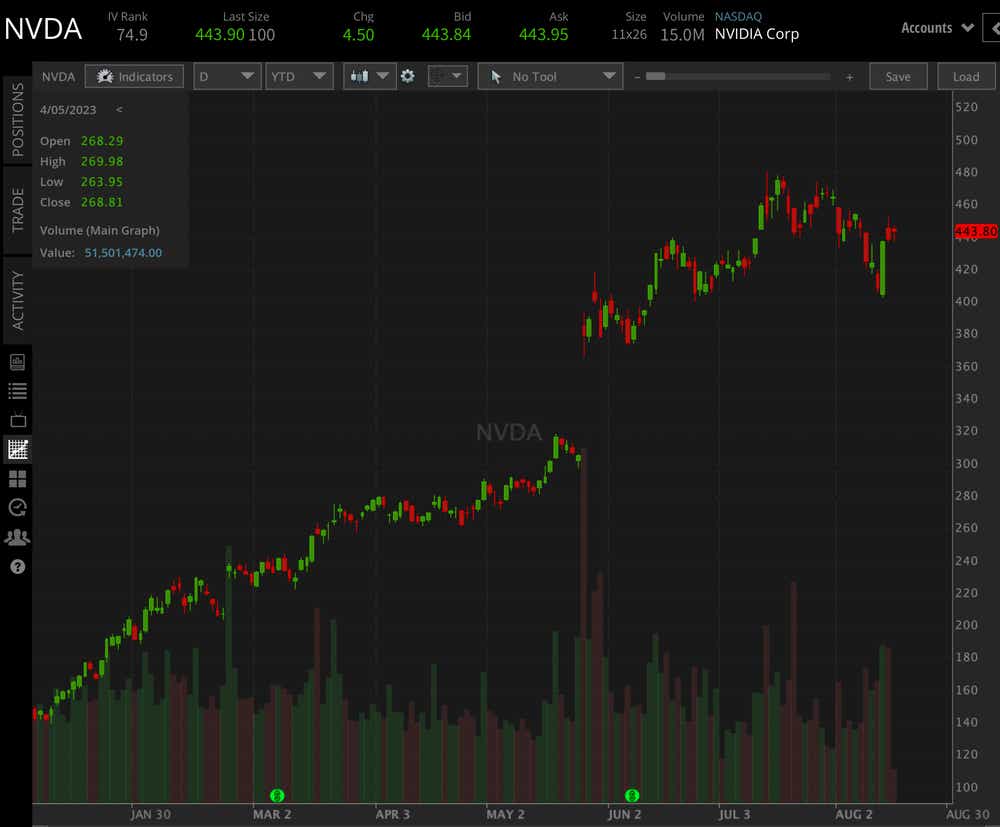 Nvidia is set to report earnings on Wednesday, Aug. 23 at 3:20 p.m. CST. Earnings per share are expected to come in at $2.07 per share on $11.07 billion in revenue.
After the last earnings report, the stock jumped from the low $300 range to almost $400 per share in a massive rally. Can the tech giant post a repeat performance this time around? Let's dive under the hood and look at the earnings expected move and discuss a bullish and bearish case for both sides of the stock.
NVDA earnings expected move —more than 10% of the stock price
Looking at the implied volatility of the options market can tell us a lot about the earnings expected move, and how much weight the market is placing on this earnings announcement relative to the rest of the year's expected move.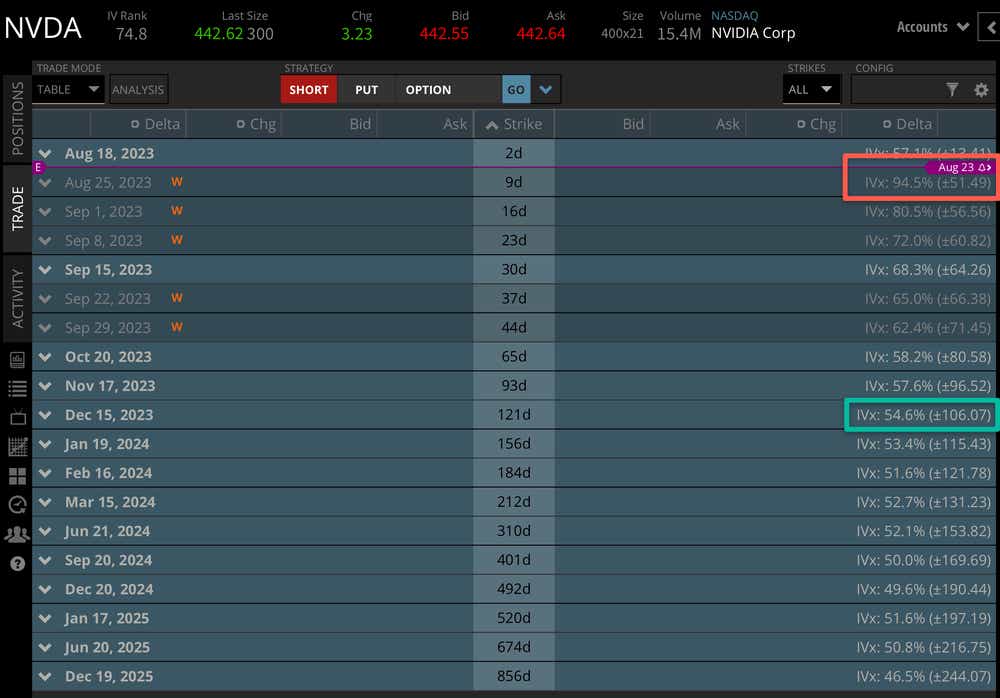 In this case, Nvidia has a +-$51.49 expected move through next week, which contains a week's worth of time and the implied volatility of the earnings announcement on Wednesday. This is well over 10% of the current stock price, so the market is expecting some big movement after the earnings call on Wednesday.
When you compare this to the December cycle for 2023, which has an expected move of $106.07 based on current implied volatility, you can clearly see that this earnings announcement is projected to make an enormous impact on the stock price relative to the rest of the year. The last report resulted in a realized stock price move that was multiples of the expected move, which certainly adds volatility expectation to this earnings call.
Bullish NVDA stock talking points
NVDA has a call skew in the near-term options market.
It has a massive R&D budget for future AI progress.
Demand for the company's current products is stronger than ever.
NVDA stock has call skew in the near-term options market, which means that out-of-the-money (OTM) call options are a higher price than equidistant downside OTM put options. This tells us that the market is placing a premium on upside speculation or hedges, which means the market fears that a high-velocity move could be to the upside more often than the downside here.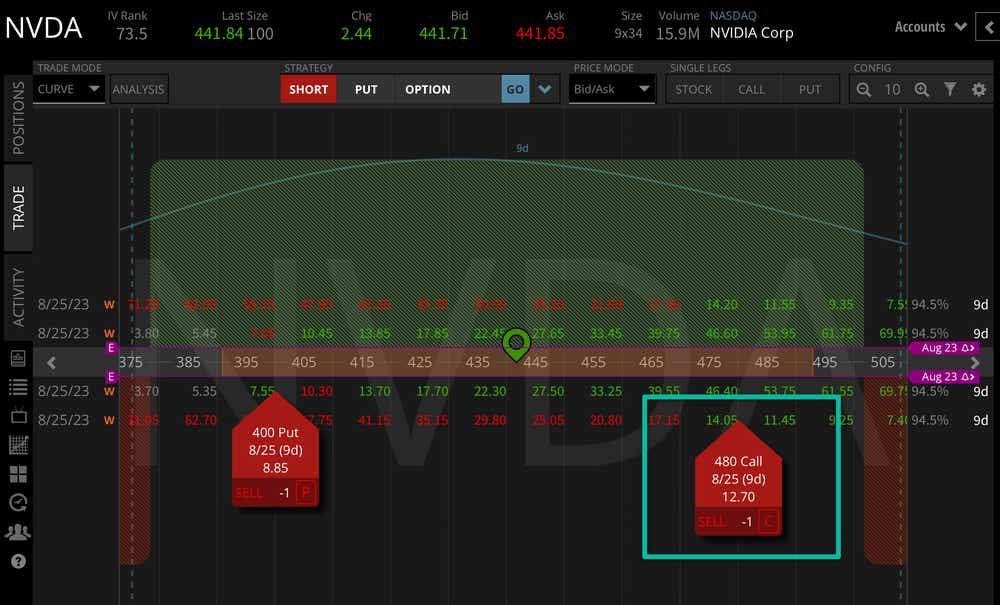 With AI and tech at the forefront of the recent market rally, and such a massive company valuation most people look to NVDA now to see what's going on in the AI market - they could be saving some big news for the earnings call, but even if they're not they have a stranglehold on the space in general. Anyone that is bullish AI may be an investor in NVDA.
Bearish NVDA stock talking points
The company faces mounting pressure for strong earnings results.
Nvidia has some strong competitors, including Advanced Micro Devices (AMD).
It feels unnatural to be bearish in a tech space that has carried the markets over the past few months, but there are some arguments to be made for a downside move after earnings.
First, Nvidia has crushed earnings two quarters in a row, almost beating EPS estimates by 10% each time. Just like any other tech stock that becomes a household name, any sign of weakness could send the stock tumbling from the heights it has seen recently.
At the same time, there are other competitors that are battling for market share in the AI space - Just because NVDA is the big dog now doesn't mean it always will be, and any success at another firm could put more pressure on Nvidia to produce.
At the very least, we have a massive, expected move for next week, as the weekly cycle is pricing in over a 10% move in the stock price. All eyes will be on NVDA after the market closes Aug. 23.
Check out Luckbox's latest blog on Nvidia, "NVDA Q2 Earnings: These Stocks Made the Biggest Moves the Last Time Nvidia Reported Earnings."
Mike Butler, tastylive director of market intelligence, has been in the markets and trading for a decade. He appears on Options Trading Concepts Live, airing Monday-Friday. @tradermikeyb
For live daily programming, market news and commentary, visit tastylive or the YouTube channels tastylive (for options traders), and tastyliveTrending for stocks, futures, forex & macro.
Trade with a better broker, open a tastytrade account today. tastylive, Inc. and tastytrade, Inc. are separate but affiliated companies.