Japan's sharp second-quarter GDP rise is unlikely to spur BOJ action, but the yen may continue to advance
Japan's GDP growth surged in the second quarter, doubling expectations.
Bank of Japan still looks unlikely to rush toward an exit from ultra-loose policy.
The yen may rise as growing concern about a global recession weigh on bond yields.
At first glance, Japan's economy appears to have surged ahead in the second quarter. Data published this week showed gross domestic product (GDP) grew at an annualized rate of 6%, crushing expectations anticipating a rise of 2.9%. The first quarter's results were also upgraded to 3.7%, up from the previously published 2.7%.
Such robust performance seems to endorse speculation that the Bank of Japan (BOJ) might be angling for an exit from decades of ultra-loose monetary policy. This is a tempting narrative. The GDP deflator–a measure of inflation used to discount the impact of price changes on growth figures to arrive at "real" results–rose from 2.0% to 3.4% in the three months to June. The benchmark consumer price index (CPI) gauge puts inflation at 3.3%, well above the central bank's target.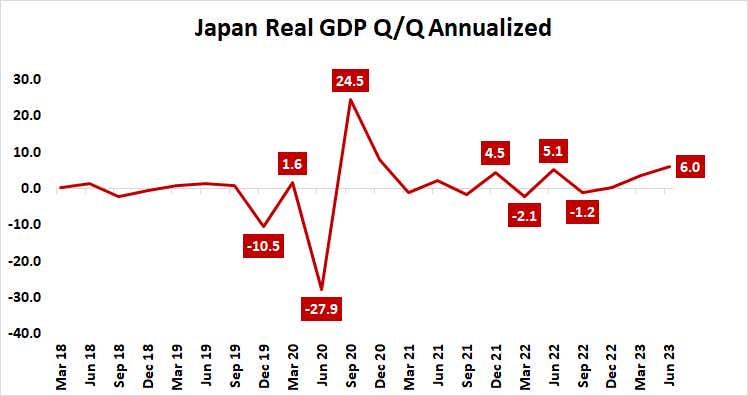 Japan GDP growth: less than meets the eye
Not all is as it seems, however.
In quarterly terms, GDP rose 1.5%. External demand contributed 1.8% to the equation, while the domestic economy shaved off 0.4%. Most worrying of all, household consumption fell 0.3%. A drop of 0.2% in inventories was partially offset by a small rise in residential investment, making up the balance.
It gets worse.
On the external side, the largest contribution came from imports at 1.1%, while exports added 0.7%. That's because inbound shipments fell 16.2% from the prior quarter, doubling down on the damning picture of domestic demand painted in the consumption figures. On the bright side, exports rose 13.6% to mark the largest rise in two years.
This hardly signals that the BOJ ought to be rushing to tighten monetary policy. Inflation seems to be mostly imported from abroad, with food prices making the biggest contribution. Japan is an island nation. Much of what it consumes comes from abroad, so it is understandably sensitive to rising prices beyond its borders.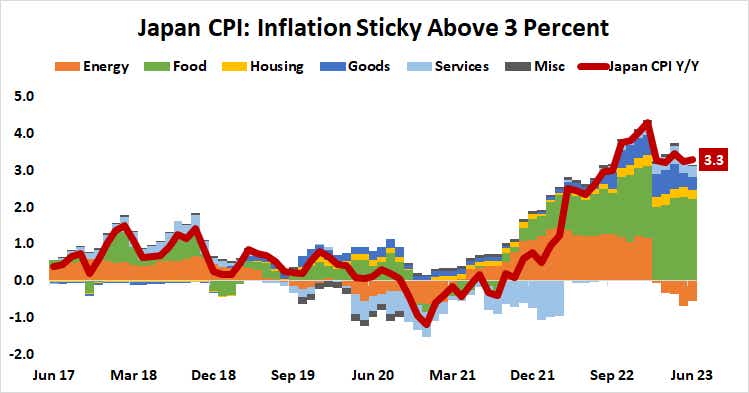 A weak Japanese yen (JPY) compounds the situation. It has been sinking since early 2021 as the BOJ stood aside while other major central banks rushed to raise interest rates. That has eroded Japanese consumers' purchasing power, making foreign goods more expensive in JPY terms.
Japanese yen may rise as global recession worries build
The currency may be gearing up for recovery, but not for the reasons hawkish BOJ-watchers might imagine. That surge in exports in the second-quarter GDP results might wane as the global economy slows, undercutting foreign demand. Indeed, U.S. consumers seem to be the last line of defense against outright global recession, and they have a Fed target painted on their back. The Eurozone is all but certainly in recession and China is struggling to reboot growth after scrapping "zero-COVID" restrictions in December.
After decades without pricing power and rock-bottom interest rates, the yen has developed a firm inverse relationship with global interest rates. That is because investors at home and abroad borrow cheaply in JPY terms, then reinvest in higher-yielding assets—a strategy known as the "carry trade." If a hawkish Fed punctures U.S. consumption–triggering a widespread downturn and spurring bets on a dovish reversal in global monetary policy–the yen is likely to rise.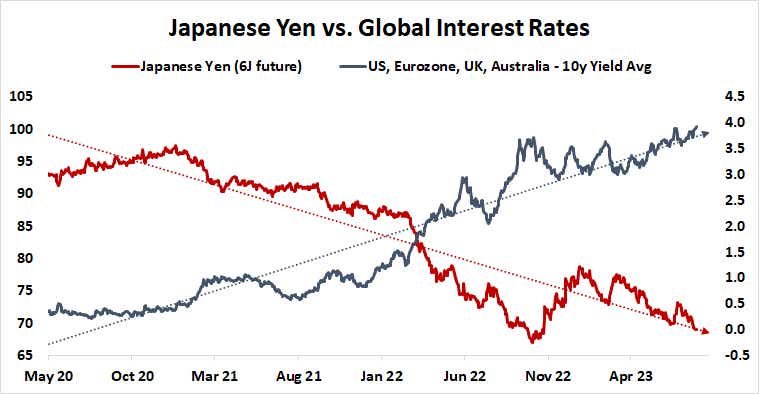 Ilya Spivak, tastylive head of global macro, has 15 years of experience in trading strategy, and he specializes in identifying thematic moves in currencies, commodities, interest rates and equities. He hosts Macro Money and co-hosts Overtime, Monday-Thursday. @Ilyaspivak
For live daily programming, market news and commentary, visit tastylive or the YouTube channels tastylive (for options traders), and tastyliveTrending for stocks, futures, forex & macro.
Trade with a better broker, open a tastytrade account today. tastylive, Inc. and tastytrade, Inc. are separate but affiliated companies.