Micron Technology (MU) is set to report Q2 2022 earnings next Tuesday (March 29th) after the market close. Traders can expect to see MU shares moving in the after-hours session that afternoon.
Micron Technology is one of the largest semiconductor firms in the world, with a current market capitalization of $86 billion. MU holds the 35th spot in the Nasdaq 100 slot, behind Advanced Micro Device in the 18th slot at a $192 billion market cap, and Nvidia (NVDA) which boasts a $691 billion market cap and is the 7th largest Nasdaq company.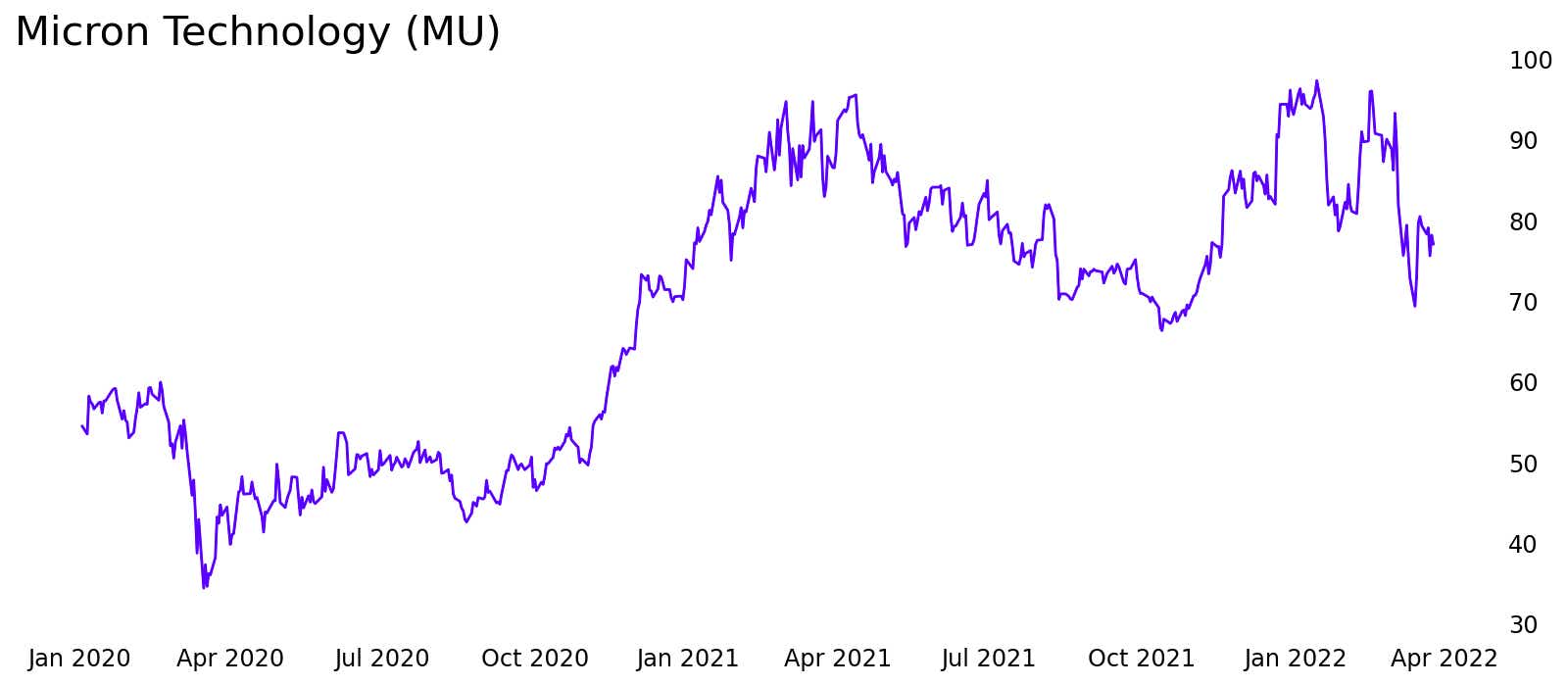 After the initial pandemic slump, MU participated in the technology rally of late 2020 and early 2021. Though things turned around and the stock fell again for much of 2021 before another surge that commenced in October 2021 and lasted until January. On January 5th MU hit an all-time high of $98.45 before selling off, trying to recover, and then dropping again. The selloffs this year were multi-pronged and are a common story among technology stocks.
A shift to a higher interest rate environment in 2022 and 2023 means that technology companies that relied on cheap debt to fuel new projects and growth will see their borrowing costs increase. Additionally, MU will continue to feel the force of broader moves in equities, much of which right now are dictated by fears around the war in Ukraine.
Micron Stock: 12 Month Performance Lags Behind Competitors, Where Next?

Year to date, Micron is underperforming other semiconductor stocks as well as the overall technology sector and Nasdaq 100. Longer term investors who held Micron for multiple years are still seeing positive terms, but recent buyers are likely in desperate need of a rally at this point. 
Micron Stock Fundamental Analysis
Despite the supply chain constraints that hampered semiconductor makers ability to get products in customers' hands, Micron's recent revenue and earnings per share growth was strong. Year over year revenue grew by 89% and 105% for Q4 2021 and Q2 2022, respectively.
The operating profit also saw substantial growth, meaning the revenue has grown with limited additional costs associated with increased sales. Operating profit for Q1 2020 was $514 million, growing to $866 million last year and $2.6 billion this prior quarter.
Earnings per share for Q1 2022 was $2.04, a 187% increase from last year and a 370% increase compared to Q1 2020. MU also trades at a much lower price to earnings (PE) ratio compared to both Nvidia and AMD. MU has a current PE ratio of 11, versus 50 for Nvidia and 40 for AMD.
Micron (MU) Stock Price Outlook: What to Expect from Q2 Earnings
While bullish traders and investors naturally hope the earnings announcement pushes MU shares back towards that $98 high, there is a wide range of possible movement for MU in the coming weeks and months:
Given the current options pricing the markets indicate a there is a possibility of MU reaching making new highs over the next few months. There is a 27% chance of MU touching $100 by July expiration and a 34% chance of MU reaching $100 by September expiration (September 16).