This AMSC chart explains the current frenzy over superconductors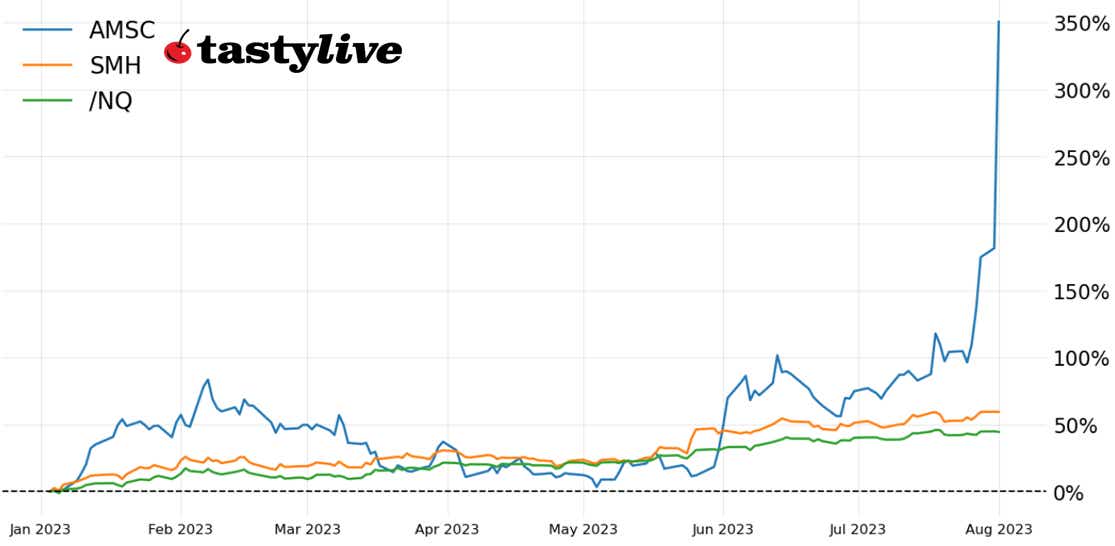 The superconductor revolutions join AI as a market-driving narrative.
A new superconductor reportedly operates at temperatures just above freezing instead of needing to be chilled to super-cold temperatures near absolute zero.
Low volume, high implied volatility and a viral new meme? AMSC has those in spades.
Narratives drive markets. In 2020 and 2021, it was "we're going to the moon because of low rates and government spending." In 2022, it was "interest rate hikes and supply chain issues will wreck the economy." And in 2023, it has been "AI will change the economy forever."
It may be time for AI to move over, or at least make some room for a new narrative: "superconductors." Or rather, room temperature superconductors, and specifically, a material called LK-99. But first, a quick science lesson.
Typically, superconductors need to be cooled down significantly, just above absolute zero (-273.15 degrees Celsius, -459.67 degrees Fahrenheit or 0 degrees Kelvin). What is a room temperature superconductor? Any material that exhibits superconductivity at or just above zero degrees Celsius (or 32 degrees Fahrenheit).
The next question is, what is superconductivity? In a non-superconductor, when electrons pass through a wire, there is some friction that results in loss (it is estimated that 10% of the electricity sent through U.S. grids are lost). This friction is known as electrical resistance, creating a byproduct of heat. For a superconductor, there is no electrical resistance; there is no energy lost, no heat transfer. Effectively, there's an infinite energy loop.
Granted, I am no expert in physics, and I'm barely a tourist on this topic. But here's why this new narrative has the potential to be so potent: A room temperature superconductor could upend how the global economy is industrialized. The cell phone in your hand, or the laptop on which you're reading this? They wouldn't overheat. Flying cars? A possibility. Unlimited clean energy and clean water? Entirely plausible.
This sounds too good to be true, of course; something ripped from the pages of science fiction. That may be the case. Efforts to replicate LK-99, the superconductor material first discovered by a team of South Korean scientists, have been both futile and semi-successful in recent days. But because of how readily available the materials are to prove or disprove the existence of a room temperature superconductor, we may actually know the legitimacy of this new technology before the month of August is finished.
What's in a name?
In the meantime, let's talk about American Superconductor (AMSC). Does it make room temperature superconductors? No. Have they announced experiments or applications with LK-99? No. So what do they have? They have superconductor in their name!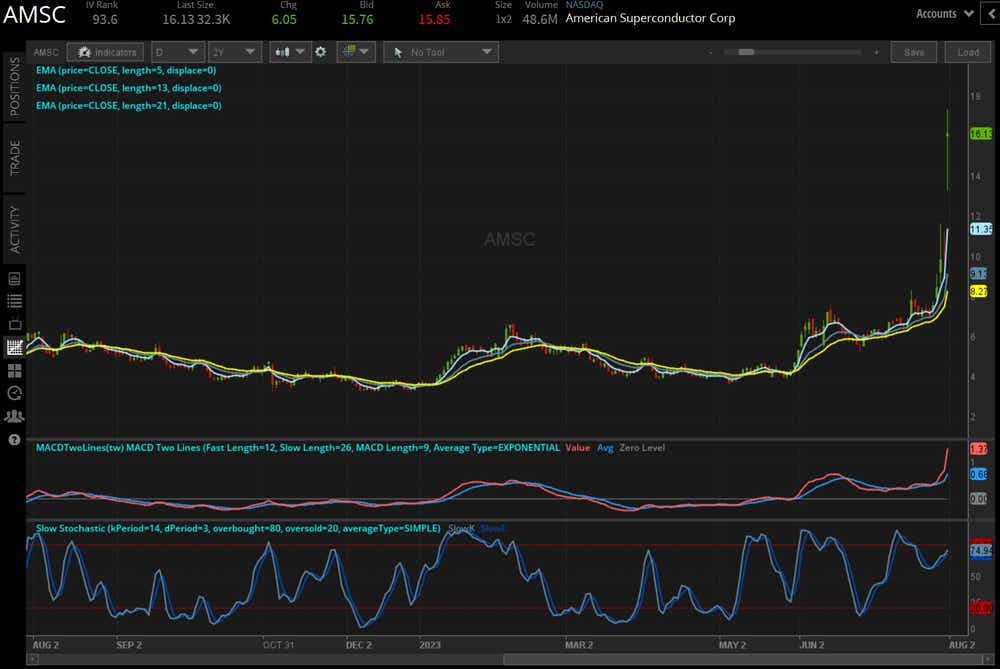 Low volume, high implied volatility and a viral new meme? AMSC has those in spades. We'll see if this becomes another blockchain-type phenomenon. Remember Long Island Iced Tea Corp, which changed its name to Long Blockchain Corp, and then rallied ~400% before getting delisted by the Securities and Exchange Commission? Traders should stay on alert for any technology company that announces it is exploring applications of LK-99 in the coming weeks.
Christopher Vecchio, CFA, tastylive's head of futures and forex, has been trading for nearly 20 years. He has consulted with multi-national firms on FX hedging and lectured at Duke Law School on FX derivatives. Vecchio searches for high-convexity opportunities at the crossroads of macroeconomics and global politics. He hosts Futures Power Hour Monday-Friday and Let Me Explain on Tuesdays, and co-hosts Overtime, Monday-Thursday. @cvecchiofx 
For live daily programming, market news and commentary, visit tastylive or the YouTube channels tastylive (for options traders), and tastyliveTrending for stocks, futures, forex & macro.
Trade with a better broker, open a tastytrade account today. tastylive, Inc. and tastytrade, Inc. are separate but affiliated companies.