American Superconductor Corp. shares surged on the report of a new superconductor.

A superconductor now under development reportedly works above room temperature and at ambient pressure.
Superconductivity needs expensive coolants to is achieved when a material experiences zero resistance to electricity with the aid of expensive coolants.
If room temperature superconductivity exists it could lead to ultra efficient electricity grids.
Science can be strange. Science can be difficult. Science can be fun. Science can be enlightening. Science can be frustrating. Science can be all of these things at once. I know because once upon a time my day job was science. I've worked in organic chemistry labs, U.S.Department of Agriculture forestry labs and material science labs focused on superconductivity.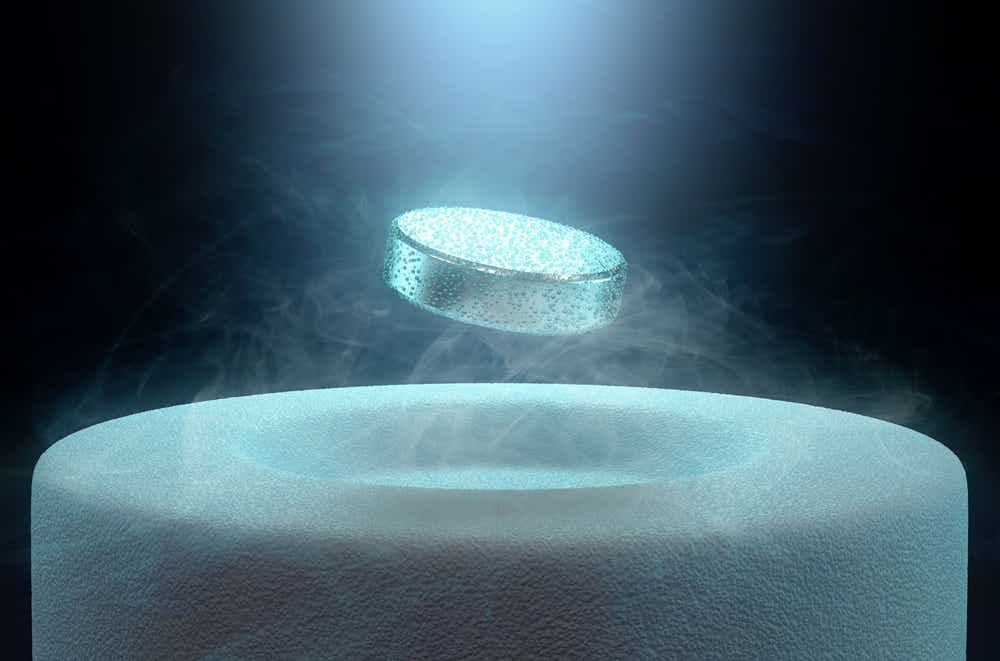 What is a superconductor?
Now that's a word. Superconductivity. The phenomenon of superconductivity was discovered in 1911 by Dutch physicist H.K. Onnes. A perfect superconductor exhibits zero resistance to electricity below its critical temperature and often needs the aid of a coolant, such as liquid hydrogen or liquid nitrogen, to showcase its properties.
A superconductor also completely expels magnetic field lines from its interior during its transition into a superconducting state. This is known as the Meissner effect. This sensation produces many of the world renowned images where superconductors are seen as floating above a magnet. Pretty cool, huh?
A new superconductor?
According to a Science.org report citing a Cornell post from July 22, some are claiming a new superconductor, now called LK-99, is being developed that works above room temperature and at ambient pressure. "If true, the discovery would be one of the biggest ever in condensed matter physics and could usher in all sorts of technological marvels, such as levitating vehicles and perfectly efficient electrical grids," the report states.
However, there are skeptics. The original post from a Korean team at the Quantum Energy Research Centre is said to be lacking detail and has reportedly caused physicists to question the results. Scientists in the field have their doubts about the experimental data and the theoretical model used by the researchers. Truth be told, scientists typically do that with new discoveries.
All that said, if the new claims are legitimate, the discovery would represent what Science.org calls "the ultimate superconductor."
A pioneer in the field
American Superconductor Corp. (AMSC) shares surged on the report of a new superconductor. Implied volatility rank has risen rapidly, too, which is providing traders several ways to express opinions via options. Like most stocks that see a surge in price and volatility to the upside, there is upside skew as the calls have been "bid up." Be careful—this one could get wild.
AMSC is focused on generating ideas, technologies and solutions that meet demand for smarter, cleaner energy. The company provides a range of power electronics and software-based control systems that are highly integrated and designed for optimized performance, efficiency and grid compatibility. The company is set to report first-quarter financial results on Aug. 9.
If this scientific breakthrough really has legs then we could eventually see some disruption in the utilities sector. Keep an eye out for that.

Jermal Chandler, tastylive head of options strategy, has been in the market and trading for 20 years. He hosts Engineering the Trade, airing Monday, Tuesday, Thursday and Friday. @jermalchandler 
For live daily programming, market news and commentary, visit tastylive or the YouTube channels tastylive (for options traders), and tastyliveTrending for stocks, futures, forex & macro.
Trade with a better broker, open a tastytrade account today. tastylive, Inc. and tastytrade, Inc. are separate but affiliated companies.