In 2017, Netflix had a very different perspective on password sharing. Can the new password crackdown and upcoming earnings sustain the stock's recent meteoric momentum? Let's look at the bullish, and bearish case.
The Netflix password crackdown has started. Users are now forced to create their own account instead of sharing accounts through different households.
The new ad-supported tier had a strong initial earnings report—more information is expected July 19.
Earnings per share (EPS) expected to drop $0.02 to $2.86
Revenue expected to come in at $8.29 billion.
Netflix has surged in 2023 from $298.06 to $448 in just a few months—the stock has realized a big spike in earnings per share from the last earnings quarter, and the streaming giant looks to compound gains next week.
I've personally been hit with the "you can't use this account for free anymore, Silly Goose" message and had to finally open my own Netflix account.

There are multiple payment tiers now. One option is cheaper but forces you to see advertisements, while another is more expensive but allows you to bypass them. With millions of people opting for the ad-supported subscription, it will be interesting to see how that number grows or falls after the earnings call on Wednesday, July 19, at 3:00 p.m. CST.
Netflix is expected to report an earnings per share of $2.86 on $8.29 billion in revenue.
Netflix stock's earnings expected move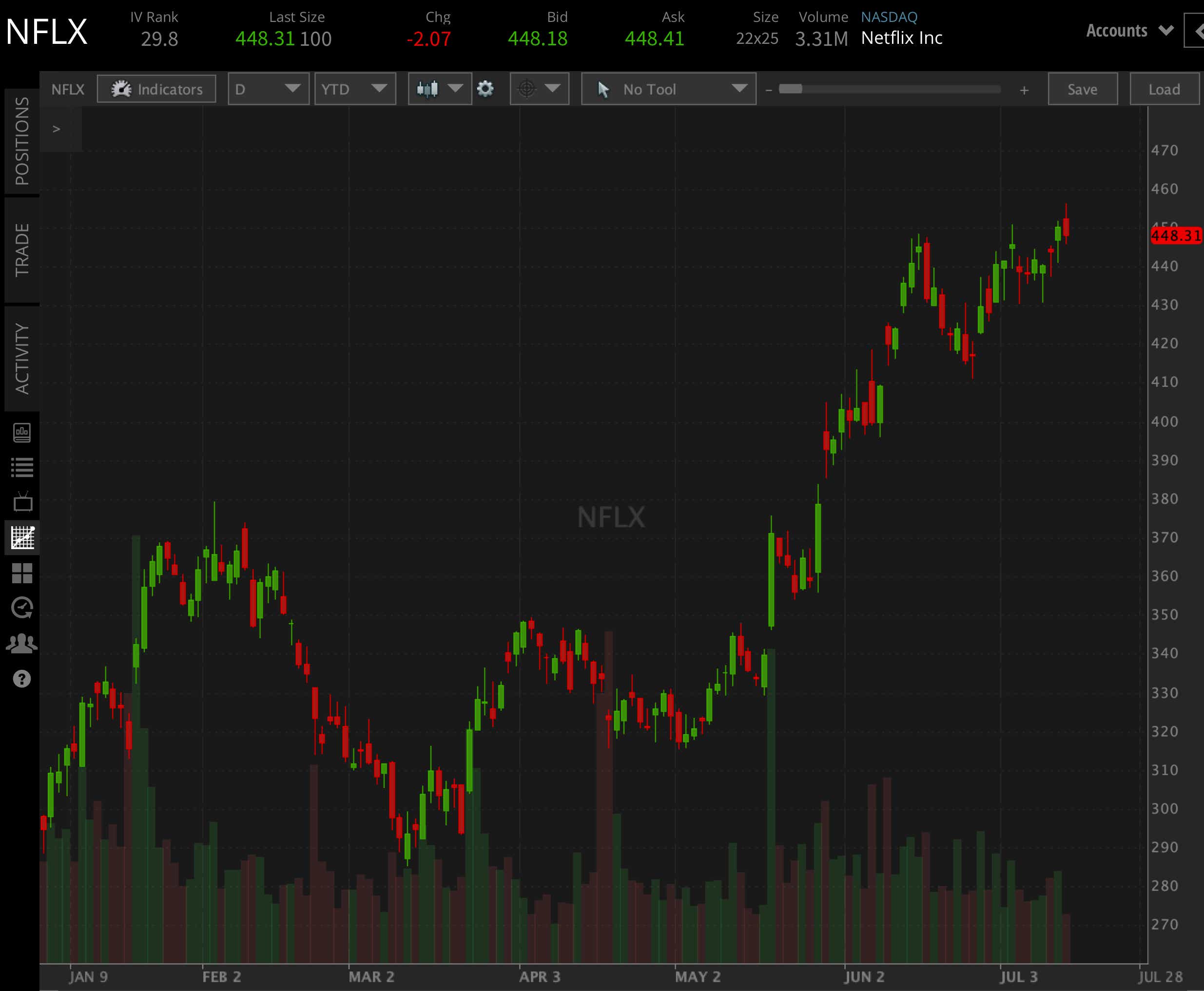 The chart for Netflix looks like many other tech stocks in 2023—a sharp, 45-degree angle up and to the right. With the stock trading near its 2023 highs, there's still a huge, expected price movement for earnings next week.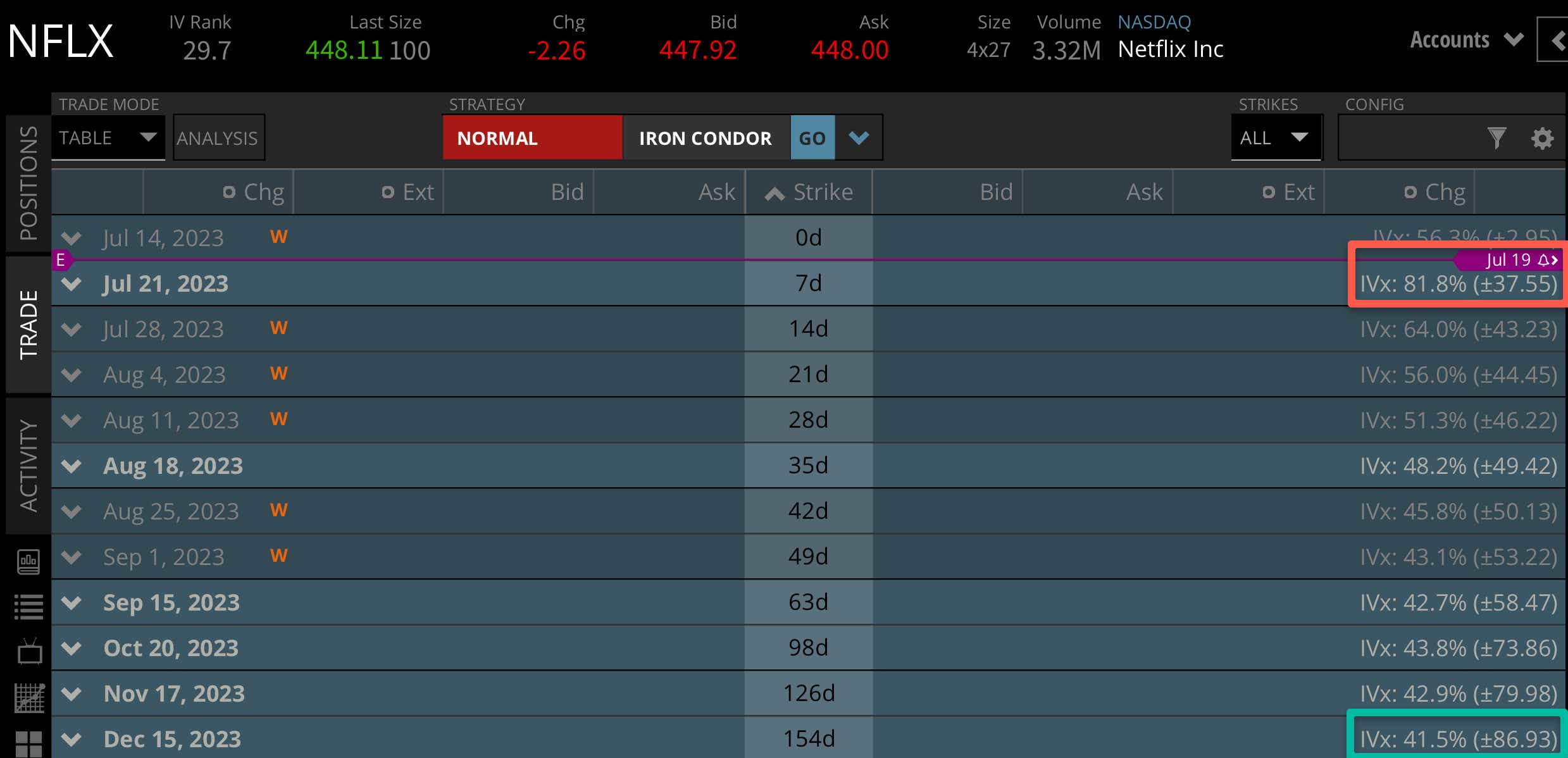 Looking at the options chain, we can see what the implied volatility is for each expiration cycle. The 7DTE cycle, which contains the earnings announcement, has a whopping +-$37.55 expected move from the current stock price of $448.11. That is a pretty large, expected move, with plenty of possibility for the stock to exceed the expectation.
Comparing this figure to the December cycle, which is only +-$86.93, we can see that the market is putting a big weight on next week's earnings call for current earnings results, as well as the forecast for the rest of the year.
A bullish case for Netflix earnings
With many users sharing accounts and sapping potential revenue from Netflix, the password crackdown can only mean bigger revenue numbers for the streaming giant—do you really think people are just going to stop binge-watching shows? I think not.
My focus for this earnings call is around the ad-tier program—especially with the implied influx of new accounts, if a good percentage of these people opt for the ad-supported tier, that could be huge for Netflix's profit margin and revenue revelations and projections.
A bearish case for Netflix earnings
With the stock already trading near the high of 2023, it puts a lot of pressure on Netflix to deliver strong earnings results. The EPS is expected to drop ever so slightly, and revenue numbers are projected to increase from last quarter, but if there is even the slightest miss, or a weak projection for the rest of the year, it could send the stock south.
Tune in on Wednesday, July 19 at 3 p.m. CST to see if the expected stock price move is overstated, or if there is a bigger move than expected!
We'll be placing an options earnings trade on Options Trading Concepts Live at 11 a.m. CST on Wednesday, so be sure to tune in for trade ideas!
Mike Butler, tastylive director of market intelligence, has been in the markets and trading for a decade. He appears on Options Trading Concepts Live, airing Monday-Friday. @tradermikeyb
For live daily programming, market news and commentary, visit tastylive or the YouTube channels tastylive (for options traders), and tastyliveTrending for stocks, futures, forex & macro.
Trade with a better broker, open a tastytrade account today. tastylive, Inc. and tastytrade, Inc. are separate but affiliated companies.