When Does SNAP Report Its Q1 2022 Results?
With earnings season in full swing, Snap Inc. (SNAP) reports Q1 2022 numbers this Thursday, April 21st after the bell. As is often possible in earnings season, traders should be mindful that moves in Snap after numbers are released could move shares of Twitter (TWTR) or Meta Platforms (FB) if they indicate substantial shifts in the industry. This is especially true as all social media platforms fight to keep eyeballs on their apps as TikTok continues to draw the masses. Though even with the TikTok phenomenon, Snap still saw steady user growth from 2020 to 2021, rising from 354 million to 428 million.
SNAP vs Twitter vs Facebook Stocks

Snap is currently valued at around $54 billion, still above Twitter ($36 billion), even after the recent Elon Musk hype. While not inducted into the S&P 500 yet, Snap would certainly sit comfortably in the index, outranking over 350 of the components by market capitalization. Likewise, Snap could easily fit in the Nasdaq-100 index, if it traded on the Nasdaq. While Snap and Twitter both trade on the New York Stock Exchange, Nasdaq-traded Meta Platforms (FB, formerly Facebook), is now valued at $586 billion, still standing as the behemoth of the social media space thanks to Facebook, Instagram and WhatsApp.
To trade Snapchat, Meta, and Twitter Stock, open an account on tastytrade
SNAP Stock: Recent Price Action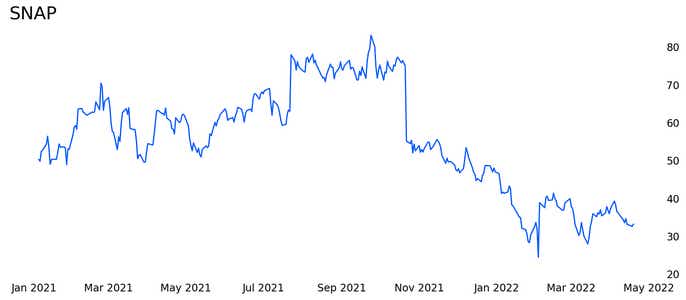 Snap spent most of the time pre-pandemic trading below $20 per share before falling below $10 in March of 2020. Snap then participated in the seemingly relentless tech rally of late 2020 and much of 2021, climbing to a peak price of $83.34 last September, before a drastic post-earnings drop in October. While not on its lows, the stock remains far off the highs, below $35 per share. Twitter and Meta are also struggling though Twitter did receive some help recently due to the takeover bid by Elon Musk.

Snap Stock Price: Financials in Focus
The financials for Snap are definitely trending in the right direction. The $848 million in gross profit last quarter was by far their best on record. This was a 61% increase over the prior year's Q4 gross profit and 170% increase over Q4 2019. This growth was fueled by both an increase in revenue and a declining cost of revenue which were about 42% and -16% respectively from Q4 2020 to Q4 2021.
The trouble for Snap the last few years has been extremely high expenses relative to overall revenue. Though admittedly the $25 million operating loss reported for Q4 was the smallest on record. This was a 74% drop in the operating loss compared to the same quarter a prior year. Investors are hopeful Snap can continue these positive trends into 2022.
How to Trade Snap's Q1 Earnings
Even with Snap's implied volatility over 100%, roughly 5 times higher than the S&P 500, bullish investors should be cognizant the market is not expecting Snap to retouch that high above $80 anytime soon. However, as it stands right now, there is about a 22% chance of Snap being above $80 on January 19th, 2024 (Option expiration for that month).

tastytrade, Inc. and tastylive, Inc. are separate but affiliated companies.