After nearly two months of trading, several key market narratives have emerged in 2023, and one of them is undoubtedly the rebound in the tech sector.
As most investors and traders are well aware, 2022 was a tough year for tech stocks, with the Nasdaq Composite correcting by over 30% last year.
But bullish sentiment has swept the markets in 2023, and of the major market indices, the Nasdaq Composite has been the clear leader. So far this year, the Nasdaq Composite is up roughly 14%, which is significantly more than the 7% gain in the S&P 500, and the 2% gain in the Dow Jones Industrial Average.
In addition to the technology sector, the communications services and consumer discretionary sectors have also set a furious pace to start the year, as highlighted below.
2023 Sector Performance (year-to-date)
Consumer Discretionary (XLY), +16.4%
Communications Services (XLC), +15.3%
Technology (XLK), +12.4%
Financials (XLF), +6.4%
Industrials (XLI), +4.9%
Materials (XLB), +4.7%
Consumer Staples (XLP), -1.2%
Healthcare (XLV), -2.8%
Utilities (XLU), -2.9%
Energy (XLE), -3.4%
Interestingly, the three top-performing sectors listed above also happened to be the worst performing sectors in 2022, with communications services down roughly 37% last year, and the consumer discretionary and technology sectors down 36% and 27%, respectively.
Optimism in the 2023 stock market appears to stem from two primary themes—a resilient underlying U.S. economy, and aggressive cost-cutting measures embraced by the corporate sector.
Last year, concerns over the health of the U.S. economy weighed significantly on the stock market. However, actual performance in the U.S. economy in 2023 has been far better than expected.
For example, the January jobs report—which was released in early February—revealed that the U.S. economy added more than 500,000 during the first month of 2023. That was a huge upside surprise, and has undoubtedly eased anxieties over a potential economic recession.
The jobs report also eased concerns that corporate earnings are about to fall off a cliff. And as most are well aware, underlying stock valuations are closely linked to corporate earnings—a key development that may help explain why stocks have rebounded during the first eight weeks of 2023.
Moreover, some companies have also embraced aggressive cost-cutting measures to help reign-in expenses, especially in the technology sector. Leaner operations typically translate to improved earnings, which means the cost-cutting measures adopted by the corporate sector have been another incremental positive when it comes to stock valuations.
Unfortunately, those cost-cutting measures often involve layoffs. But so far, the bulk of the layoffs have been observed in the tech sector, as shown in the graphic below.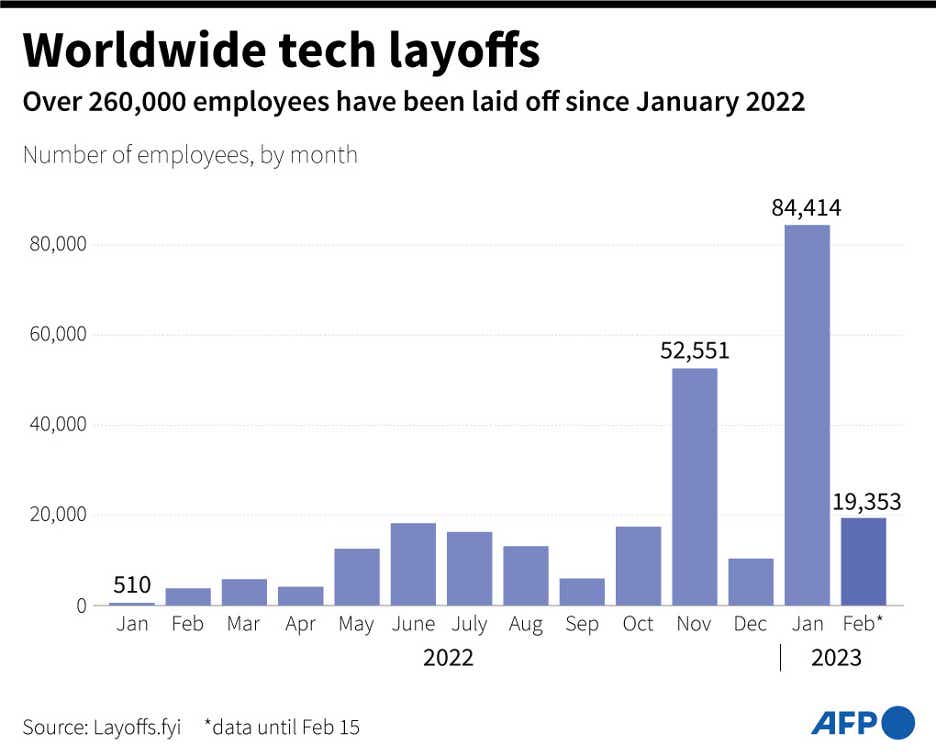 If the layoffs spread to other sectors of the economy, that would be an incremental negative, and potentially trigger a reversal in the stock market. Because a flood of new layoffs could trigger a sharp contraction in consumer spending.
The big question, therefore, is how long the current paradigm will hold.
Can the economy continue to grow in the face of higher interest rates? Or will higher rates ultimately force the corporate sector to embrace further cost-cutting (i.e. layoffs)?
Nobody knows for certain the answers to these questions. But investors and traders can closely monitor key reports on the economy—such as the upcoming jobs report on March 10, 2023—for potential red flags.
Top Stocks to Watch in the Tech Sector
Considering the impressive gains made in the technology and communications services sectors to start the year, there have been a large number of single stocks that have outperformed during the first two months of 2023.
Listed below are 15 of the best-performing stocks from the technology and communications services sectors. The list is limited to companies that produce at least $2 billion in annual revenues, and associated year-to-date stock performance.
Top Performing Stocks in the Technology Sector during 2023
Diebold (DBD), +100%
Opendoor Technologies (OPEN), +70%
Offerpad Solutions (OPAD), +66%
Compass (Comp), +65%
Spotify (SPOT), +53%
Kyndryl Holdings, +46%
Nvidia (NVDA), +44%
Roblox Corp (RBLX), +41%
Twilio (TWLO), +41%
Meta Platforms (META), +40%
Applovin Corp (APP), +39%
Seagate Tech (STX), +33%
Vizio (VZIO), +32%
Western Digital (WDC), +30%
On Semiconductor (ON), +28%
Top Performing Stocks in the Communications Services Sector during 2023
Clear Channel (CCO), +76%
Millicom (TIGO), +51%
Cimpress (CMPR), +34%
Trinet (TNET), +32%
Criteo (CRTO), +32%
Telephone and Data (TDS), +29%
The Andersons (ANDE), +28%
United States Cellular (USM), +24%
Franchise Group (FRG), +24%
Bright Horizons (BFAM), +24%
Liberty Latin (LILA), +21%
Advantage Solutions (ADV), +21%
Transunion (TRU), +20%
Constellium (CSTM), +19%
Wex (WEX), +16%
To learn more about trading the sector ETFs, check out this installment of Options Jive on the tastylive financial network.
For daily updates on everything moving the markets—including key developments in the tech sector—readers can also monitor tastylive, weekdays from 7 a.m. to 4 p.m. CDT.