How ChatGPT changed the tech world
The arrival of ChatGPT has shaken the tech world to its core.
Expectations and projections for the future are currently in flux, maybe to the greatest extent since the introduction of the iPhone, or the cloud, more than 15 years ago.
And early returns suggest the internet search sector will be the first major battleground for A.I.-powered programs like ChatGPT. But at this nascent stage, it's extremely difficult to predict how this emerging technology could shake-up other sectors of the economy.
Indeed, the proliferation of ChatGPT via the Microsoft (MSFT) ecosystem could play out in a completely different manner than expected.
For example, many now predict that Microsoft will steal market share from Alphabet (GOOGL) after the former integrates ChatGPT with its existing Bing search engine. And that certainly might be the case.
ChatGPT competitors
However, there are other global tech titans that are probably sweating the arrival of ChatGPT as much—or more —than Alphabet.
For example, Baidu (BIDU)—headquartered in China—must be taking a hard look in the mirror at this time, as well. Baidu is currently the top search engine in China, accounting for roughly 65% of the total Chinese internet search market.
What's even more intriguing, however, is the fact that Bing is the second-highest utilized search engine in China, controlling roughly 10% of the market.
That's considerably higher than Bing's presence in the U.S. search market, which is 6.5%. As most are well aware, the global internet search sector is dominated by Google, which controls roughly 84% of the worldwide market.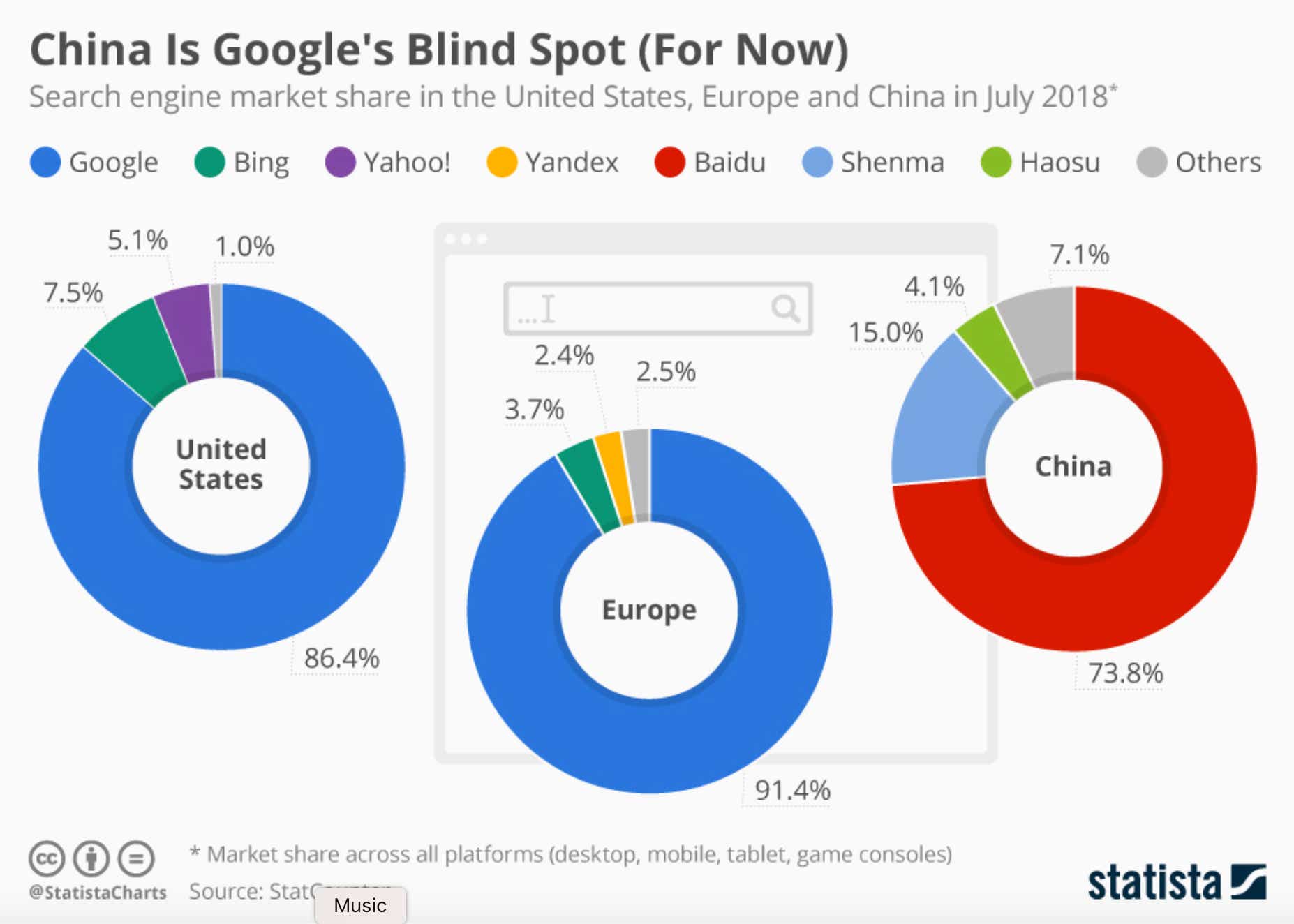 The above figures suggest there may be room for Microsoft to grow in the U.S. market at the expense of Google. But there may be an equally strong chance for Microsoft to edge out Baidu in the Chinese market. And in China, there won't be any pushback from Google.
Google pulled out of China over a decade ago due to friction with the Chinese government over censorship. As most are well aware, the Chinese government maintains the so-called "Great Firewall" to heavily censor internet content inside the country.
Now partnered with OpenAI (the creator of ChatGPT), Microsoft may be able to leverage its existing relationship with the Chinese government to deploy an A.I.-enhanced version of Bing in China. A potential development that has to be of great concern to Baidu.
In 2023, current estimates suggest the internet search market in China will be worth about $200 billion yuan ($38 billion USD) in annual revenue. In comparison, the U.S. search market is estimated at closer to $200 billion in annual revenue.
Baidu set to launch its own AI powered chatbot in 2023
Baidu has announced its own plans to introduce an A.I.-powered chatbot at some point in H1 2023. That program is known as "Enhanced Representation through Knowledge Integration" (aka ERNIE), and is expected to be integrated into Baidu's internet search engine.
However, the current capabilities of ERNIE are unknown—meaning its ability to compete effectively with ChatGPT—is also unknown.
The two things Baidu has going for it right now is the Chinese language and the Chinese government. Early returns indicate that ChatGPT doesn't handle the Chinese language particularly well. And the Chinese government has a long history of protecting its domestic tech sector from foreign competition.
Considering the advanced nature—and learning ability—of ChatGPT, it's a likely bet that ChatGPT will soon become proficient in Chinese. However, the Chinese government's potential intervention in the market is an undeniable x-factor when it comes to Microsoft's ability to expand its current footprint in the Chinese internet search sector.
In the last several weeks, the competitive implications of ChatGPT's global emergence have had a noticeable impact on associated valuations in the stock market.
Since the start of February, shares in Microsoft are up around 9%. However, since February 2, Alphabet shares are down by about 12%, reflecting investor concerns over Microsoft's newfound competitive advantage.
BIDU has been on a tear since November of last year, rallying by about 78% since November 1.
But the bulk of those gains were attributable to the reduced potential for a mass delisting of Chinese stocks from U.S. exchanges. Chinese stocks like Baidu also experienced a surge when the Chinese government announced the termination of its "zero-COVID" policy at the end of 2022.
Interestingly, BIDU shares reversed course last week, as the implications of ChatGPT's competitive advantage became more clear. BIDU shares peaked at $160/share on February 7, and have since that time dropped by about 15%. Today, BIDU for roughly $139/share.
Where those shares trade from here will depend heavily on the success of Baidu's forthcoming chatbot, as well as the Chinese government's ongoing decisions on A.I. policy in the Middle Kingdom.
If the Chinese government adopts a conservative approach on artificial intelligence, that could be a negative for Microsoft's future prospects in China. But if that happens, it would also arguably be a negative for Baidu, as well.
Looking beyond Baidu, there are plenty of other A.I.-focused companies in China. Much like the United States, China has seen a flood of new startups in the sector, as illustrated in the graphic below.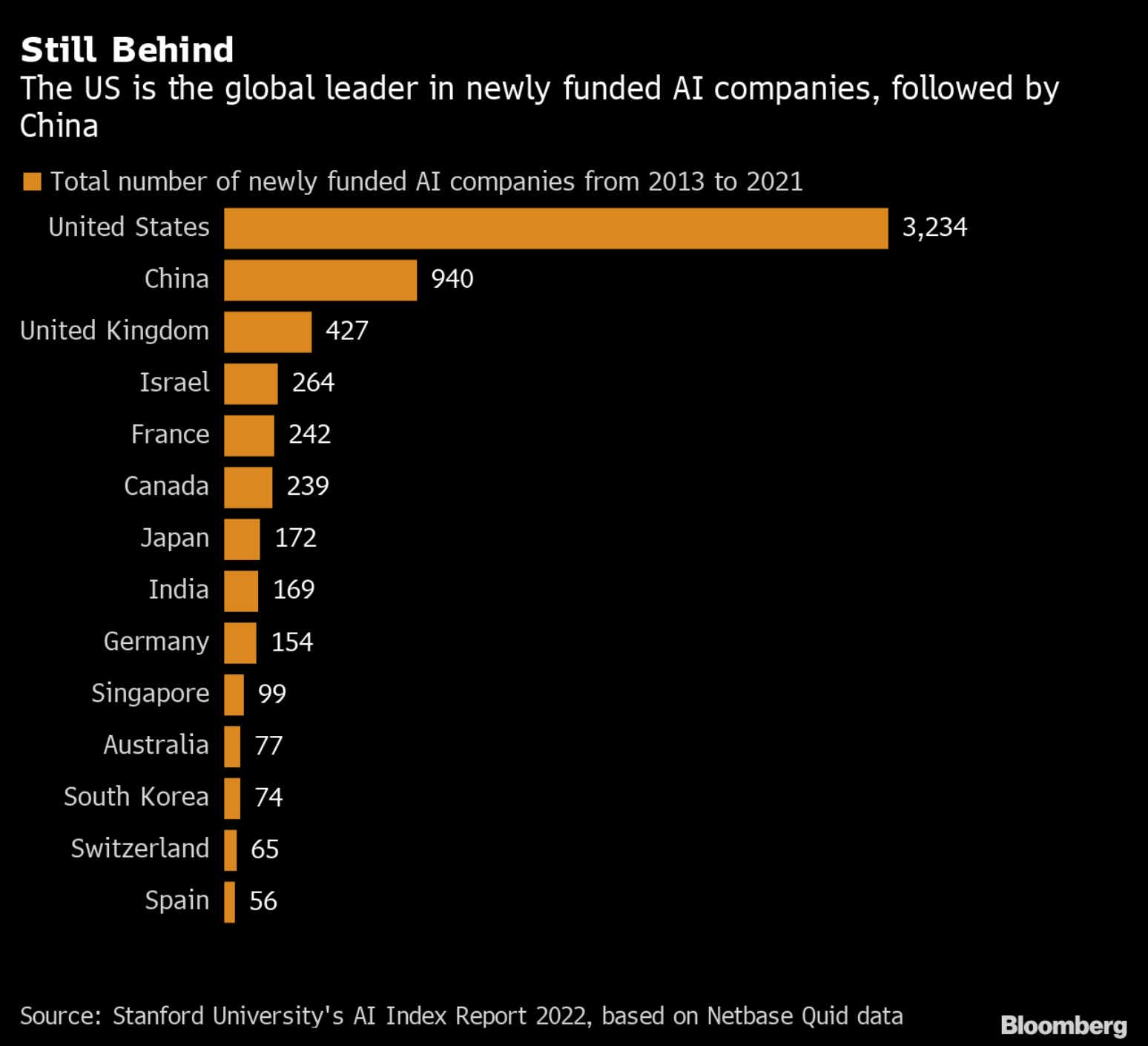 In addition to Baidu, large Chinese tech companies such as Alibaba (BABA) and Tencent (TCEHY) have also been working on A.I.-powered chatbots.
Alibaba, for example, has been working on generative A.I. since 2017, with particular emphasis in the field of education. The company announced last week that its chatbot could be released at some point later this year.
Top Chinese AI Companies
In addition to BABA and BIDU, some of the other Chinese companies focusing on artificial intelligence include:
Beijing Haitian Ruisheng Science
CloudWalk Technology
Hanwang Technology
NetEase (NTES)
Zhihu (ZH)
From the above list, only NetEase and Zhihu are traded on exchanges located in the United States, along with Alibaba, Baidu and Tencent.
To follow everything moving the markets—including the latest developments in the A.I. sector—readers can tune into tastylive, weekdays from 7 AM to 4 PM CDT.