An equity index is a group of stocks that depict a particular segment, sector, market, or region. These baskets of stocks can also be categorized by market cap of the stocks within it, among other factors. In the US, the 4 major indices are the S&P 500, Dow Jones Industrial Average, Nasdaq 100, and Russell 2000. How has each index performed and what's on the horizon?
How Are Stock Index Futures Trading?
All 4 major indices bounced Wednesday. At the time of writing, the Nasdaq was the strongest of the group and E-Mini S&Ps up about ~0.8% and ~0.65%, respectively. The Dow rebounded slightly lower, up 0.38%, with the Russell being the weakest of the bunch.
The first four months of 2022 have been rough for equities. Year to date, the Nasdaq and the Russell are both down ~20%. The least impacted has been the Dow Jones – down 8%, slightly better than March 8, when it was down 11%. All with a slight improvement from January and March lows.
Index Highs, Lows, and Drawdown Percentages

For more quantitative trading insight, subscribe to tastylive's Cherry Picks newsletter.
Currently, the Nasdaq (QQQ) has the highest level of implied volatility. Until one month ago, it was the small-capitalization, bank-heavy, Russell 2000 (IWM).
Considerably lower still is the S&P 500 (SPY) and the Dow Jones (DIA) volatilities. The higher the volatility, the larger the expected movements in price – both up and down. 
Index Implied Volatility

Why are we seeing this shift in volatility from small caps (IWM) to the tech-heavy Nasdaq (QQQ)? First, it could be attributed to the rise in the Nasdaq versus the Russell 2000. The Nasdaq has seen a greater upside change compared to the other indices – so it has a "greater amount to fall". The Nasdaq is still up 80% from three years ago, compared to 50% in the S&P 500 and 20% in the Russell.
Index Percentage Returns since 2019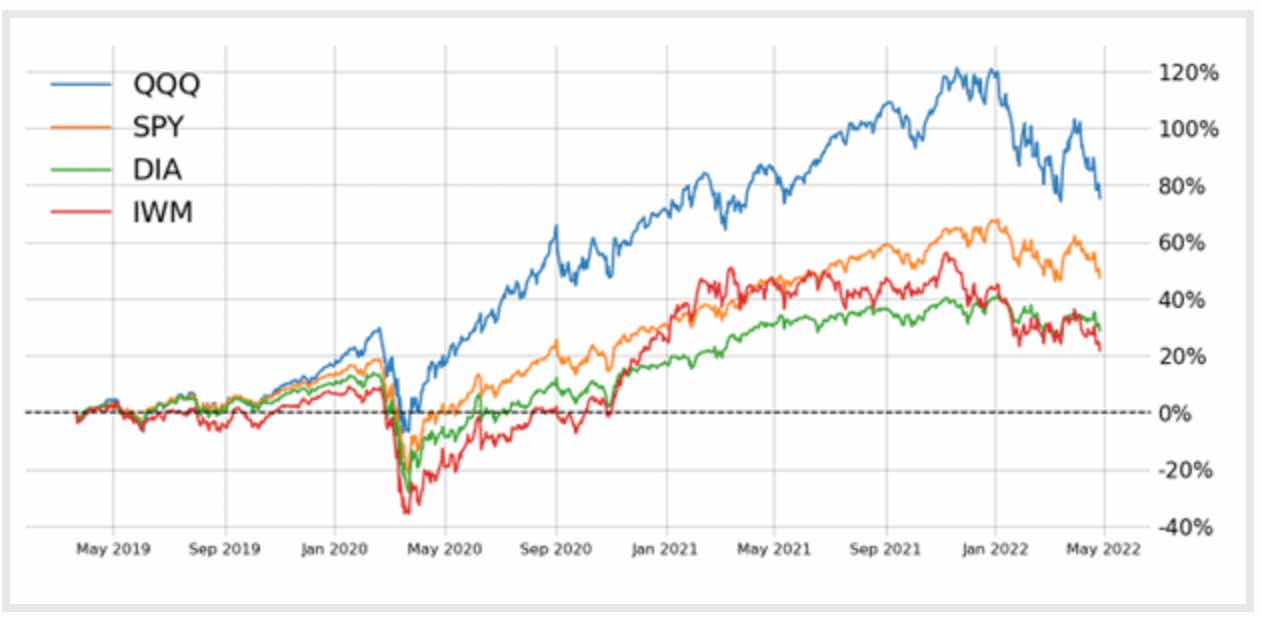 Nasdaq Earnings: Which Stocks to Watch
Second, some of the volatility in the Nasdaq could be due to the uncertainty of earnings. The bank-heavy Russell has already released much of its earnings, whereas many of the tech-heavy components in the Nasdaq are still upcoming. With names like Meta (FB), Apple (AAPL), Twitter (TWTR), Pinterest (PINS), McDonald's (MCD), and other notable names to still report, volatility could remain high until earnings season comes to a close.
Earnings Calendar for Notable Stocks
To trade upcoming earnings, open an account on tastytrade
tastytrade, Inc. and tastylive, Inc. are separate but affiliated companies.