Rivals in the AI sector stand to benefits from the theatrics at OpenAI
OpenAI CEO Sam Altman has been let go, and OpenAI employees are in revolt.
Microsoft has swooped in and hired OpenAI founders Sam Atlman and Greg Brockman to lead a new artificial intelligence team.
Nvidia is set to report earnings today, and they are one of the mega tech stocks that stand to benefit from the OpenAI fallout.
Amazon is set to train 2 million employees in artificial intelligence skills.
Google recently committed to investing up to $2 billion in Anthropic, an OpenAI competitor.
What you need to know about OpenAI
In a dramatic turn of events, OpenAI has parted ways with cofounders Sam Altman and Greg Brockman.
Their abrupt departure caused hundreds of employees—as well a former board member—to call for the rest of the board to step away from their duties unless both are reinstated.
Wow.
Just when you though the artificial Intelligence craze couldn't get any crazier, we get this popcorn-ready docudrama plot.
To compound matters, the board's subsequent CEO search has felt like musical chairs as one candidate and then another were named to take the job in rapid succession.
The fallout couldn't help damage the company's reputation, and other major tech companies have taken notice and taken action. Firms exposed to the AI sector and ready to benefit include Amazon (AMZN), Google (GOOGL), Microsoft (MSFT) and Nvidia (NVDA).
Amazon and AI
Amazon is investing in its employees by launching a training regimen called "AI Ready." The free course is free is an easy win for Amazon employees looking to make work redundancies more streamlined.
Amazon stock opened 2023 at $85.46 and is up over 68%, sitting around $143.
AMZN stock's expected move through 2023 based on current implied volatility (IV) is just over +-$8.80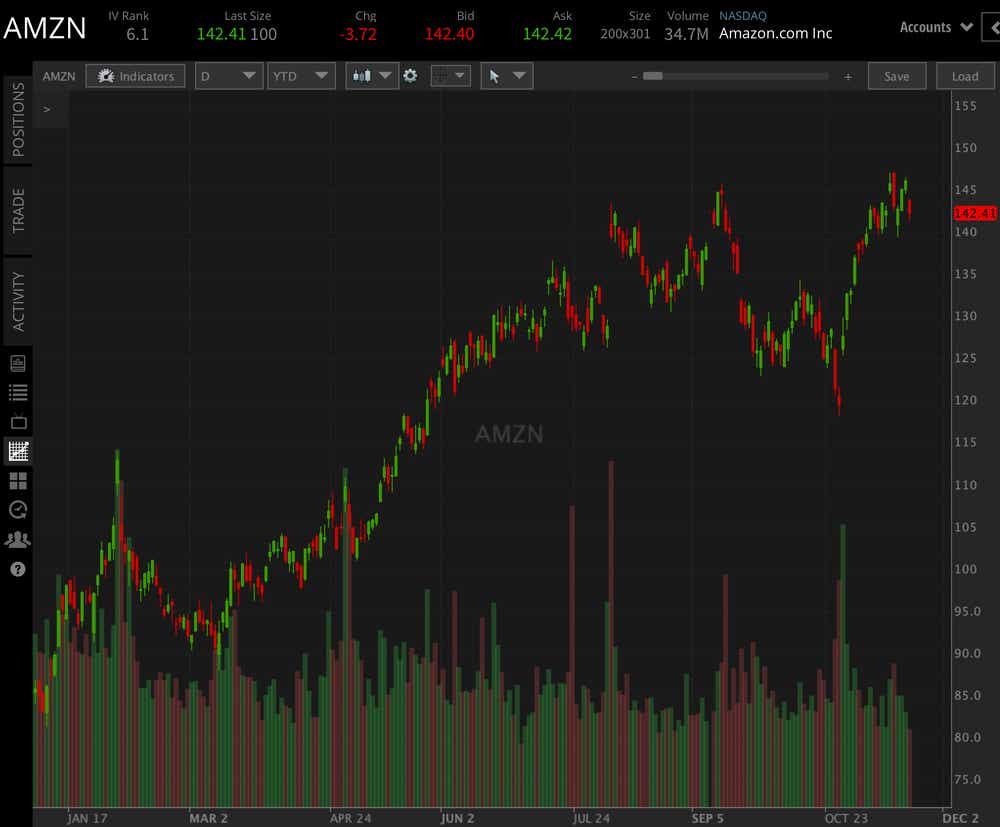 Google and AI
While Microsoft is plotting to acquire OpenAI employees, Google is betting big on Anthropic—a direct artificial intelligence competitor to OpenAI. They've committed to an investment up to $2 billion
Anthropic created Claude 2, a chatbot rival to the popular ChatGPT offered by OpenAI.
This feels like Google is zigging when OpenAI is zagging, which could mean more AI marketshare for the former. The investment is said to be $500 million up front, with the possibility of $1.5 billion more down the road.
GOOGL stock opened the year at $89.58 and is up over 50%, sitting just over $136 currently.
The stock's expected move through the rest of the year is just over +-$6.50.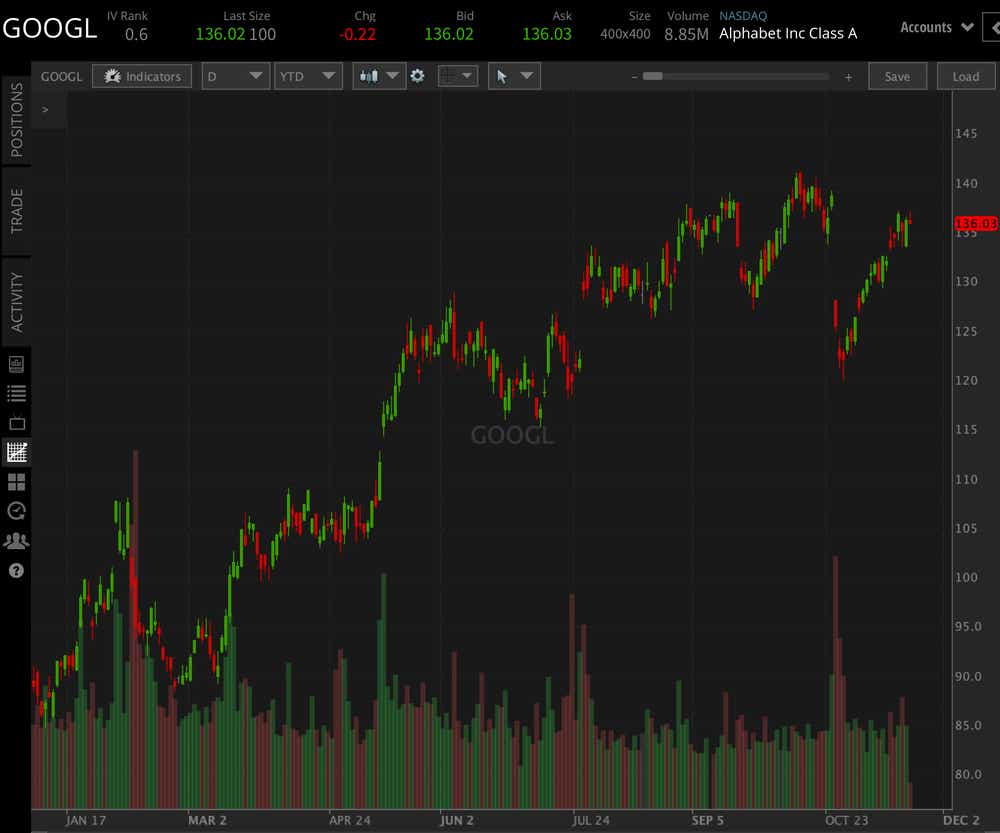 Microsoft and AI
So far, Microsoft is the direct beneficiary of the OpenAI shakeup It has already hired former CEO Sam Altman and former President Greg Brockman to lead a new AI team. It also stated that positions are available for anyone at OpenAI who wants to join the Microsoft team.
It's looking to bolster its AI exposure, and the stock hit a new all time high of $378.87 on Tuesday Nov. 20.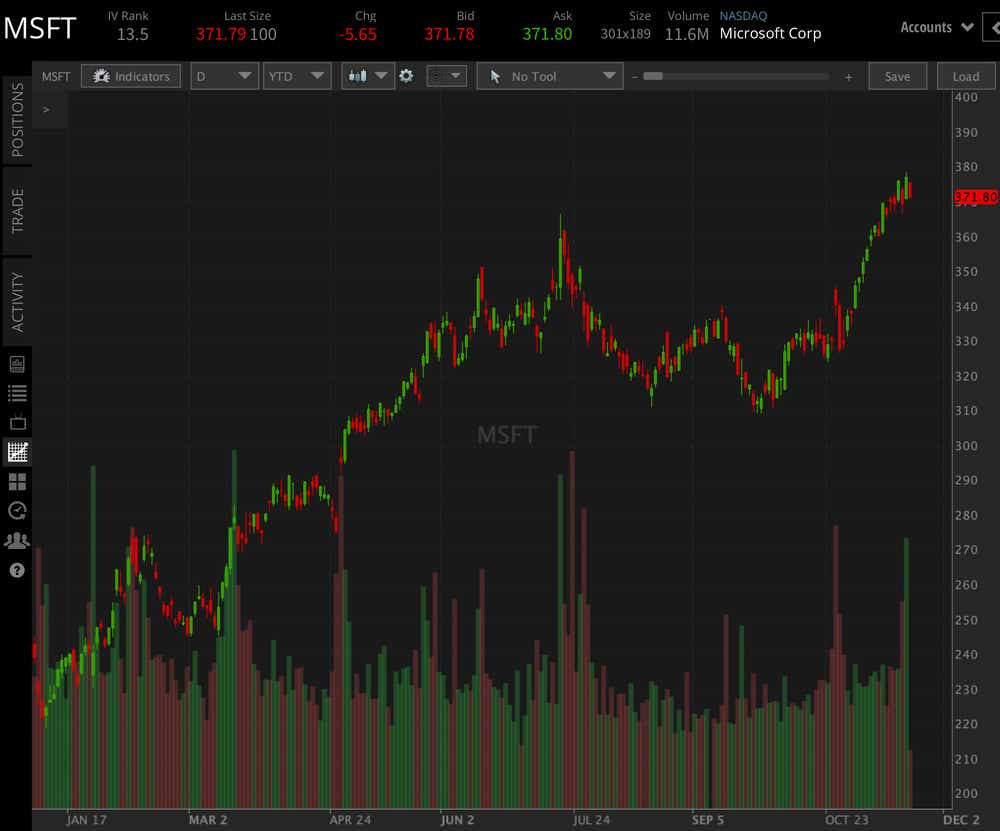 MSFT stock opened the year at $243.08 and is up over 50% so far year-to-date (YTD), sitting at around $372.
The expected stock price move through the rest of 2023 based on current IV is just under +-$18.00.
Nvidia and AI
Nvidia will report earnings after the market closes today, and expectations are big for the tech giant. It has increased anticipated earnings-per-share (EPS) by over 50% from the previous quarter, and revenue expectations are also up almost 50% from the previous quarter.
Nvidia won't benefit as much as some of its rivals from the OpenAI drama, but turbulence in the competition can't hurt the stock's upside. We'll soon get a clear picture when it reports quarterly earnings.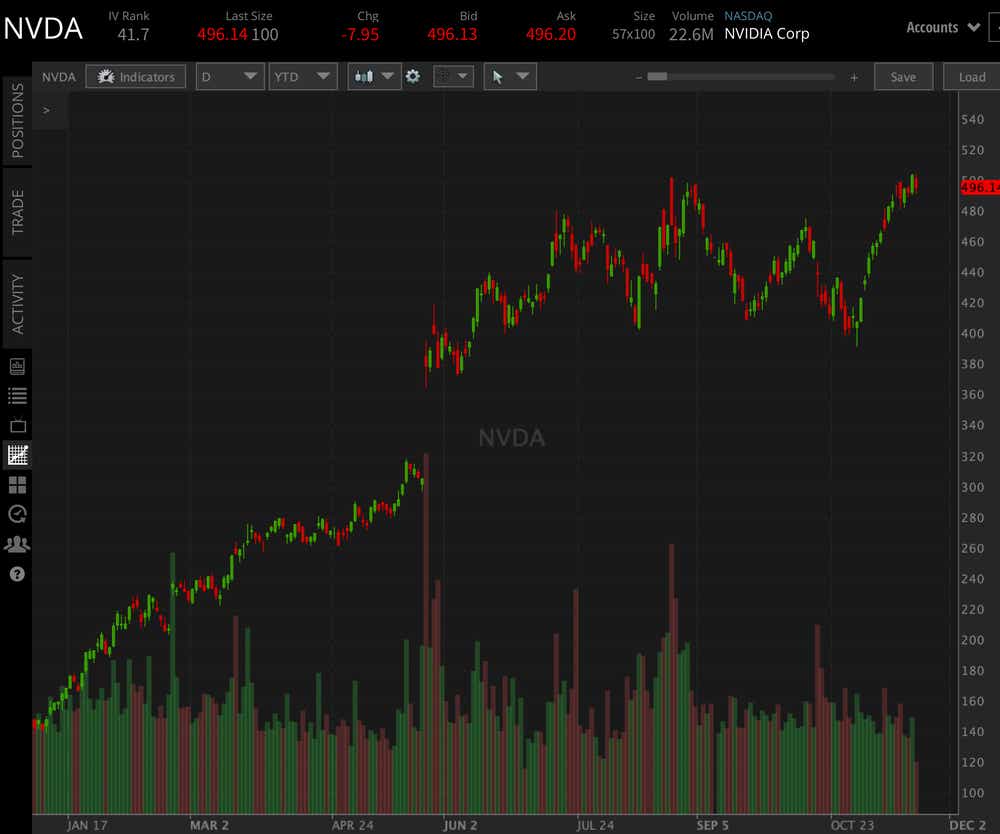 NVDA stock opened the year at $148.51 and is up over 235% so far YTD, sitting around $497.
The expected stock price move through the rest of the year based on current IV is just under +-$57.00.
Check out the Options Trading Concepts Live archive where Mike Butler explores earnings trades ahead of Nvidia's announcement!
Mike Butler, tastylive director of market intelligence, has been in the markets and trading for a decade. He appears on Options Trading Concepts Live, airing Monday-Friday. @tradermikeyb
For live daily programming, market news and commentary, visit tastylive or the YouTube channels tastylive (for options traders), and tastyliveTrending for stocks, futures, forex & macro.
Trade with a better broker, open a tastytrade account today. tastylive, Inc. and tastytrade, Inc. are separate but affiliated companies.