Bonds are down 50% since the end of 2020
With rates at all-time highs, new savers are enjoying the highest interest rates in a generation.
For existing bondholders, the market value of long-term bonds has fallen dramatically—more than any other asset class between 2021 and 2023.
For new traders looking to trade bonds, fresh volatility coupled with a price extreme in this market means a lot of opportunities for those wanting to go long bonds in hopes of capital appreciation.
Since rates and bonds are inversely related, people going long bonds want to make sure they are ready for a drop in interest rates.
Since 2020, the broader bond market, represented by the iShares 20+ Year Treasury Bond ETF ($TLT), has declined by 50%. Despite the rally over the last week, this asset class remains surprisingly the worst performing asset class over the last three years.
Since the bond market is directly tied to rising interest rates, it is no surprise that we have seen bonds sell off. With two-year interest rates climbing above 5%, that puts rates at multi-decade highs, which unfortunately for bond investors, means multi decade lows in bond funds and the market value of existing bonds.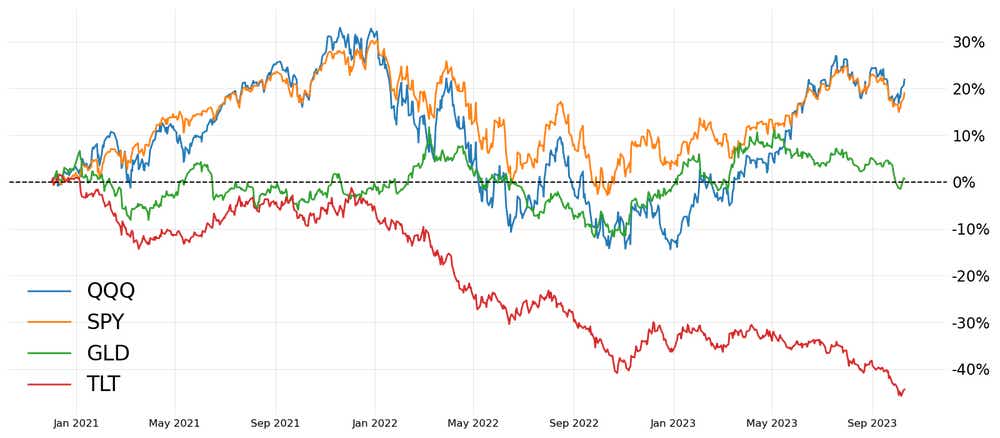 In this chart, TLT represents the bond market that has been the worst performer in almost three years. SPY represents the U.S. stock market, GLD represents the precious metals market and QQQ represents U.S. large cap tech stocks.
For people thinking this move is overdone, and it is time to buy low, there are a few ways to do so.
Bond products explained
In this Options Jive video put together by the tastylive research team, they dive deep into the fundamentals of trading bonds and how you can do it.
For most beginner traders, TLT may be the best place to start because it is priced like a normal stock and it has a small size compared to some of the other products that are available,
For traders with a larger account, trading bond futures may be the way to go. Keep in mind that bond futures are slightly different than trading TLT because they have a weird pricing and quote structure, and they are much larger in notional value. However, with a bit of expertise that is given in this segment, you can start small in these products even if you haven't traded them before.
Anton Kulikov has a decade of trading experience. He leads research content creation at tastylive, appears on over 20 live shows including Futures Power Hour, Options Jive, and Research Specials LIVE co-authored bestselling investment strategy book Unlucky Investor's Guide to Options Trading, and contributes research content for Luckbox Magazine.
For live daily programming, market news and commentary, visit tastylive or the YouTube channels tastylive (for options traders), and tastyliveTrending for stocks, futures, forex & macro.
Trade with a better broker, open a tastytrade account today. tastylive, Inc. and tastytrade, Inc. are separate but affiliated companies.