Disrupting illicit "shadow" flows from Russia, which will further limit global oil supply at a time when OPEC is already committed to its production cuts
Crude oil prices rise as U.S. signals tighter sanction enforcement.
Middle East tensions keep traders on edge as conflict escalates.
Technical outlook for oil futures improves as prices clear resistance.
Crude oil prices (/CLZ3) rose $3.6 per barrel to trade at 85.40 Friday afternoon, marking the largest one-day percentage gain since early April at about 4.5%. Meanwhile, the CBOE's Crude Oil Volatility Index—like the CBOE Volatility Index (VIX) but for oil—surged nearly 10% to hit its highest level since May. Commodity markets as a whole appear to be advancing.
U.S. tightens enforcement on Russian oil
The Office of Foreign Assets Control, a part of the U.S. Treasury's Office of Terrorism and Financial Intelligence, posted an advisory that warns the maritime trade industry to abide by sanctions put in place by the Price Cap Coalition—which includes the G7, European Union, and Australia.
Energy traders see this disrupting shadow flows from Russia, which will further limit global oil supply at a time when OPEC is already committed to its production cuts. The shadow trade of oil refers to ships that are engaged in the illicit trade of oil with the specific intent to sidestep sanctions. The advisory reflects the intent of the coalition to step up its enforcement efforts against these so-called shadow trade.
Geopolitical tensions add to bullish sentiment
Meanwhile, the Middle East is witnessing increasing geopolitical tensions as Israel prepares for what appears to be a massive ground assault into Gaza. Energy traders are concerned that the conflict could drag Iran or other actors into the fighting, posing a further threat to oil flows in the region.
Last week's incursion by Hamas militants was met with cheers by some in Iran, Iraq, Syria, Lebanon and Yemen. However, these outside actors have not taken any tangible actions beyond that. But with any dynamic conflict, that may quickly change, and that is keeping oil traders on edge.
Many military analysts believe this conflict differs from previous instances of violence in the region and could reshape the political landscape permanently. Energy traders need to incorporate this into their market assessments, although accounting for the many variables is nearly impossible. As of now, volatility is likely to persist as the situation develops.
Oil Technical outlook
Today's move put prices above two key moving averages—the 50-day simple moving average and the 26-day exponential moving average. The relative strength index's 50 mid-point was also pierced on Friday, bolstering the commodity's bullish posture. The next area of likely resistance exists at the September 92.48 swing high.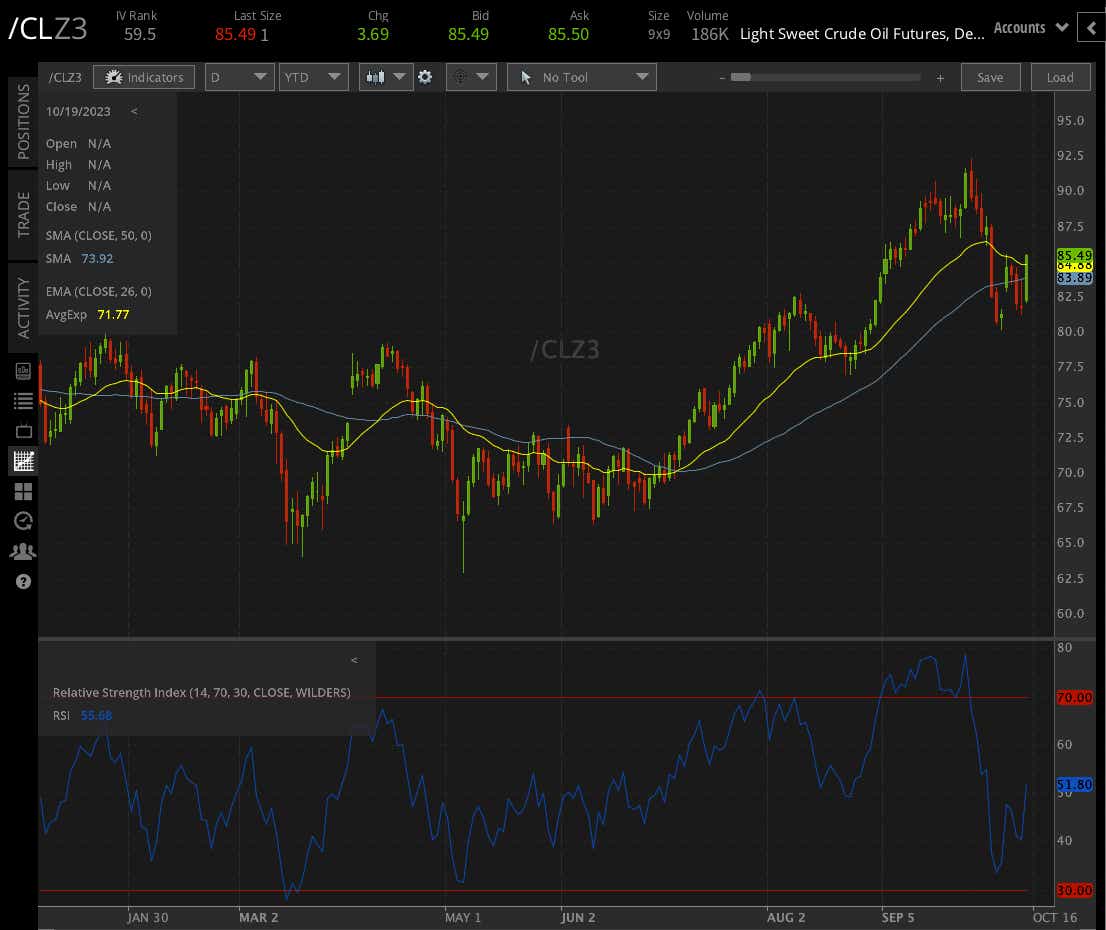 What is the trade?
Crude oil futures currently hold an IV Rank (IVR) of 59.9. That is offering some juicy premium for selling premium. While traders need to be aware of the volatility in the product, selling a spread may help to limit exposure to wild price swings if directionally wrong.
For those waiting to get short oil, it may be best to wait until price get near that September high and sell call spreads. For those wanting to get long now, selling a put spread for the November 15 contract around the 40 delta with a short 83.5 put and a long 83 put is a potentially rewarding play with a 56% POP.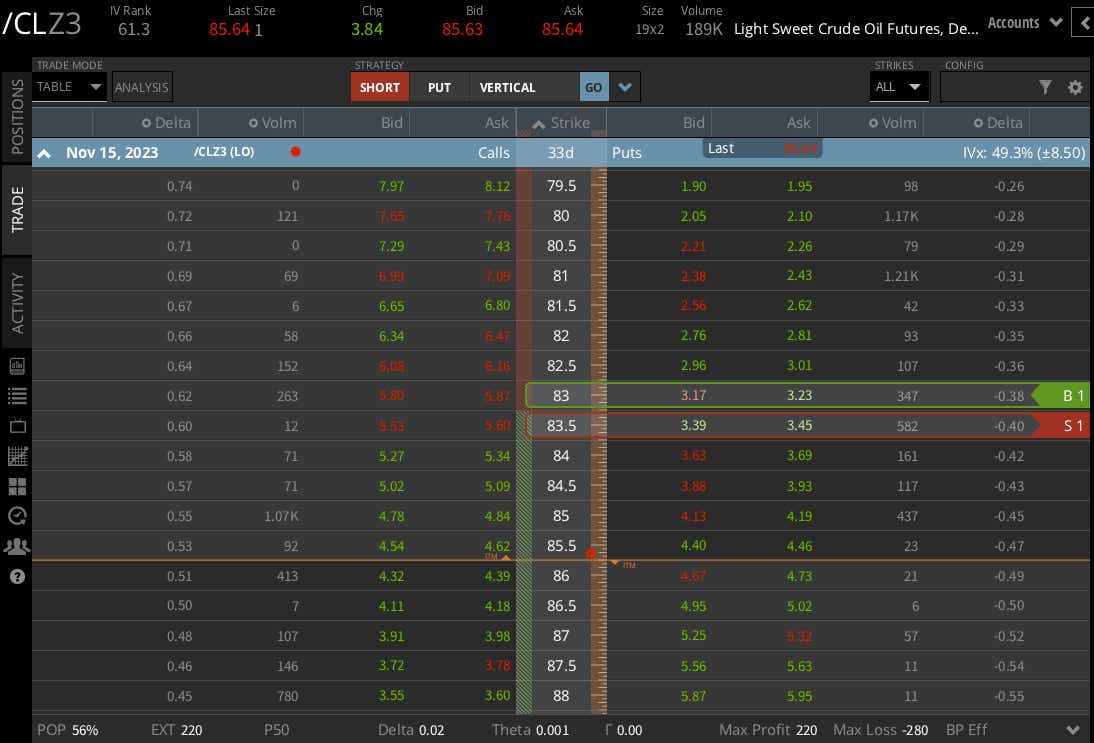 Thomas Westwater, a tastylive financial writer and analyst, has eight years of markets and trading experience. @fxwestwater
For live daily programming, market news and commentary, visit tastylive or the YouTube channels tastylive (for options traders), and tastyliveTrending for stocks, futures, forex & macro.
Trade with a better broker, open a tastytrade account today. tastylive, Inc. and tastytrade, Inc. are separate but affiliated companies.