The rental collapse is looking real as the summer is setting up to be a blockbuster for Barbie, but a bummer for Airbnb.
Short-term rental rates in hot vacation spots have fallen nearly 50% from a year ago.
Declining Airbnb rentals could put pressure on the housing market in vulnerable cities.
Airbnb is struggling, but everyone is going on vacation. What's going on?
To Airbnb, or not bnb, that is the question.
No one works harder than the Barbie movie marketing team. From Barbie Xbox to Barbie eyeshadow palettes, pink makes green. This week, Warner Bros. Studio (WBD), the producers of the soon-to-be released film (July 21st) starring Margot Robbie and Ryan Gosling, announced a promotion with Airbnb (ABNB). One lucky winner will receive a two-night stay in a luxury DreamHouse in Malibu. 
That's fantastic, life in plastic, but a fun debate was evolving outside of Barbie's rosy-hued glasses. One analyst took to Twitter in a now viral post (over 25 million views) suggesting the short-term rental bubble is about to burst. 
Late Tuesday, Nick Gerli, CEO of Reventure Consulting, tweeted a chart illustrating the supposed implosion of Airbnb's business in several very popular markets. The chart was compiled from short-term rental data and analytics group AllTheRooms. It showed revenue per available listing dropping by nearly 50% in some of the top U.S. vacation destinations.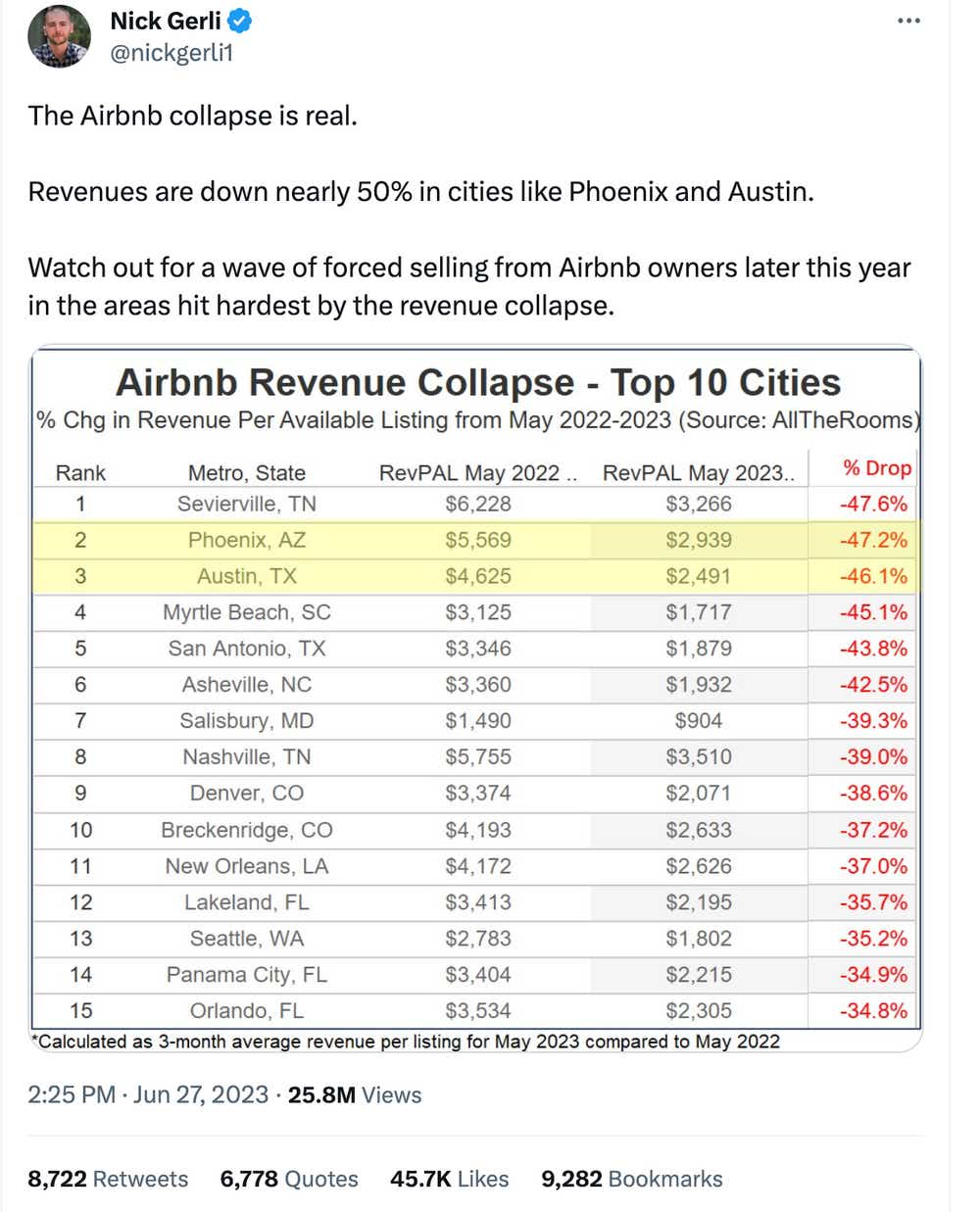 The data highlighted the change in revenue per available listing (RevPAL) calculated on a three-month-average basis, between May 2022 and May 2023. At the top of the chart with the largest decline in revenue—47.6%—was Sevierville, Tennessee, home of America's Queen: Dolly Parton. Don't want your short-term listings to get pigeon-holed near Pigeon Forge? Austin, Texas, and Phoenix—,both hot sunbelt locales—also saw declines of 47.2% and 46.1% respectively. 
And if you want to make like Guns N' Roses and take your fun down to Panama City where the grass is green and the girls are pretty. Wait…is that how that goes? Try singing it. Anyway, rentals in Florida hotspots like Panama City and home to Mickey, Orlando, were down around 36%. 
Gerli then posits his butterfly effect theory: "What's scary for the U.S. housing market is just how many Airbnbs there are. Data from AllTheRooms shows 1 million Airbnb/VRBO rentals. Compared to only 570,000 homes for sale." He speculates that anyone using Airbnb to generate income may be forced to sell if this trend continues. 
He explains a city like Phoenix, where the number of short-term rentals outnumbers the number of homes for sale by a 2:1 margin, would result in a "massive cocktail of forced selling." 
Gerli then got "well actually-ed" (nice to know this happens to dudes too) by Jamie Lane, chief economist and senior vice president of analytics at AirDNA (that's the name y'all went with? It's a choice, I guess). AirDNA tracks performance and trends in the short-term rental space. His figures had RevPAL in Sevierville down 8.4%, far less dire than the 47.6% cratering shown in Gerli's data.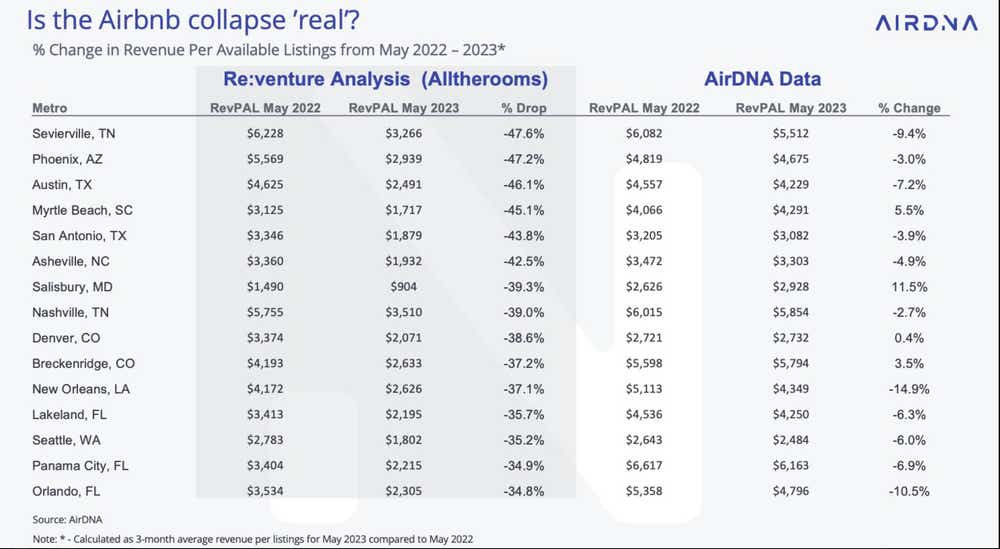 Like all "well actually" bros Lane did not see a need to explain why there was a discrepancy between the two charts. 
Depending on whose data is more accurate, there might be a DreamHome up for sale soon. 
Airbnb is set to report earnings on Aug 1.
Vonetta Logan has more than a decade of markets experience and has been a trader for five years. She is an on-air personality, creative writer and news correspondent at tastylive, Vonetta appears Monday-Friday on Daily Dose and contributes to Luckbox Magazine. @vonettalogan
For live daily programming, market news and commentary, visit tastylive or the YouTube channels tastylive (for options traders), and tastyliveTrending for stocks, futures, forex & macro.
Trade with a better broker, open a tastytrade account today. tastylive, Inc. and tastytrade, Inc. are separate but affiliated companies.