Copper prices ended 2022 lower after a volatile year filled with risks. Those risks continue and cloud the metal's outlook, but volatility offers opportunities for traders.  
Copper prices whipsawed in 2022 amid a tumultuous economic landscape
Copper prices got off to a rough start in the first week of 2023. That follows a weak performance last year, with prices finishing the year around $3.81 after starting at $4.45. An aggressive Federal Reserve reaction to rising prices weighed on the global economy. During the same time, China—in contrast to the rest of the world—tamped down on Covid with an aggressive response that crippled economic activity. That compounded on the country's property crisis, seriously denting industrial metals demand—copper included.  
Copper's price collapsed alongside major stock indices in 2022 as global monetary policy tightened. A strong correlation between the S&P 500 and copper exists due to copper acting as a bellwether for economic health. It is referred to as Dr. Copper by some for that reason. This correlation is seen in the chart below.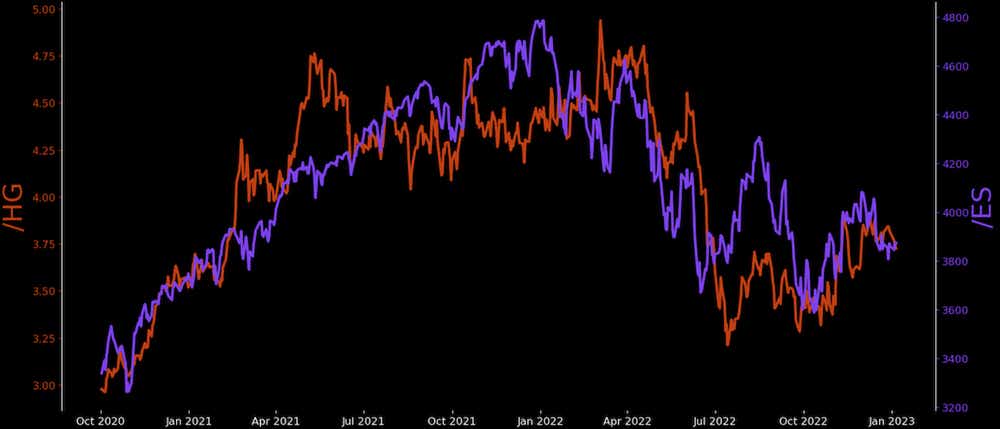 Supply and Longer-Term Capital Funding a Positive for the Metal
Global copper inventory has decreased to historically low levels across major storage hubs. The aftershocks of Covid caused disruptions for major miners. Chile is the largest exporter of red metal, and its output declined in 2022—something Chile's government expects to happen this year as well.  
Companies are also underinvesting in production just as an era of green energy and electric vehicles approaches. That may leave the market in a large deficit in the coming years, especially if demand accelerates. Longer-term it is even more bullish, given a drop in funding for exploration.  
Copper producers face higher capital intensity after inflation and reduced ore grades from current mines. New deposits are also in more remote locations than current operations, which dissuades investment. ESG is also pressuring miners to lower their environmental impact, which also comes with increased spending requirements. Bottom line, copper's supply outlook is highly uncertain, and a supply gap looms for the green transition later this decade.  
Focus on Fed to Gauge Copper's Demand Side
It gets tricky forecasting year-end prices for copper. Analysts' estimates range from around $3.4 to $5.8 per pound. That is largely because of the uncertainty in forecasting the metal's demand-side drivers. The U.S. Federal Reserve increased rates at a record pace in 2022, which constrained economic activity and pushed the U.S. manufacturing sector into contraction. That drags on demand.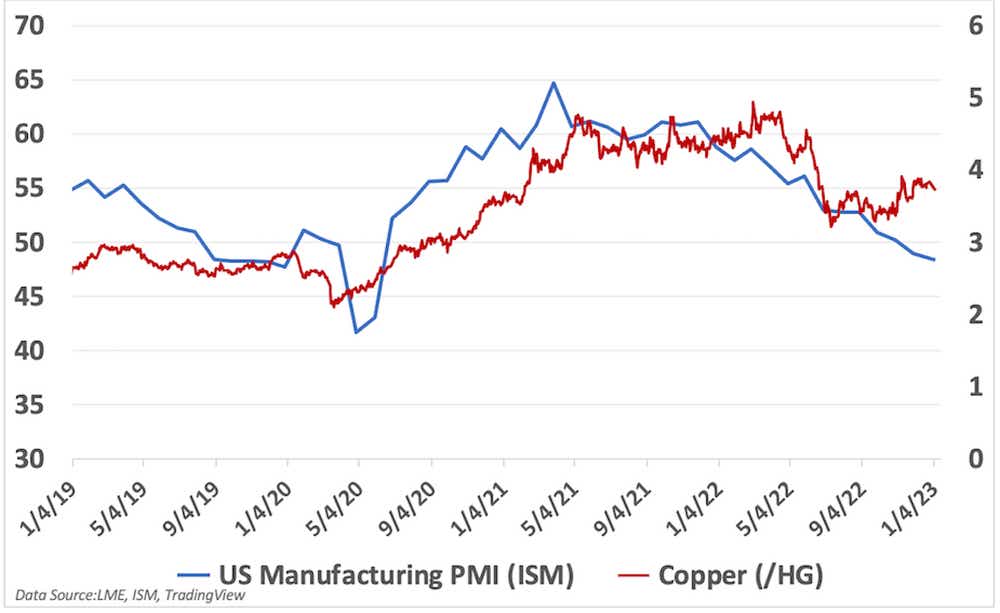 The Fed dictates the costs of borrowing not only in the United States but around the world, which means it also drives global copper demand to a similar degree. An end to rate hikes would be bullish for copper. However, the Fed plans to hike rates throughout 2023, according to their December minutes, despite market-based bets implying a cut is coming as early as May.
Mr. Powell and his lieutenants may be pushing back against an eager market. If stock prices rallied, it would hurt their efforts to tame rising prices due to looser financial conditions. Because market pricing is in a dovish stance to that of the Fed, an upside inflation gauge surprise may turn rate cut expectations into hikes. That would seriously damage the economic outlook and copper prices. 
China is a Wildcard 
Overall, however, copper may be more susceptible to an upward price shock coming from the demand side because of its already low inventory. China poses a source of potential volatility. The country is rolling back Covid restrictions, but the question is if an uptick in economic activity will follow. Currently, fear is keeping locals indoors as the virus spreads unabated for the first time since the pandemic. 
Still, the current wave of infections should subside in the first half of this year, potentially opening a valve for economic output and increasing copper prices. More important is whether Beijing will be able to revive its property market. Housing construction drives a large part of the country's copper demand. 
How Traders May Target Copper 
In the meantime, volatility should keep up for copper and copper-related Exchange-Traded Funds (ETFs). The implied volatility (IV) rank for COPX, the Global X Copper Miners ETF, saw an elevated IV rank for much of 2022. Selling volatility with strategies utilizing short straddles, short strangles and Iron condors may be attractive when IV rank returns to +60% in these and similar copper products.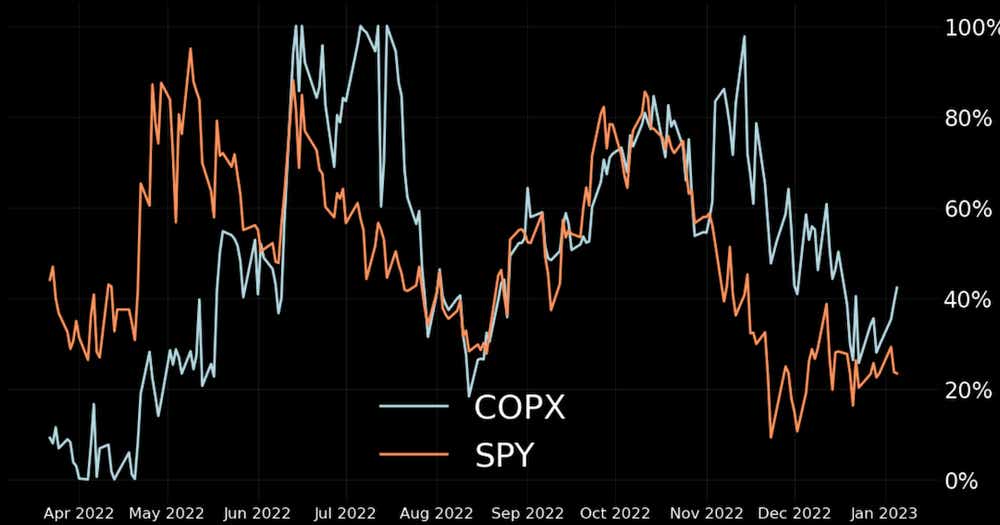 Written by Thomas Westwater