A look at the challenges confronting the House of Mouse
Disney reports fiscal third-quarter earnings on Aug. 10.
Marvel's success has diluted the Disney brand.
Disney is expected to cut $5.5 billion in costs, including $3.3 billion in non-sports costs.
A lot has changed in the past 15 years for the House of Mouse. While Disney has always had a foothold in the film studio business, it decided to take its game to the next level. In 2009, the company bought Marvel for $4 billion and introduced moviegoers to Tony Stark and the Iron Man franchise.
A film featuring the charismatic superhero was in development at various times since 1990, but nothing could ever come together. Then, in 2005, Marvel Studios re-acquired the rights to Iron Man and set things in motion. Production started in 2007 with Robert Downey Jr. surprisingly casted as the ferrous main character. Spoiler alert: it was a hit. It was the eighth-highest grossing film of 2008, earning just under $600 million.
A year later, Disney made its move on Marvel and did not look back. A decade after the purchase, Disney had made more than $18 billion at the global box office with a treasure trove of superhero movies from the Marvel Cinematic Universe (MCU). I mean, they were popping them out left and right: The Incredible Hulk (2008), Thor (2011), Captain America (2011), The Avengers (2012) and so on.
MCU is the highest-grossing film franchise of all time, having earned more than $29.6 billion at the box office.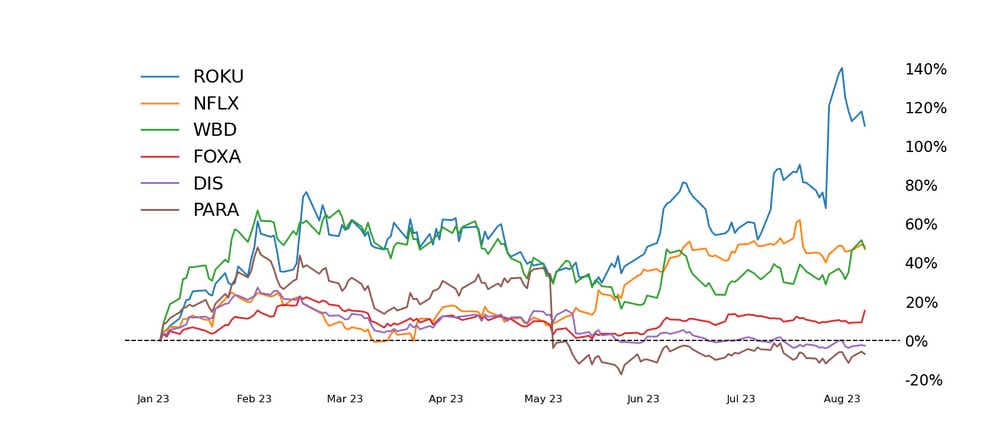 While Disney has experienced huge wins in the past, we live in a "what have you done for me lately" type of world—especially when it comes to the stock market. After all the success the MCU has provided, Disney is having a tough year. The company has decided to slow down on making movies and TV series for its Marvel Studios and Lucasfilm franchises. Disney acquired Lucasfilm and its Star Wars franchise for $4 billion in 2012.
The decision comes at a time when the company is looking to because recent movies, including the lucrative MCU films, have grossly underperformed at the box office. Honestly, it's about time. I mean, raise your hand if you went to see Ant-Man and the Wasp: Quantumania. I didn't think so.
Disney has a lot to work through. The parks business is slowing down. So are subscribers to its flagship streaming business Disney+. So, earlier this year, the company rolled out a $5.5 billion reorganization plan that includes $3 billion of non-sports content. With 65% of Disney's revenue coming from the Media and Entertainment division, you can bet your bottom dollar it will take the hardest hit.
Arguably, Disney's biggest decision lies with ESPN. The worldwide leader in sports went from being Disney's financial engine to a major cash-bleeding fiasco. Now, the company is thinking about turning ESPN into fully over-the-top streaming video. Sports has always stood very tall in the media landscape because of its ability to get the attention of millions.
The problem is audiences have been willing to pay for ESPN as part of a traditional cable bundle but may not be interested in doing so far a standalone streaming service. The numbers say so. ESPN charges pay-TV operators between $8 and $9 per subscriber, while ESPN+'s average revenue per user is $5.64. Even a fifth grader can see this will not add up. Disney will have some "splainin' to do" for Q3 earnings.
Jermal Chandler, tastylive head of options strategy, has been in the market and trading for 20 years. He hosts Engineering the Trade, airing Monday, Tuesday, Thursday and Friday. @jermalchandler 
For live daily programming, market news and commentary, visit tastylive or the YouTube channels tastylive (for options traders), and tastyliveTrending for stocks, futures, forex & macro.
Trade with a better broker, open a tastytrade account today. tastylive, Inc. and tastytrade, Inc. are separate but affiliated companies.