VIX expiration can be a little tricky. Here's what you need to know.
The VIX offers clues to the level of stress or fear in the stock market by using the S&P 500 index as a proxy.
The last trading day of VIX options is on the business day before the expiration date—usually on Tuesday.
VIX futures expire the day after the corresponding options—usually on Wednesday.
Aside from the mini banking crisis this year, market volatility has been on a downtrend in 2023. We know this because the CBOE volatility index (VIX) tells us so.
The VIX is a measure of the S&P 500 (SPX) option costs and usually moves in the opposite direction of the index benchmark, going up when demand expands for hedges in down markets.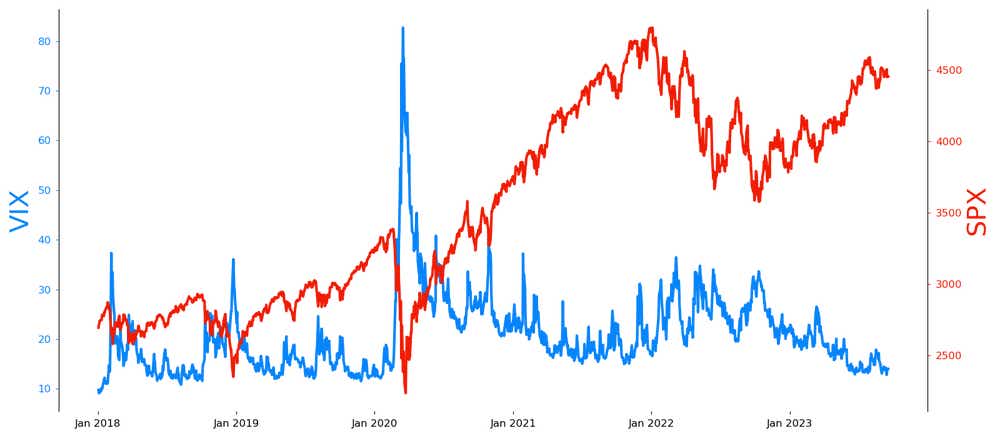 Option traders' favorite gauge for measuring market implied volatility has been quiet recently for good reason: Nothing scares markets to death. The TL;DR synopsis on the 2023 banking crisis: It resulted in the failure of three small- to mid-size banks and J.P. Morgan became even richer than before. While the VIX did initially rise in March, it only took three short weeks for volatility to return to its long-term average of nineteen.
In 2022, the market feared higher rates and volatility stayed elevated as the Federal Reserve was on a warpath against inflation. High rates continued into 2023 as borrowing costs in the U.S. have risen to 22-year highs. However, volatility eventually subsided because rising bond yields are just no longer scary. Go figure.
What does VIX tell us?
The VIX clues us into the level of stress or fear in the stock market by using the S&P 500 index (SPX) as a proxy. It measures the implied volatility of the SPX for a 30-day period (expressed as an annual percentage). For example, a VIX of 16 represents an implied move of 16% in the S&P 500 in either direction over the next year. Although, to be honest, estimating how much markets move in a year's time is not that exciting. Most of us would like to have an idea of where volatility is headed daily.
Luckily, converting annual volatility to daily volatility can easily be done by dividing the VIX by square root of the number of trading days per year. Assuming 252 is that number, then the square root is approximately 15.87. Thus:
This means a VIX of 16 is forecasting the SPX to move 1% in either direction daily. Often, traders will round the square root number of trading days in a year to 16, which sometimes referred to as the volatility rule of 16. It makes the calculation easier to remember and compute.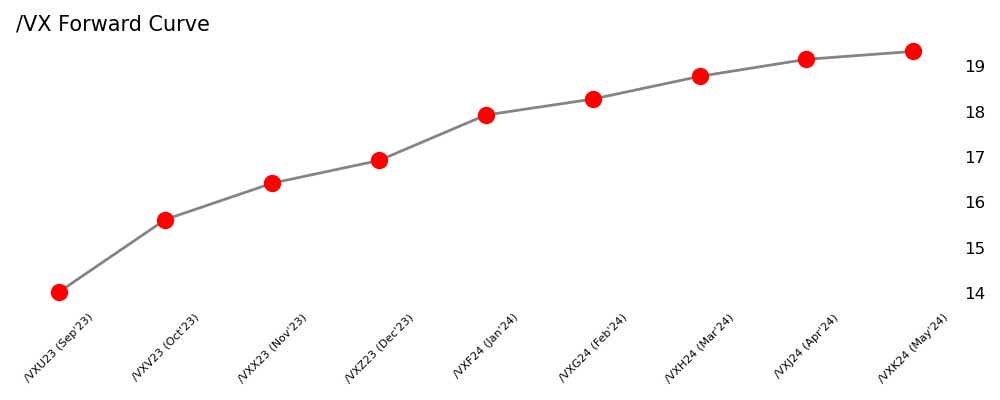 VIX expiration and settlement
The VIX allows for market volatility to be a tradable asset by using derivative products. VIX options were launched in 2004 and VIX futures were created in 2006. The VIX is a cash settled product, meaning that at expiration no shares are called away or put to us, the options simply settle to cash.

Like all indexes, the VIX index is not tradable. One can use VIX options or futures to express an opinion in volatility. Also, it is important to know that VIX option prices are derived from the corresponding appropriate VIX future (/VX) price. For example, if you are trading September VIX options, then make sure you are looking at September VIX futures (/VXU23) as your underlying.
One final caveat about VIX revolves around expiring options and futures. Unlike standard equity options, which expire on the third Friday of every month, standard VIX options expire on the third Tuesday of the month (sometimes fourth depending on the cycle). These are referred to as the "big VIX" expirations. The options cease trading on Tuesday and then settle on Wednesday morning based on the price of the corresponding expiring future.
In fact, September's big VIX expiration process begins today as Sept. options will stop dissemination at the close of trading on Tuesday, September 19. Then the following morning, Wednesday, the September VIX futures (/VXU23) will expire and the options will be deemed in-the-money or out-of-the-money based on where the future settles. All VIX expiration dates can be found here.
So, keep that in mind if you want to trade volatility around Wednesday's Fed meeting. By the time that event happens in the afternoon, the September VIX futures and options will have expired. Traders will need to use a weekly VIX or October volatility derivatives to capture any potential FOMC volatility.
Jermal Chandler, tastylive head of options strategy, has been in the market and trading for 20 years. He hosts Engineering the Trade, airing Monday, Tuesday, Thursday and Friday. @jermalchandler
For live daily programming, market news and commentary, visit tastylive or the YouTube channels tastylive (for options traders), and tastyliveTrending for stocks, futures, forex & macro.
Trade with a better broker, open a tastytrade account today. tastylive, Inc. and tastytrade, Inc. are separate but affiliated companies.