The NASDAQ is about to shift its weight around.
On Friday, July 7, the Nasdaq announced a special rebalance of the Nasdaq-100, effective Monday, July 24, which will be the first day of trading based on the new rebalance parameters.
Normal rebalancing happens on a quarterly basis—at the end of March, June, September and December. Nasdaq is doing this "special" rebalancing to address over-concentration of the index and redistribute weighting across the index. The rebalancing will not include any additions or removals from the index, it will just adjust the overall weighting of some of the components.
Currently the weighting of the "Magnificent 7" account for 55.40% of the Nasdaq. They are Microsoft (MSFT) 12.89%; Apple (AAPL) 12.45%; Alphabet (GOOGL/GOOG) 3.73%/3.64%, 7.37% total; Nvidia (NVDA) 7.03%; Amazon (AMZN) 6.87%; Tesla (TSLA) 4.49%; and Meta (META) 4.30%
What changes will be made to the weighting?
A couple of factors go into the weighting of the index:
The top five stocks in the index must not exceed 38.5% of the total weighting.
No component outside the top five can exceed 4.4% weighting in the index.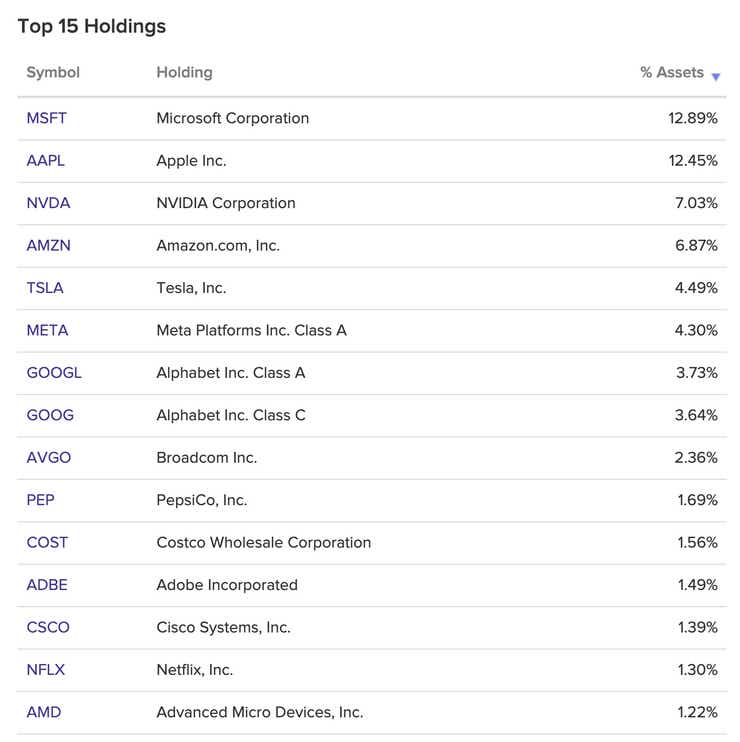 Currently, the Top 5 holdings—MSFT, AAPL, GOOGL/GOOG, NVDA and AMZN—account for 46.61% of the Nasdaq weighting. That means those stocks will have to be rebalanced to fit within the 38.5% max. Currently the rebalancing numbers are unknown, but it likely includes a reduction in all of these weightings.
Outside the Top 5 stocks, TSLA currently holds a larger weighting above the max threshold of 4.4% (currently 4.49%) and is likely to see a small adjustment to rebalance below that threshold.
The official release of the weighting changes will be Friday July 14. It will include all notes on rebalancing for the top stocks as well as the rest of the index.
What does this mean for the stocks in the index?
Rebalancing the index would suggest selling overweighted stocks and buying potentially lower-weighted stocks. Can that contribute to downside moves in the top stocks? Potentially. But these moves can be relatively muted, considering the year-to-date gain on most of these stocks. Additionally, the Nasdaq is much smaller than the S&P500, with market capitalization of around $140 billion in QQQ versus SPY at almost $400 billion. So, the overall value of the weighting change will be much less than a S&P500 rebalancing.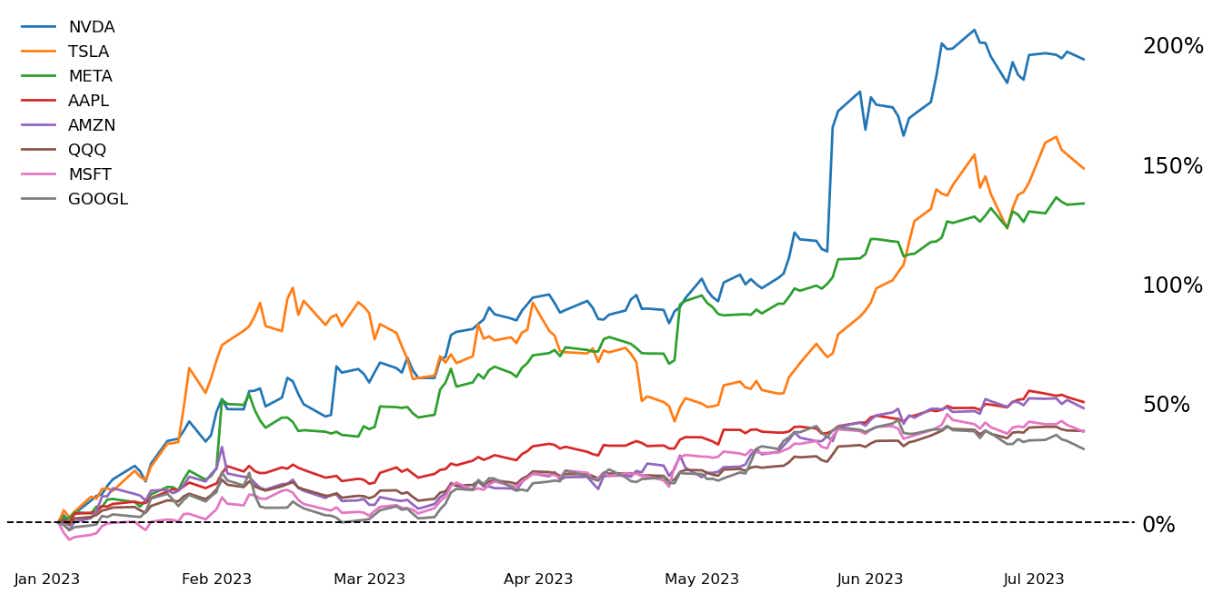 Nick Battista, tastylive director of market intelligence, has a decade of trading experience. He appears Monday-Friday on Options Trading Concepts Live. On Wednesdays, he co-hosts Johnny Trades. @tradernickybat 
For live daily programming, market news and commentary, visit tastylive or the YouTube channels tastylive (for options traders), and tastyliveTrending for stocks, futures, forex & macro.
Trade with a better broker, open a tastytrade account today. tastylive, Inc. and tastytrade, Inc. are separate but affiliated companies.