Our Fedwatcher looks at recent remarks from Fed governors and lays out the probability of a rate hike, and the outlook for equity bulls and bears
The Federal Reserve is widely anticipated to raise its main rate by 25-bps this week.
Despite progress in the fight against inflation, Fed policymakers have retained a hawkish tone in recent weeks.
It seems unlikely that the Federal Reserve will declare victory over inflation just yet.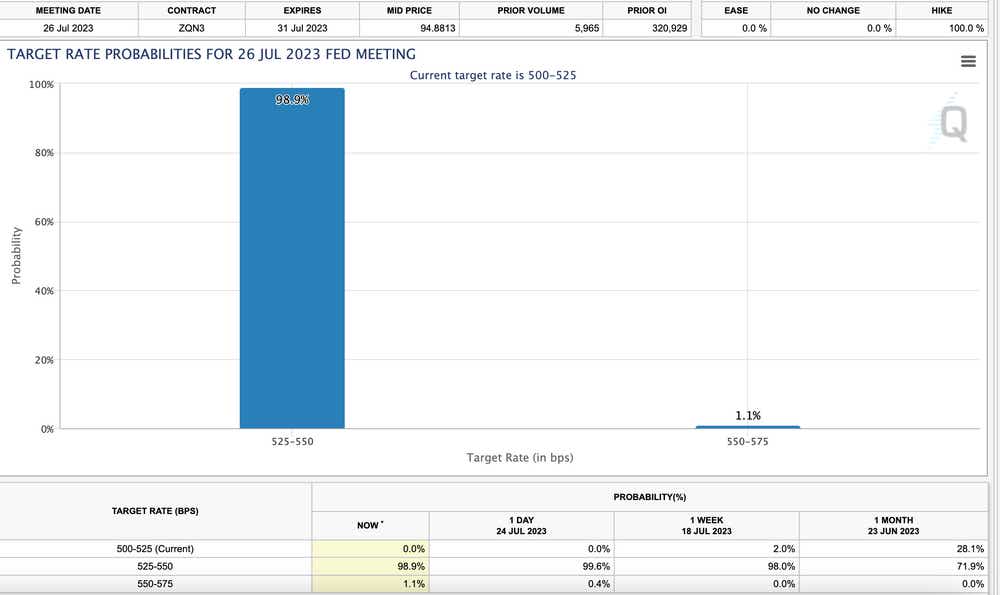 The July Federal Reserve rate decision on Wednesday offers a chance for markets to reassess expectations around the rate hike cycle.
Since the previous Federal Open Market Committee (FOMC) meeting in June, a string of resilient U.S. economic data has helped carry equity markets higher as it appears that the soft landing or immaculate disinflation, as some are calling it—inflation gets defeated without sacrificing the labor market or growth—is increasingly likely. In turn, it looks like Fed policymakers believe that they have more room to ensure that inflation does not bite back.
What did Fed officials say between meetings?
June 16 – The Federal Reserve's semi-annual report to Congress warns that tighter lending standards, resulting from the regional bank crisis, could weigh on economic growth in the future.
June 20 – Jefferson (Fed governor), in his confirmation hearing testimony, noted that banking stress and inflation are the top two problems facing the economy.
Cook (Fed governor) said that the FOMC will "stay focused on inflation until our job is done."
June 21 – Powell (Fed chair), testifying to the House Financial Services Committee, said that rates will likely continue to rise, but at a slower pace: "Earlier in the process, speed was very important. It is not very important now."
June 22 – Powell, testifying to the Senate Banking Committee, asserted that "it will be appropriate to raise rates again this year, and perhaps twice."
June 23 – Bostic (Atlanta president), downplayed the need for additional rates hikes, saying he'd "be comfortable with the information I have today, staying right where we are and just staying here through the rest of this year and long into next year."
June 25 – Williams (New York president) reiterated his belief that inflation is the most pressing issue facing the economy, noting that "restoring price stability is of a paramount importance because it is the foundation of sustained economic and financial stability."
June 28 – Powell underscored his hawkish commitment, arguing "although policy is restrictive it may not be restrictive enough and it has not been restrictive for long enough."
June 29 – Powell again talked up the possibility of rate hikes. "A strong majority of committee participants expect that it will be appropriate to raise interest rates two or more times by the end of the year."
Bostic suggested that he sees differently than Powell with respect to the need for more rate hikes, saying "I don't see as much urgency to move as others, including my chair."
Brainard (Fed vice chair) suggested that inflation will continue to come down throughout 2023 and could return to 2% by the end of 2024.
June 30 – Goolsbee (Chicago president) noted that Fed policymakers needed more data to determine whether a rate hike in July was needed.
July 5 – The June FOMC meeting minutes indicated that no hike in June was a close call, with strong indications that a July rate hike is practically a fait accompli.
Williams reiterated that the FOMC is "absolutely committed to achieving our 2% inflation goal."
July 6 – Logan (Dallas president) added her voice to the hawkish side of the spectrum, saying "I think more-restrictive monetary policy will be needed to achieve the Federal Open Market Committee's goals of stable prices and maximum employment."
July 7 – Goolsbee offered confidence in the Fed's efforts, saying "the Fed's overriding goal right now is to get inflation down – we're going to succeed at it."
July 10 – Barr (Fed vice chair) bluntly stated that "inflation is still far too high."
Mester (Cleveland president) continued to hawkish drumbeat, stating "the funds rate will need to move up somewhat further from its current level and then hold there for a while as we accumulate more information on how the economy is evolving."
Daly (San Francisco president) added her voice to the hawks, noting "we're likely to need a couple more rate hikes over the course of this year to really bring inflation back into a path that's along a sustainable 2% path."
Bostic suggested that rate hikes were working and no more were needed. "We continue to see signs that the economy is slowing down, which tells me the restrictiveness is working."
July 11 – Williams suggested that the FOMC will be able to engineer slower inflation without hurting the economy in a meaningful way, downplaying the chances of a recession in 2023.
July 12 – Kashkari (Minneapolis president) warned that banks need to be prepared for additional rate hikes in the event more work needs to be done to combat inflation.
The Beige Book report indicated that the U.S. economy was growing a bit faster than at the end of May, though most respondents believed that growth would slow in the coming months.
July 13 – Bullard (St. Louis president) warned that "it's really too early to say that we've declared victory on inflation."
Waller (Fed governor) said he sees "two more 25-basis-point hikes in the target range over the four remaining meetings this year as necessary to keep inflation moving toward our target."
July 14 – Goolsbee sounded encouraged by recent progress on inflation, calling it "promising," but stated that "it's still higher than where we want."
At least one more hike
We can measure whether a Fed rate hike is being priced-in using Fed funds over a specific time horizon in the future to gauge where interest rates are headed. The chart below illustrates how markets see the Fed's hike cycle playing out over the next few months.
/ZQ Fed Funds Futures Forward Curve (July 2023 to December 2025)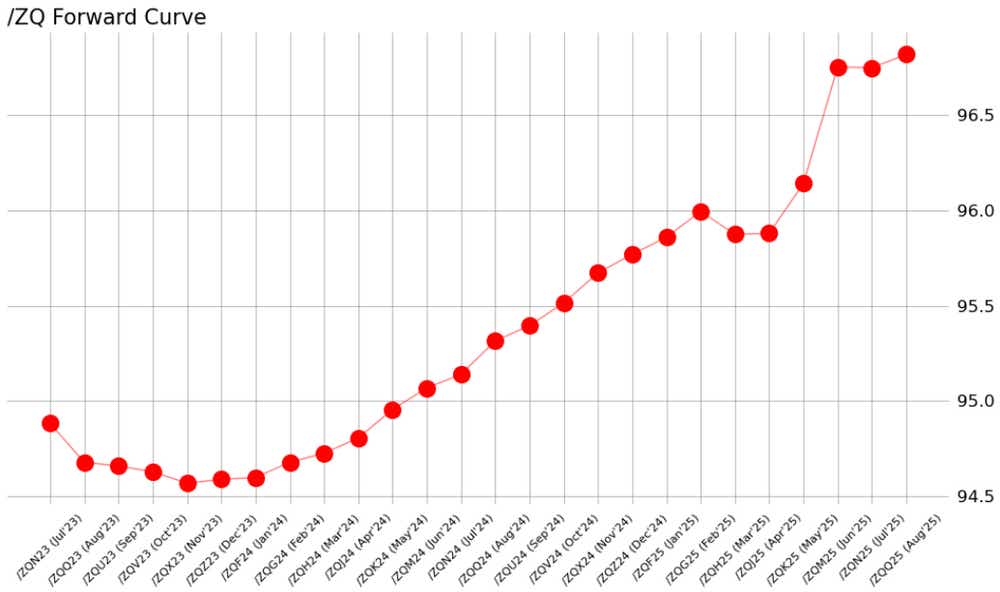 According to the Fed funds futures curve, there is a 99% chance that the FOMC will raise rates by 25 basis points at its July meeting. Expectations began to plateau thereafter, however. Odds of an additional 25-basis-point rate hike are a mere 21% for September and 39% for November.
However, markets are not ready to dismiss Fed policymakers' warnings that a second 25-basis-point rate hike this year is still possible: Fed funds futures are discounting a 36% chance of a hike by December. In other words, markets are seeing a hike in July, a skip/pause in September, and then November or December remain live meetings; of course, a lot can change over the next few months.
Outcomes for equity markets
The June Fed meeting will produce a policy statement and a press conference from Powell. No new Summary of Economic Projections (growth, inflation, and unemployment rate forecasts plus the dot plot) will be revealed.
For bulls, the path forward is simple: the Fed can hike rates, acknowledge that inflation is coming down, but refuse to declare victory just yet. The Fed is very much fighting the last war, insofar as they spent a fair amount of credibility insisting that inflation was transitory in 2021 and 2022. Thus, having left rates too low for too long, it seems like the pendulum will swing to keep rates too high for too long. Nevertheless, by maintaining their view that the U.S. economy is resilient, it will appear that the FOMC has both hands on the wheel and stands ready to navigate around any obstacles in the road ahead. This is a confidence game, at the end of the day.
For bears, any capitulation on inflation would be a victory. Why? Because it appears inflation still has a chance of making a comeback over the next few months. Capitulation would be an indication that the FOMC feels that other risks loom large, mainly knock-on effects from the regional banking crisis and a potential imminent slowdown in the economy. Dovish tones may hint at impending doom, which will undermine confidence and faith in the efforts to defeat inflation once and for all.
Christopher Vecchio, CFA, tastylive's head of futures and forex, has been trading for nearly 20 years. He has consulted with multi-national firms on FX hedging and lectured at Duke Law School on FX derivatives. Vecchio searches for high-convexity opportunities at the crossroads of macroeconomics and global politics. He hosts Futures Power Hour Monday-Friday and Let Me Explain on Tuesdays, and co-hosts Overtime, Monday-Thursday. @cvecchiofx
For live daily programming, market news and commentary, visit tastylive or the YouTube channels tastylive (for options traders), and tastyliveTrending for stocks, futures, forex & macro.
Trade with a better broker, open a tastytrade account today. tastylive, Inc. and tastytrade, Inc. are separate but affiliated companies.