If you trade earnings releases you should recognize this pattern
In Q3, 95% of one-day price movements following earnings reports were in the +12% to -18% range.
Sabre posted a 33% one-day post-earnings gain.
A few earnings announcements remain ahead.
During this Q3 period, approximately 95% of one-day price movements following earnings reports have remained within the range of +12% to -18%. Most of these price shifts had a moderate impact.
A histogram of the results of the one-day post earnings price moves produces the Gaussian distribution below: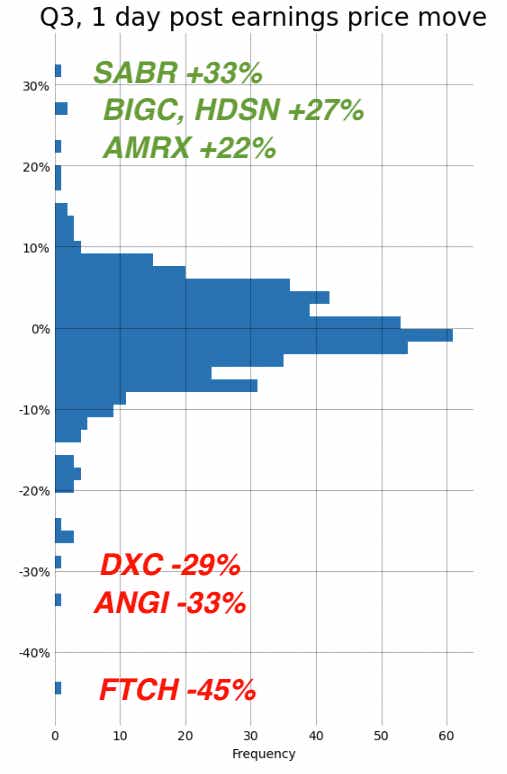 Below are the most notable instances of the one-day post-earnings gains and losses for this Q3: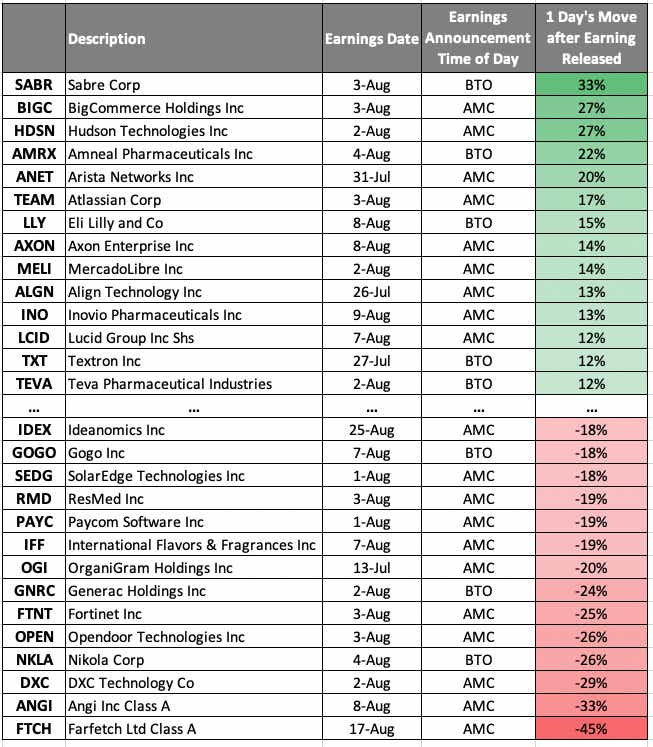 Earning season
Earnings season has largely concluded, with most releases occurring from late July to early August. However, there are still a few companies with upcoming earnings announcements.
Here is the schedule of upcoming stocks and the number of stocks releasing earnings on each day: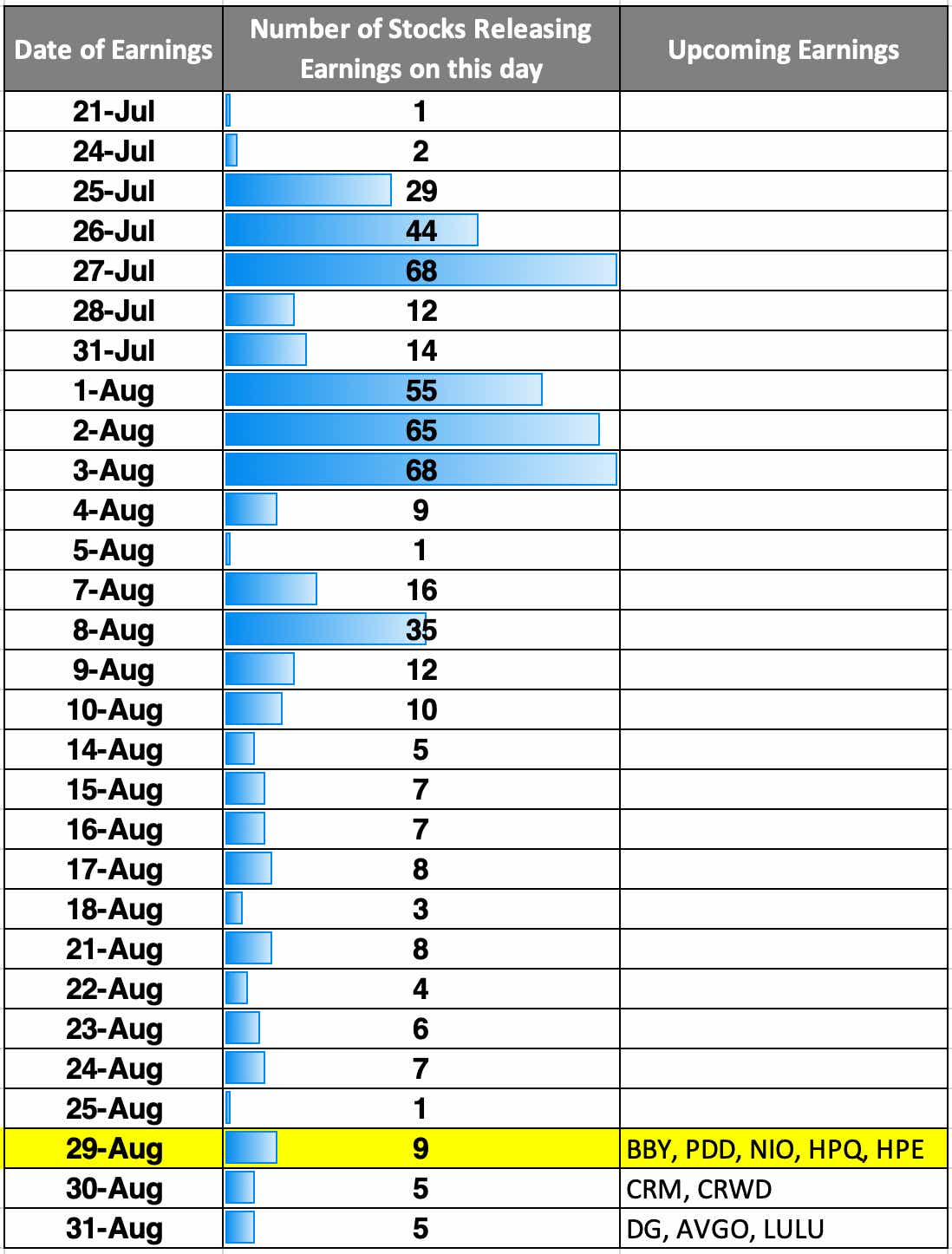 Dow stock action
In the Dow stocks, Salesforce (CRM) currently holds the highest implied volatility (IV) rank and has shown remarkable performance throughout the year so far.
Today, a few stocks including Caterpillar (CAT), Honeywell International (HON), 3M Co. (MMM), and Amgen (AMGN) have reached their 52-week IV rank lows, falling below 0. This indicates that they are currently trading below their previous lows in terms of IV ranks.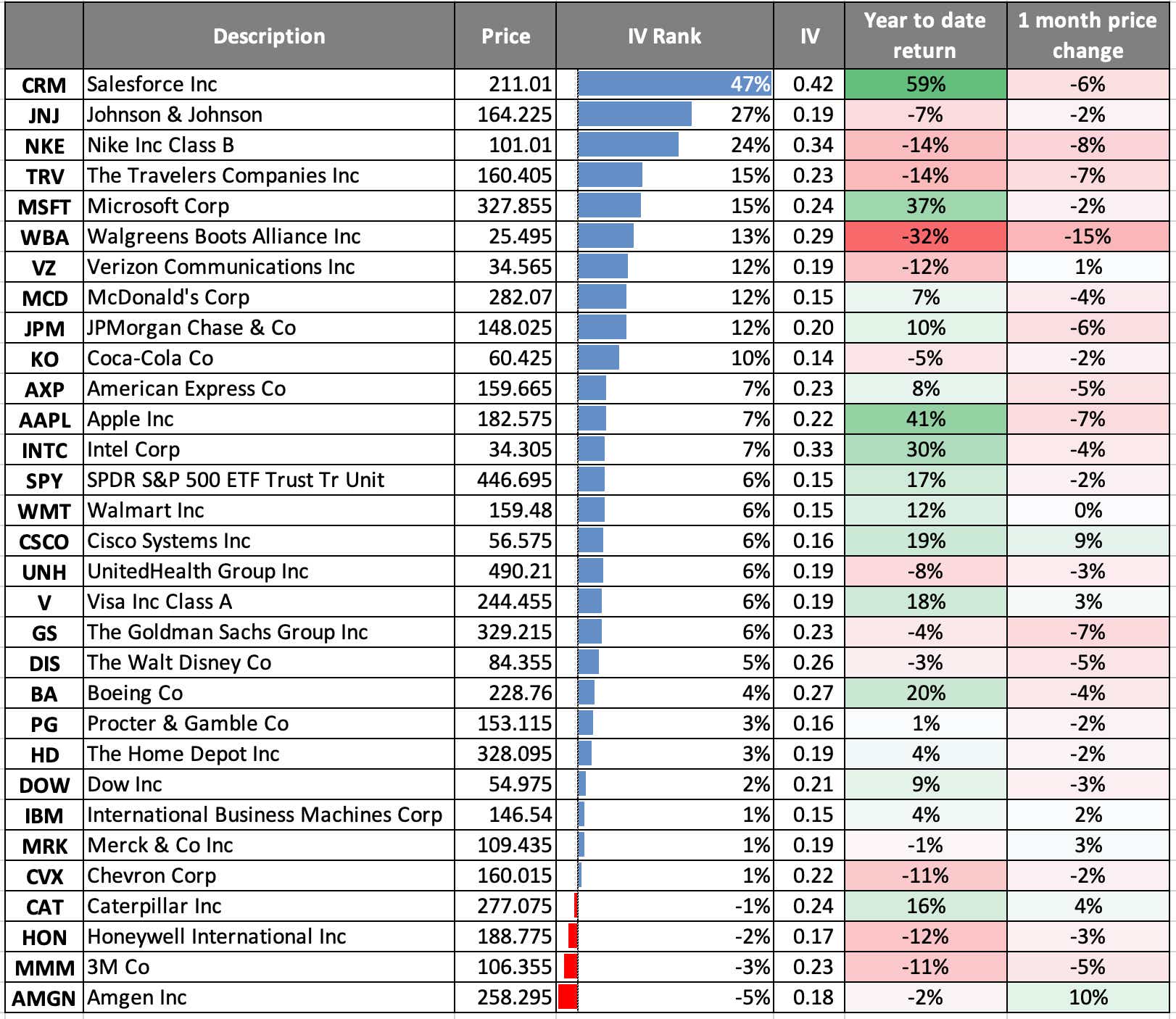 Interesting in Signing up for Cherry Picks? Go to tastylive.com/cherry-picks to signup for free.
Michael Rechenthin (aka "Dr. Data"), managing director of Research and Development, has 25 years of trading and markets experience. He is best known for his weekly Cherry Picks newsletter. On Thursdays, he appears on Trades from the Research Team LIVE.
Nick Battista, tastylive director of market intelligence, has a decade of trading experience. He appears Monday-Friday on Options Trading Concepts Live. On Wednesdays, he co-hosts Johnny Trades. @tradernickybat 
For live daily programming, market news and commentary, visit tastylive or the YouTube channels tastylive (for options traders), and tastyliveTrending for stocks, futures, forex & macro.
Trade with a better broker, open a tastytrade account today. tastylive, Inc. and tastytrade, Inc. are separate but affiliated companies.