As a trader, it is your call of duty to consider volatility in this marriage
When companies are acquired, their IVs usually drop.
Unlike earnings announcements, acquired companies' IVs will converge toward zero because redemption of the stock is at a specific price, meaning there will be no uncertainty.
Investors can treat post-acquisition plays as a short-term opportunity to capitalize on unexpected changes in the redemption value of the stock (the price the other company will pay for the acquisition).
On Tuesday, July 11, a California judge rejected the FTC's attempt to block the highly anticipated merger between Activision and Microsoft worth nearly $70 billion. Instead of talking about what this means for the future of the companies and the impact on Microsoft, we will instead focus on the immediate impact on options traders.
Activision implied volatility will converge to zero
With Activision, the subject of the merger, it is crucial to point out what will happen to the options markets now that this deal is near completion. Options are priced to account for potential future price changes of a stock.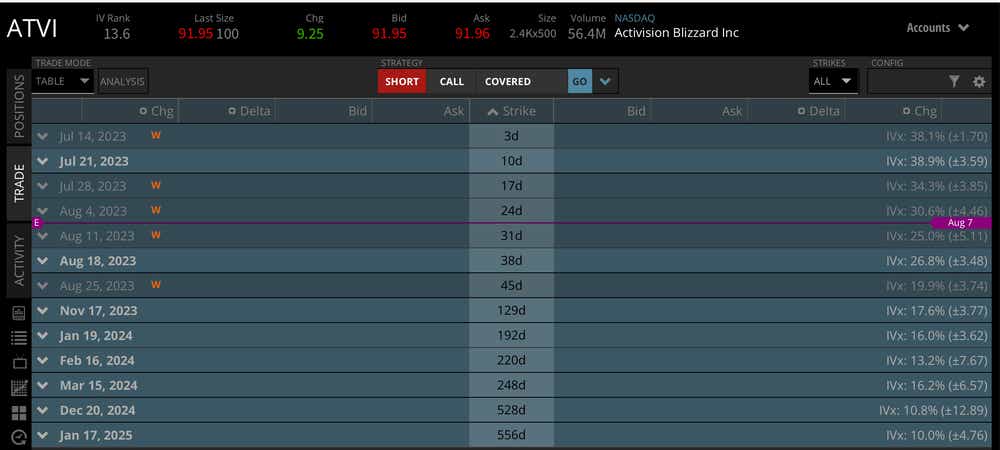 By their very nature, options prices give us an expectation of future volatility (also called implied volatility) of a stock because their prices must reflect the potential future price ranges of the stock.
Typically, a stock's implied volatility (IV) is priced lower for near-term options than the IV of longer-dated options. That's because there is more uncertainty about a stock over a yearlong period than there is over a weeklong period.
However, in the case of mergers and acquisitions, there will be less uncertainty about the price of the stock as we go further in time because at some point soon Activision stock will be redeemed at a specific price by Microsoft.
This means that the IV for Activision will drop into further expirations until redemption by the acquiring company.
How does lower IV affect Activision options traders?
Like earnings plays, after the acquisition deal is approved, there is almost always a large up move in the soon-to-be-acquired stock coupled with a drop in volatility.
However, this does not mean you trade this like an earnings play, where you continue trading like you did before the acquisition announcement. Why?
Unlike earnings plays where the stock continues to operate as normal until the next earnings cycle and so forth, Activision will no longer trade like it used to. This is because now the stock has a final date of redemption where Microsoft will pay a certain amount per share for Activision and then it will cease trading.
Notice in this image (attached at the bottom) the implied volatility of Activision options drops by 50% as you get into November's expiration which implies the certainty of the deal's completion becoming higher by the end of the year.
This means the stock will become less and less volatile with changes in the price being due to the changes in expectation of the final redemption price.
What can you do as a trader?
Short-term plays would be the way to go since long-term strategy would be void at this point. For those who like to sell options, consider selling defined risk put and call spreads that will pay if the target acquisition price does not change but will not lose a lot if something unexpected happens to the certainty of the deal.
Anton Kulikov has a decade of trading experience. He leads research content creation at tastylive, appears on over 20 live shows including Futures Power Hour, Options Jive, and Research Specials LIVE co-authored bestselling investment strategy book Unlucky Investor's Guide to Options Trading, contributed research content for Luckbox Magazine.
For live daily programming, market news and commentary, visit tastylive or the YouTube channels tastylive (for options traders), and tastyliveTrending for stocks, futures, forex & macro.
Trade with a better broker, open a tastytrade account today. tastylive, Inc. and tastytrade, Inc. are separate but affiliated companies.