Microsoft AI Update Sends Stock Soaring—Earnings Next Week
Microsoft announces $30 AI subscription service for Office 365.
MSFT Stock reaches new all-time high of $366.78 ahead of earnings on July 25.
Earnings-per-share (EPS) of $2.55 is expected, seeking fourth consecutive earnings beat.
Revenue of $55.46 billion is forecast for the quarter.
Microsoft to the moon
When you look at a monthly, 20-year chart of Microsoft (MSFT), it screams "if I would have put $10,000 into Microsoft back in the day ... " On July 18 the stock reached a new all time high of $366.78—MSFT is up about 50% in 2023 and with such a strangle hold on tech and AI, it seems the sky is the limit for the tech stock that everybody knows about.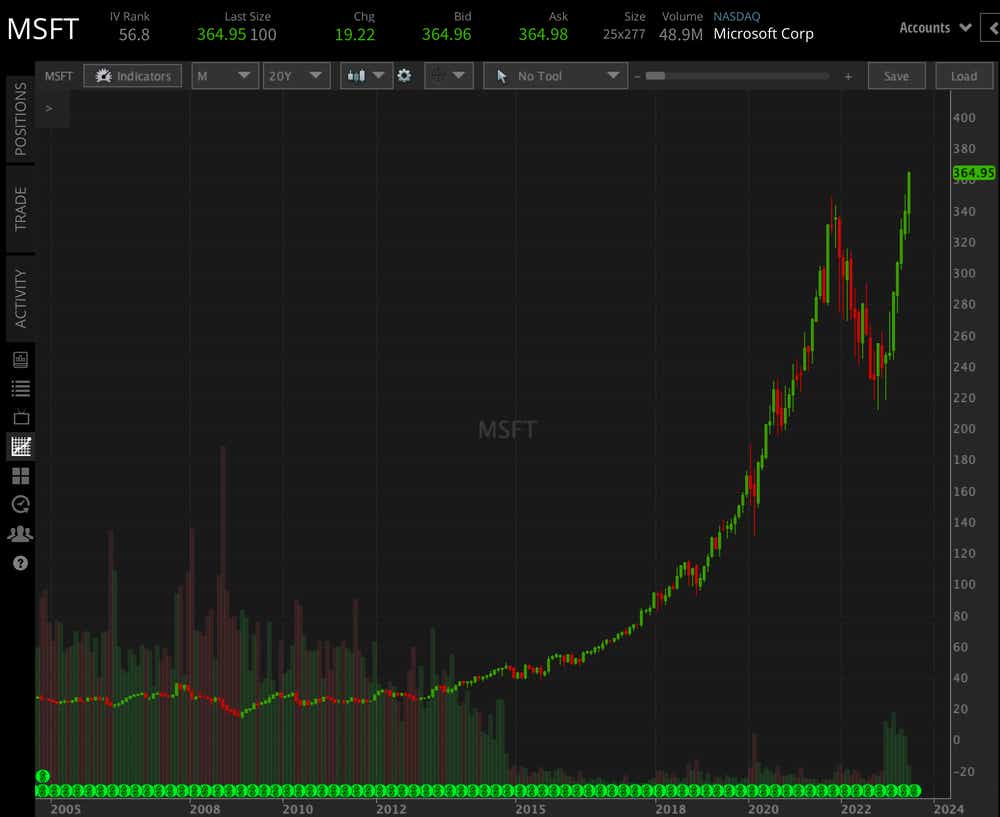 AI tools and gaming rules
The tech giant is abuzz with news and projects after announcing July 18 that subscribers to Office 365 will now pay $30 a month for access to the generative AI tools the product suite has to offer. It said this product has more security features to prevent data leaks for businesses with data sensitivity requirements. Given that most people with a computer have used or currently use products like Microsoft Word and Excel, the wide-spread infusion of AI tools makes these products even more seamless and helpful.
Microsoft is also inching closer to closing the Activision Blizzard (ATVI) acquisition deal, which the Federal Trade Commission fears would give the company exclusive access to ATVI games like Call of Duty. Microsoft CEO Satya Nadella said this isn't a concern of his, and I agree.
The gaming framework for all popular games these days calls for cross-platform play, which maximizes the user base and activity level for the game, especially for "freemium" models where gameplay is free but cosmetic items are not. I'd be lying if I said I haven't spent $10 to make my Halo character look cooler ... but I digress.
Microsoft will release earnings Tuesday, July 25, at 3:05 p.m. CDT, and EPS is expected to come in at $2.55 on $55.46 billion in revenue.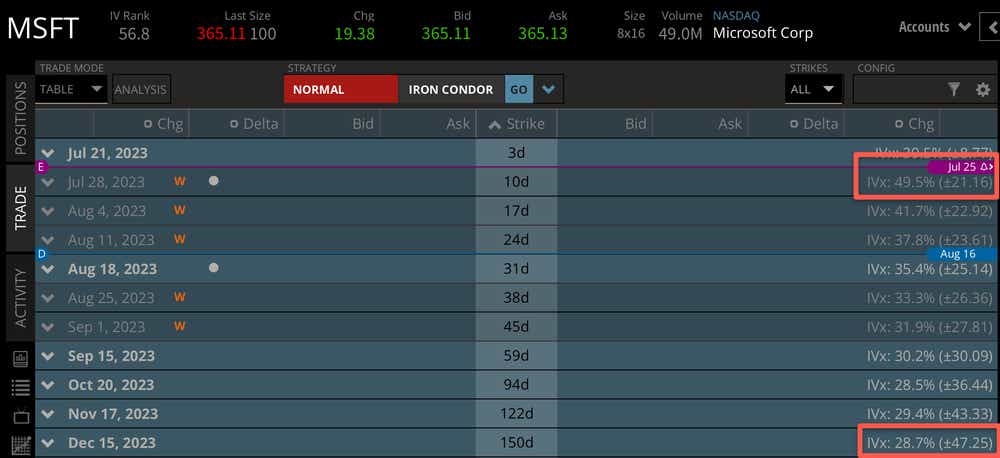 The weekly expected move, based on the implied volatility of the options market for MSFT stock, is +-$21.16.
This isn't that large an expected move, compared to other high-flier stocks in the sector, but when you compare the 10-day expiration cycle to the December 150 day cycle at +-$47.25, you can see that next week's expected move makes up almost 50% of the expected move through the rest of 2023. The market is expecting fireworks and a lot of information from the tech stock on Tuesday.
A bullish case for Microsoft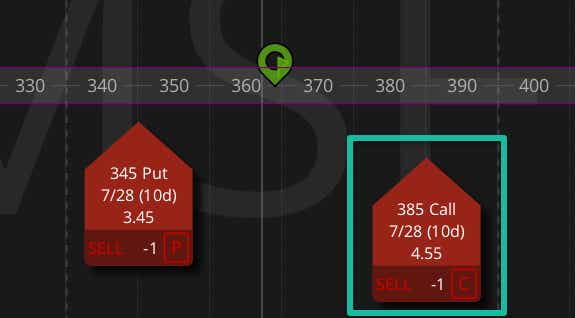 It feels downright wrong to buy MSFT at all time highs, but the call skew in the weekly cycle suggests the market perceives the risk of a high-velocity move to be to the upside for earnings. With the equidistant out-of-the-money (OTM) option price comparison, we can see which option is trading for a higher value to determine where the market is pricing in risk. This doesn't mean the stock price is going to move to the upside, but it does mean the market is pricing a high velocity potential move to the upside.
With so many positive news angles for Microsoft, it's hard to argue the top is in—from AI to the gaming world, it seems the stock has exposure in all the right places. It's hard to bet against the tech giant this earnings quarter, even with the stock reaching all-time highs before the earnings announcement even takes place.
A bearish case for Microsoft
With great success comes great pressure to continue to perform at a high level. That has been the case for other tech stocks that have fallen even after great earnings numbers and projections for the rest of the year. What's interesting about earnings reports is that it's not even about the numbers themselves. Sure, posting a strong EPS and revenue figure can usually be good for the stock long-term, but I've seen the story play out time and time again. A tech giant posts amazing numbers, but the market was expecting more, or to hear specific things in an earnings call that were not said, and the stock tanks. I can't tell you how many emails I've answered along the lines of "shouldn't the stock be rallying after such great earnings numbers?" We have to remember earnings announcements create implied and realized volatility for a reason—there is a large degree of the unknown, and profit taking at the top isn't out of the realm of possibility for such a quick move to the upside pre-earnings.
Tune in to Options Trading Concepts Live at 11am CDT on Tuesday, July 25, for a full breakdown of the MSFT earnings environment and options trade ideas as well!
Mike Butler, tastylive director of market intelligence, has been in the markets and trading for a decade. He appears on Options Trading Concepts Live, airing Monday-Friday. @tradermikeyb 
For live daily programming, market news and commentary, visit tastylive or the YouTube channels tastylive (for options traders), and tastyliveTrending for stocks, futures, forex & macro.
Trade with a better broker, open a tastytrade account today. tastylive, Inc. and tastytrade, Inc. are separate but affiliated companies.