Supersonic flight threatens to transform air travel. What it may mean to American and United Airlines.
Supersonic flight are poised to revolutionize airlines.
Will American Airlines and United Airlines go boom?
And SRFM fails to impress investors as the next big thing.
The Concorde made its final touchdown at Bristol Filton Airport, marking the end of supersonic air travel 30 years ago. Business travelers, particularly those between the U.S. East Coast and London, found the aircraft popular. However, the plane faced operational cost issues and drew criticism because of its sound pollution and fuel consumption, which troubled it from the beginning.
A quick history of supersonic air travel and the problems it presents
The Concorde cruised at 1,350 mph between its destinations—nearly three times faster than today's commercial airlines. It exceeded the speed of sound at 768 mph, which defines supersonic speed. Travelers found it a great convenience, but it proved a nuisance to thousands around airports, most of whom couldn't afford to fly on the aircraft. The flight speed meant the plane consumed a lot of fuel, increasing operating costs.
When an aircraft—or any object—exceeds the speed of sound, it creates a sonic boom, which is extremely loud and often associated with fighter jets. This occurs when the airplane moves faster than the sound waves in front of it, creating a cone-shaped shockwave.
The plane generates a shockwave known as a Mach cone, which trails behind and away from it, creating a sonic boom that can travel for miles. The same concept applies to a whip cracking through the air, but the airplane's mass makes it much louder. Those in New York City, London and other cities that were popular routes for the Concorde found this simply unacceptable.
The next generation of air travel?
Several companies are now pushing forward to advance the next generation of supersonic flight. Privately held Boom Technology, founded in 2014, takes the lead with its Overture program—a supersonic airliner capable of carrying 80 passengers and flying at twice the speed of today's planes. Unlike the Concorde, Overture will incorporate a much quieter design, ensuring it flies at the same noise levels as its subsonic peers.
The designers intend Overture to prioritize efficiency, addressing the environmental concerns that condemned the Concorde. According to Boom's website, Overture will use 100% sustainable aviation fuel (SAF)—a biofuel alternative to standard jet fuel with a smaller carbon footprint.
The company targets the plane at trans-Atlantic and other cross-oceanic routes due to the sonic boom problem, but it will still fly faster, around Mach 0.92, than other commercial aircraft over land. While flying over the sea, it will achieve speeds up to Mach 1.7, or 1,300 mph, and reach a range of 4,250 nautical miles, or 4,888 miles.
Acknowledging the company's progress, American Airlines (AAL) and United Airlines (UAL) have already placed orders. If all sticks to the plan, the Federal Aviation Authority will certify Overture in 2029 and it will start ferrying passengers shortly afterwards. If it succeeds, it may shift the future of commercial air flight rapidly, positioning AAL and UAL at the forefront of this innovation. Will Boom succeed where other much larger companies, like Boeing (BA), have failed?
A quickly evolving airspace; but not all are winners
Air travel is undergoing several dynamic shifts. Surf Air Mobility (SRFM) debuted on the New York Stock Exchange on July 27 through a direct listing. The company focuses on regional aviation, aiming to offer an alternative to long drives, such as Los Angeles to San Diego, using small electric, hydrogen and hybrid planes.
People refer to this type of travel as regional air mobility (RAM), and in the post-COVID-19 era, it has become more prominent, with competitors surfacing in places like New York and abroad. However, the investors' reactions were less than enthusiastic; Surface Air's share price dropped over 60% to $2.97 from its opening $4.85. Is RAM already doomed, and will new supersonic planes face a similar fate, or will airline stocks go boom?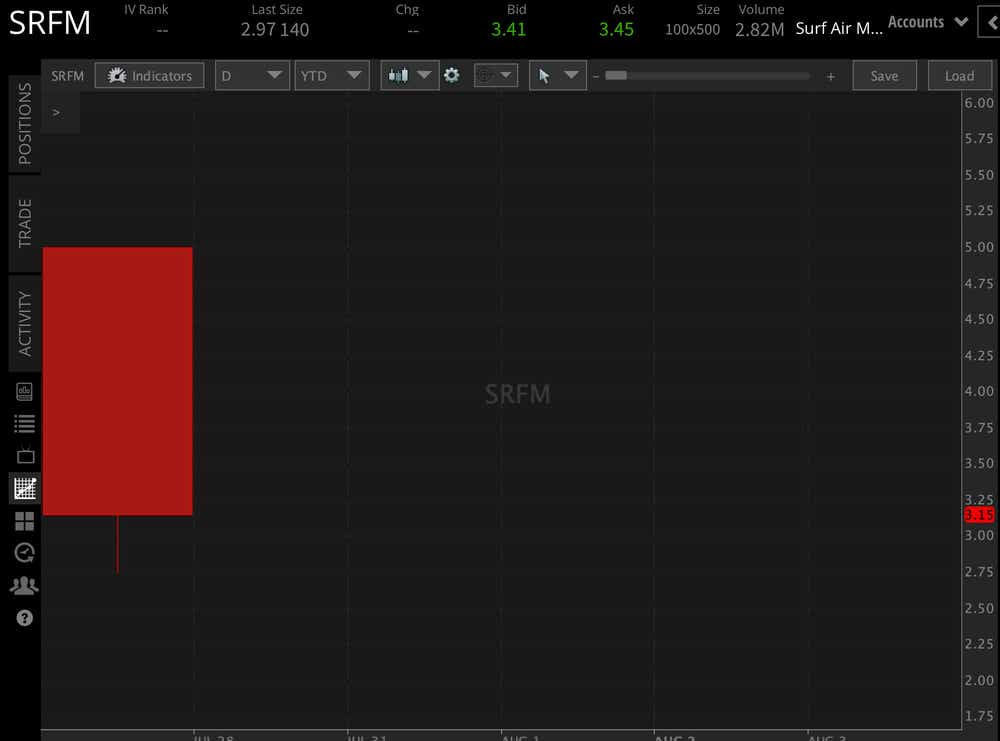 Thomas Westwater, a tastylive financial writer and analyst, has eight years of markets and trading experience. @fxwestwater 
For live daily programming, market news and commentary, visit tastylive or the YouTube channels tastylive (for options traders), and tastyliveTrending for stocks, futures, forex & macro.
Trade with a better broker, open a tastytrade account today. tastylive, Inc. and tastytrade, Inc. are separate but affiliated companies.