Natural Gas futures decline below $4 amid milder weather outlooks for the month of December. On the flip side, January Crude Oil futures (/CLF2) saw a small bounce Monday following a multi-percent decline beginning in late November. Price action in both commodities is yielding an expansion in implied volatility. Discover a few setups in energy products like XLE, XOP, and more below.
Energy Performance
As Natural Gas prices fell under $3.70/MMBtu as of Monday morning, futures have dropped more than 30% in the last 30 days. And while WTI crude oil is back above $68 for now, /CL futures have waned more than 15% in the same timeframe.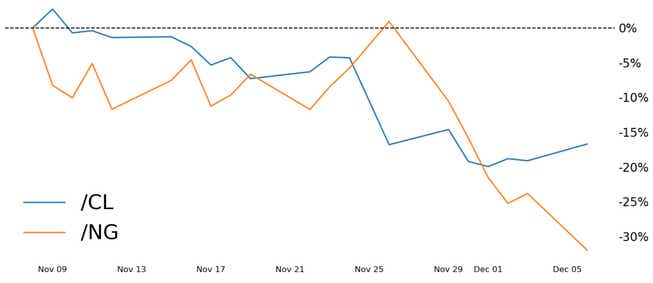 Additionally, the one-month price change in Energy Sector ETF, $XLE, and the Oil and Gas Exploration and Production ETF, $XOP, are down 4.1% and 12.3%, respectively.

Energy Trade Ideas
Depending on a trader's risk tolerance, account size, and experience, there are a wide number of ways to participate in the price action being seen in the energy sector. Traders can look to highly liquid ETFs like $XOP and $XLE, trade the major futures contracts (/CL and /NG), or utilize mini and small futures such as /QM (mini crude oil), /QG (mini Natural Gas), and /SMO (Small US Crude).
Bullish Energy Setups
To trade a bounce in energy, bullish strategies such as short put vertical spreads, long call vertical spreads, covered calls, short naked puts, and Poor Man's covered calls. In today's Alpha Boost email from the Quiet Foundation, one possible setup is Short Put Spread in $XLE, where the maximum possible profit is $1.29 and the max loss is at $250, this trade has no upside risk and a breakeven at $53.71.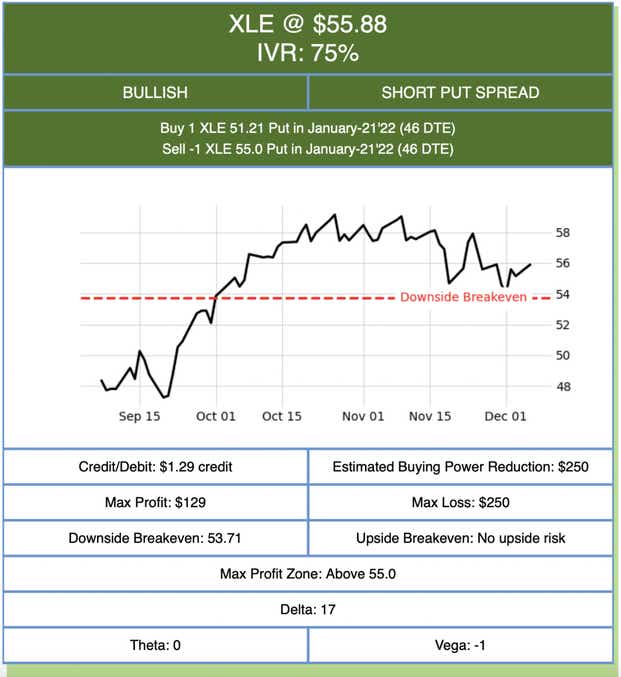 Bearish Energy Setups
If you think there's still some downside room for energy, a short call vertical spread in $XOP might be more your speed. With IV Rank above 50%, this product is a candidate for a premium selling opportunity. Shorting the 102/104 call spread expiring in January has a breakeven price of $102.67 and a probability of profit great than 60%.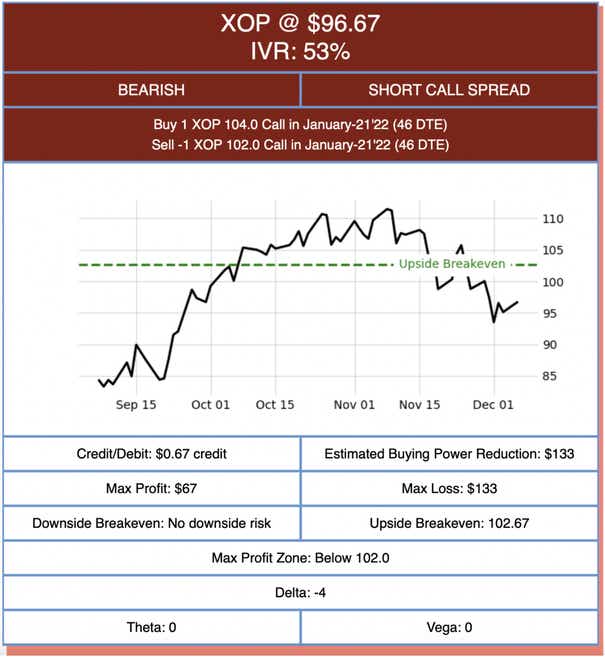 Alternatively, traders looking for a static delta position can look to short /SMO futures. At $1.00 per tick and around $1,600 in buying power, this product enables traders to gain exposure to Crude Oil price action at the fraction of the cost of a major futures contract.
Neutral Energy Setups
Finally, if traders are expecting Crude or Natural Gas to stay in a RANGE over a certain amount of time, Iron Condors and Strangles are also viable strategies and can be customized to fit account size and appetite for risk.
For example, traders in small accounts or those who are new to the price action in energies may look to do a defined risk Iron Condor spread rather than the "undefined" exposure that comes with Strangles. Below is a /CL Futures Options Iron Condor in the JAN 14 expiration. By selling the 60/59 Put Vertical and the 79/80 Call Vertical enables traders to potentially make $330 and lose a maximum of $670.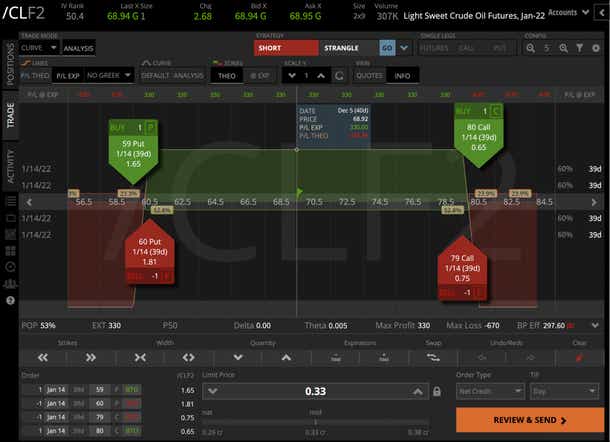 Sign up for the Alpha Boost newsletter for more trade ideas sent directly to your inbox and check out the Follow Feed on tastytrade for the latest strategies from tastylive co-hosts.