Roku reports financial results on Wednesday, Nov. 1 after the market close and has a lot to prove since last quarter's shockingly large 25% upside move.
Roku started as a $6 million spinoff from Netflix in February 2008.
Roku has missed EPS estimates for six consecutive quarters.
Roku moved 25% on its last earnings and is currently pricing a 13.5% move.
Entrepreneurs start a business because they have an idea, or they don't ever see themselves working for anyone. They might eventually sell and live out their life with money and be happy. Then there are serial entrepreneurs. 
Serial entrepreneurs live and breathe the idea of creating a new business. They feed off creating something new. They may sell or step back from one business before starting another, or they may run multiple businesses simultaneously. Whatever it takes to remain at the helm of their idea.
Roku started as a spinoff
Anthony Wood is a serial entrepreneur and Roku (ROKU) was his idea. Really, it was his sixth idea. In fact, Roku means "six" in the Japanese language and Wood took that as the company name in 2002 because it represented the sixth company that he started. Yes, like many entrepreneurs before him he had failed in other attempts to start a company. Complicating matters more, he didn't even know what Roku would become. That is until he did a stint at Netflix in 2007.
You see, five years after incorporating Roku, and one year after the failure of an altogether different company, Wood moved on to work at Netflix. While there, he was working on a set top box that would allow Netflix users to stream content to their TVs. Netflix decided to kill the project over concerns of license agreements with third parties. Instead, Netflix decided to spin off the company and Roku released its first set top box in 2008. In 2010, Roku began offering models with various capabilities, which eventually became its standard business model.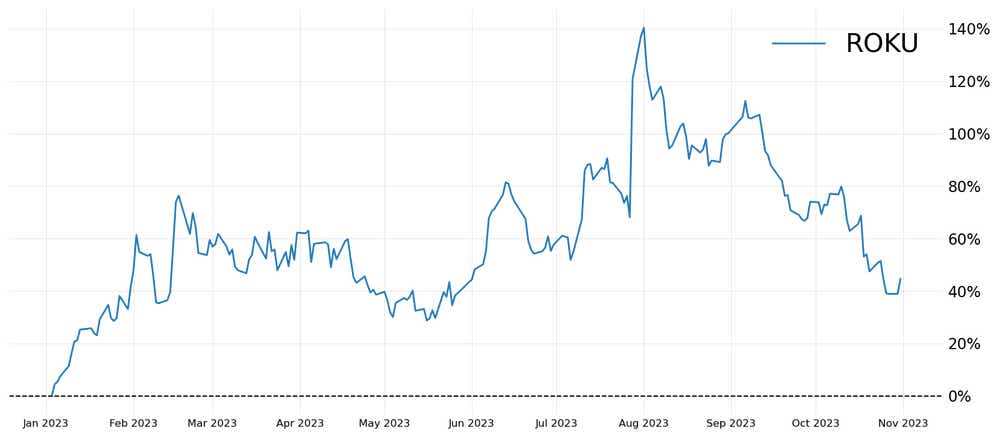 73.5 million active accounts
Today, Roku is the top-selling smart TV operating system and the top TV streaming platform by hours streamed in the U.S., Canada, and Mexico. 
Roku has 73.5 million active accounts, and more than 85 billion hours were streamed across its platform in 2022. While the stock is up around 40% year-to-date, it is well off the 2021 peak of nearly $500. 
Roku reports financial results on Wednesday, Nov. 1 after the market close and has a lot to prove since last quarter's shockingly large 25% upside move. The business has moved sideways as an ad-supported model. The average revenue per user has been slipping after years of growth. Additionally, Roku's profits have turned to losses in recent times. The company has missed earnings-per-share (EPS) estimates for six consecutive quarters and most analysts expect them to go seven-for-seven.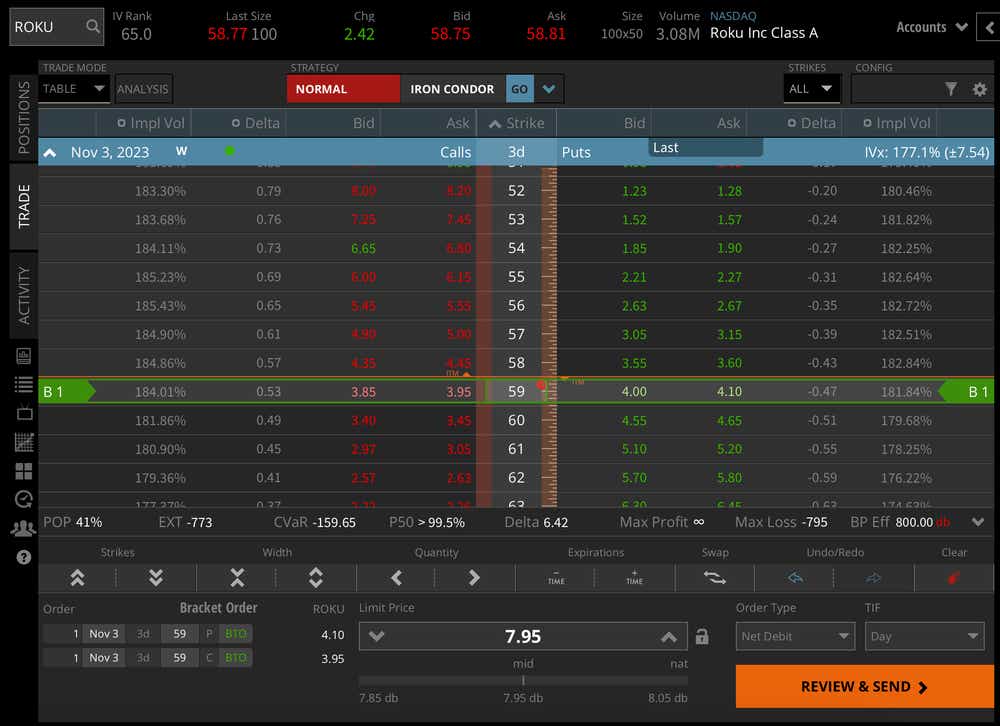 As this post is being written, ROKU options are pricing a 13.5% move in the stock after the earnings announcement. The implied volatility rank of 65% prior to earnings is the highest that we've seen since November 2022. There is certainly more downside skew than upside which is arguably warranted since the stock has been cut in half since August. So, will the stock shock again with a huge move like last quarter? Or will it be much more muted? Tune in on Wednesday night to find out. 
Jermal Chandler, tastylive head of options strategy, has been in the market and trading for 20 years. He hosts Engineering the Trade, airing Monday, Tuesday, Thursday and Friday. @jermalchandler
For live daily programming, market news and commentary, visit tastylive or the YouTube channels tastylive (for options traders), and tastyliveTrending for stocks, futures, forex & macro.
Trade with a better broker, open a tastytrade account today. tastylive, Inc. and tastytrade, Inc. are separate but affiliated companies.