Options are ideal for trading earnings announcements
Companies report earnings every quarter. With those announcements come heightened implied volatility and potential stock price moves.
Sometimes the expected move is high and sometimes it's low, but implied volatility always increases in the earnings expiration cycle.
We can strategize around the earnings announcement with short or long options.
When companies announce earnings, the stock price usually moves based on whether they beat or missed earnings-per-share (EPS) estimates, revenue estimates or a combination of both. For the most part, we know what to expect from an EPS and revenue standpoint, but there can be big misses or big beats, depending on the situation at hand.
Companies also tend to outline a forecast for the next quarter or even the rest of the year, making these binary events important for stock price movement to the upside and downside.
Sometimes a company beats EPS and revenue expectations and the stock price drops, or vice versa, so it's important to understand earnings truly are volatile, unpredictable events.
Apple announcement coming up
Looking ahead to this week, Apple (AAPL) is set to announce quarterly earnings Thursday, Nov. 2 at 3:30 p.m. CDT.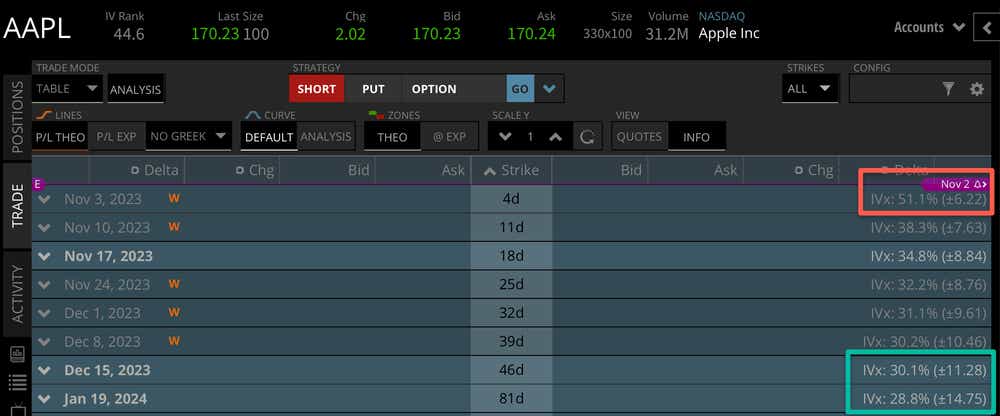 As you can see in the image above, the red rectangle shows the implied volatility for the weekly cycle that contains the earnings announcement and extrapolates an expected stock price move from that implied volatility figure. The market expects AAPL stock to move +-$6.22, based on current implied volatility over the course of the week, and this is on a one standard deviation basis.
Of course, the stock price can move inside of that figure, or well outside that figure, but it helps us build context around what is expected from the stock this week when the company announces earnings.
Looking at this figure and comparing it to a further-dated options cycle can help us understand just how much (or how little) the earnings announcement is expected to impact the stock price.
Here, we can see the December cycle's expected move is +-$11.28 and the January cycle's expected move is +-$14.75. This helps us understand how much impact this announcement has on the rest of the year's expected stock price move, given that it accounts for about 40%-50% of the expected move through the rest of the year.
Trading earnings with short options
Options sellers want options to expire worthless and out-of-the-money, so they keep the premium they sold the option for as profit.
Selling options around earnings announcements enables traders to capture the heightened extrinsic value baked into near-term options cycles because of the uncertainty of what will happen with the stock price after the announcement.
After the announcement, extrinsic value gets crushed because now the cat is out of the bag, and that is especially true for near-term options cycles that don't have a lot of time left until expiration. These cycles held value for this announcement almost exclusively. Once the announcement passes and they return to "normal" short-term cycles where there isn't much extrinsic value relative to farther-dated cycles.
The key here is to understand that the closer you are to expiration, the more implied volatility value will be baked into these options, and the more volatile they will be. Let's call this the one- to 30-day expiration cycle range.
The farther out in time you are, the more time value you'll see in the options cycles. These cycles still have implied volatility crushes from the earnings announcement but still hold onto value as they'll have 30+ days to expiration.
So, if you're trading short premium strategies like strangles, short options, etc., just realize that the closer you are to expiration the more "instant pain, instant gain" feel you'll have, where farther-dated cycles will have a less volatile profit and loss (P/L).
Trading earnings with long options
Buyers want options to gain as much value as possible, whether that be intrinsic or extrinsic value.
That said, we know near-term options lose a lot of extrinsic value after an earnings announcement. So, I like to say "you get what you pay for" when buying options around earnings announcements. Near-term options are cheap, but they will experience a big extrinsic value crush after the announcement. If this value isn't made up for a directional move in our favor, this can result in a quick big percentage loss.
Moving the expiration farther out in time for the option I want to buy will make it more expensive, but it will also convert the general makeup of extrinsic value from implied volatility to more time value. This can help me retain value even on a stock price move against me, and at the very least give me more time for the stock to recover and move back in my favor compared to a near-term cycle.
Strategies like diagonal spreads and calendar spreads can be popular choices for earnings announcements, especially for those trying to limit capital exposure and define risk.
Summary of trading earnings
Earnings are binary events that occur each quarter for publicly listed stocks.
These announcements can result in big moves in the stock price, so implied volatility is heightened just before these announcements.
When selling options around earnings, choosing a near-term expiration cycle can result in a more volatile situation than long-term expiration cycles because the volatility crush is more apparent, and the options won't have much extrinsic value left after the announcement.
When buying options around earnings, choosing a long-term expiration can help us get out of most of the implied volatility crush from earnings and help retain value if we're directionally wrong. However, these options will be more expensive up front.
Tune in to Options Trading Concepts Live on Thursday at 11 a.m. CDT for a full breakdown of earnings strategies using options for this upcoming Apple announcement.
Mike Butler, tastylive director of market intelligence, has been in the markets and trading for a decade. He appears on Options Trading Concepts Live, airing Monday-Friday. @tradermikeyb
For live daily programming, market news and commentary, visit tastylive or the YouTube channels tastylive (for options traders), and tastyliveTrending for stocks, futures, forex & macro.
Trade with a better broker, open a tastytrade account today. tastylive, Inc. and tastytrade, Inc. are separate but affiliated companies.