We may be experiencing a short term pullback on AI stocks—setting up for some bullish trading opportunities for MSFT.
Artificial intelligence stocks have been the talk of the town in 2023.
The "engineering the trade mentality" is to generate trade ideas based on things seen in everyday life.
If the A.I.-related stock pullback is expected to be short-lived, then selling a Microsoft put option could be in order.
Have you ever seen the movie White Heat? The flick ends with bad guy Cody Jarrett (played by James Cagney) going out in a blaze of glory, exclaiming, "Made it Ma! Top of the world!"
If you listen hard enough, you'll hear me saying that while I am writing the first in a series of blogs dedicated to the Engineering the Trade show on the tastylive network. You should also know that the host (that would be me) often calls it the "most dangerous show" on the network. Why? Well, we attempt to help you become the type of trader who sees things in everyday life and tries to make sense of it all through the lens of trading. This can arguably become a wild way of generating trade ideas.
What do I mean? For example, let's take a look at the artificial intelligence (AI) stock revolution. Stocks like Nvidia (NVDA), Advanced Micro Devices (AMD), Microsoft (MSFT), Alphabet (GOOGL) and others have been the subject of much discussion in 2023 as their shares have powered higher because of the idea that eventually AI will take everybody's job. Like most fears, this is an exaggeration. However, if you were paying attention at the beginning of the year, you could easily see this coming.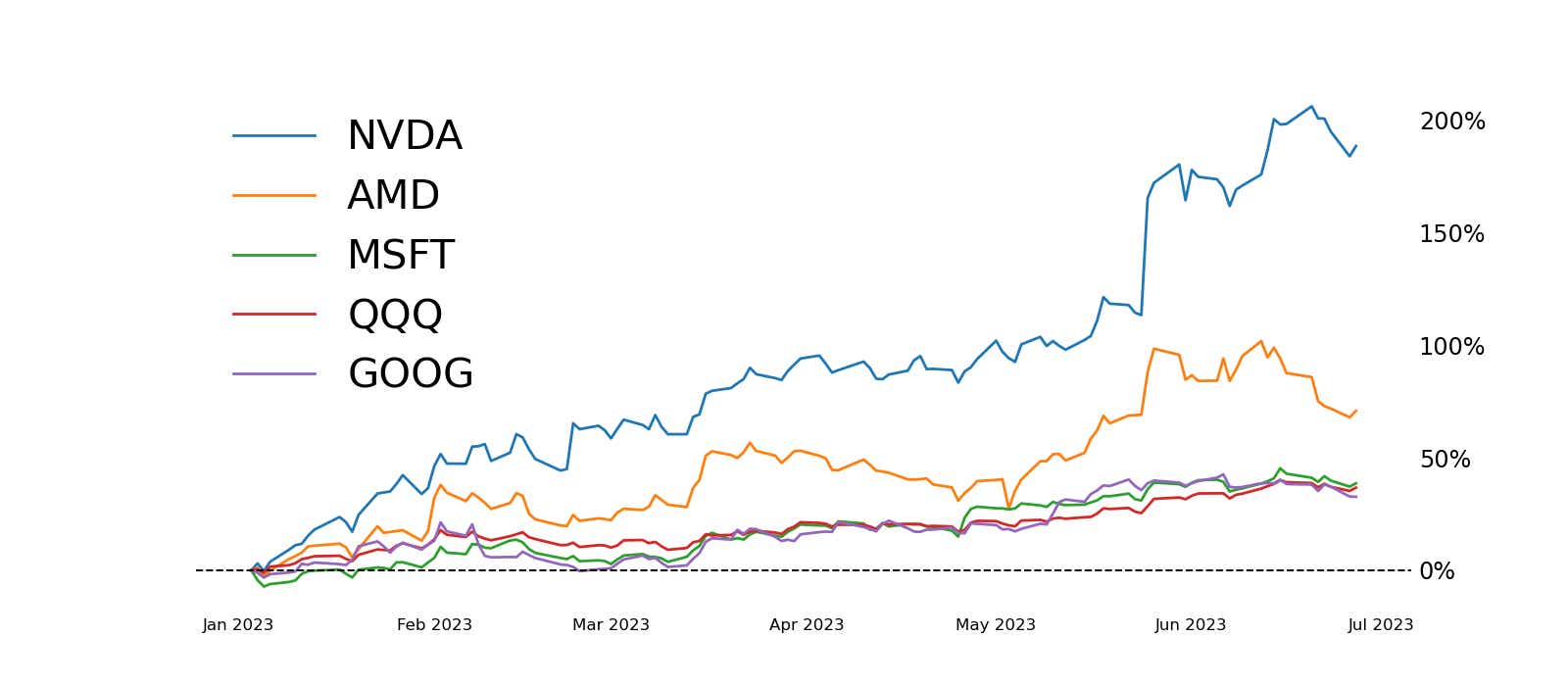 As the months of 2023 have passed, many articles in the financial arena were about AI or how much it is already being used in everyday life. Many public companies started to discuss AI on their conference calls, which caused shares to skyrocket. Heck, even at tastylive, we have found ways to harness the power of AI in many tasks that we do on a day-to-day basis. I mean, everyone wants to make their job easier, right?
Currently, AI-related stocks are in the midst of a pullback, which is always a good thing for stocks that seem to be rising like a muffins in an Easy-Bake Oven. The real question: Is this a pullback or the beginning of a breakdown? That all depends on whether or not you believe this whole thing is legit or overhyped. Note that many of these names will be delivering third-quarter earnings over the next month or two, which should provide more data to help answer many of the questions we all have about this niche area of the technology sector. If you believe this pullback is short-lived, then perhaps a bullish trade is in order.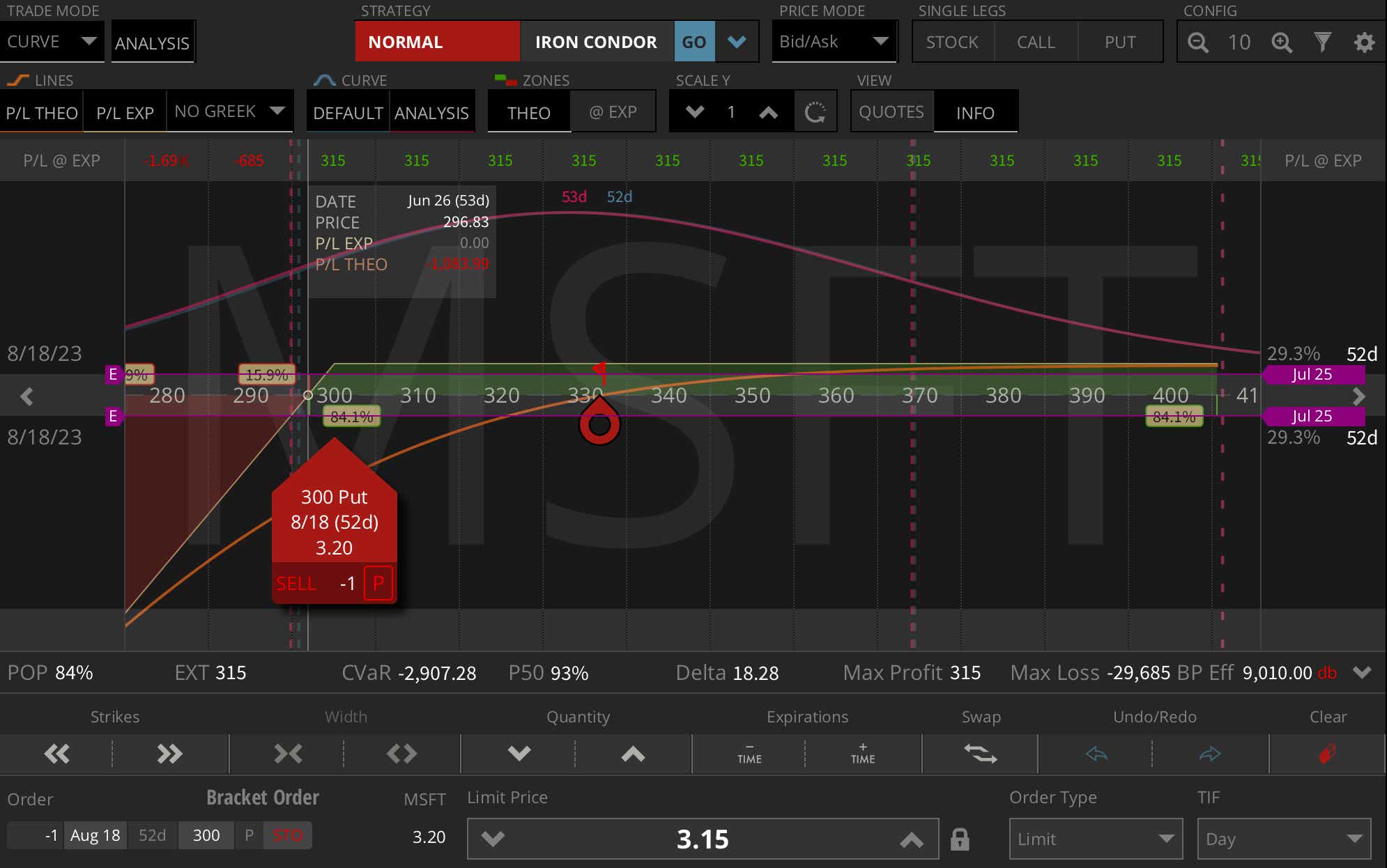 As I type this article, MSFT has an implied volatility rank (IVR) of 37. There are many ways to do bullish trades and, for the sake of discussion, let's analyze selling one August 300 strike put for 3.15 with MSFT stock trading $332.65. This trade would set you back $8,995 in a margined account. Your risk is to the downside on this trade. Your expiration breakeven occurs with MSFT trading $296.85. Below that, you lose money on the trade, and your max loss occurs with MSFT trading $0—the chance of which is low but not impossible. You win on the trade if MSFT continues to move higher in price and away from the 300 strike.
It might be a pullback, or it might be the beginning of a breakdown. Whatever it may be, let's go out in a blaze of statistically advantageous glory—just like Cody Jarrett.
Jermal Chandler, tastylive head of options strategy, has been in the market and trading for 20 years. He hosts Engineering the Trade, airing Monday, Tuesday, Thursday and Friday. 
For live daily programming, market news and commentary, visit tastylive or the YouTube channels tastylive (for options traders), and tastyliveTrending for stocks, futures, forex & macro.
Trade with a better broker, open a tastytrade account today. tastylive, Inc. and tastytrade, Inc. are separate but affiliated companies.