Ethereum's upcoming "Merge" from a proof-of-work to a proof-of-stake network may very well revolutionize the way the world invests and interacts with cryptocurrency.
But what will happen to bitcoin (BTC) after the Merge? Will the new-and-improved Ethereum network shift the limelight away from this crypto juggernaut?
This article will present 5 reasons why Ethereum may become the world's dominant cryptocurrency post Merge.
Takeaways:
After the "Merge", Ethereum's consensus mechanism will shift from proof-of-work to proof-of-stake.
Bitcoin is viewed as a store of value while ether is a smart contract storing cryptocurrency helping to build Web3.
The Merge will drastically reduce Ethereum's energy consumption.
Nine out of ten millennial investors will choose an environmentally friendly option when given the choice.
Post Merge, ether will be deflationary, which may help to boost its price.
Proof-of-stake coins allow investors to earn yield by staking.
Ethereum's application of sharding will increase transaction throughput and reduce gas fees.
The Merge will modernize Ethereum by remedying many inefficiencies that impede the network. Among other improvements, the Merge will:
Reduce Ethereum's carbon emissions by 99.95%.
Increase transactions per second from 25 to 100,000
Reduce network fees.
The Merge is an ongoing upgrade in the Ethereum network and will not be formally complete until 2023. Some issues, such as emission reduction, will be addressed in September of 2022 with the "Paris" upgrade.
Increased transaction throughput and gas fee reductions, however, will not be finalized until 2023. These improvements will be realized after the introduction of "sharding", which will essentially break up the Ethereum network into many small pieces while maintaining unification.
Ethereum (ETH) vs Bitcoin (BTC): What Are the Differences?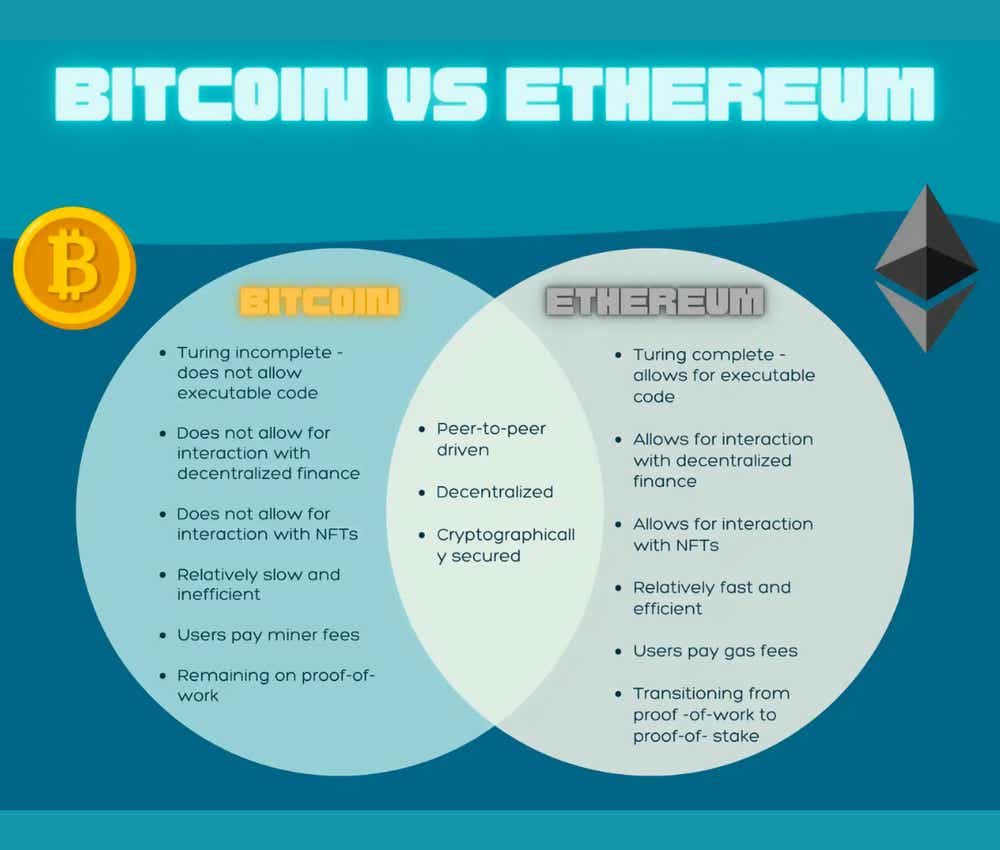 Bitcoin is similar to gold in that it is used primarily as a store of value.
Ethereum is similar to fiat currency in that it is used as a medium of exchange.
Bitcoin can only store transactions.
Ethereum can store transactions and code (smart contracts).
Before we introduce our "list", let's first make sure we're all on the same page as to what these two cryptocurrencies represent.
Due to its limited capabilities (Bitcoin can only store transactions) and high costs, Bitcoin is primarily seen by investors as a store of value. This means that most Bitcoin participants are widely indifferent to the effects of the "Merge". Fundamentally, Bitcoin is a different product than Ethereum.
Like Bitcoin, Ethereum can store transactions. It can also store/run code, aka "smart contracts". These smart contracts are running the decentralized revolution.
Because of Ethereum's utility in this space, tokenomics expert, Eloisa Marchesonia went so far as to compare ether to a fiat currency: "Bitcoin will always be like electronic digital gold. And Ethereum is like fiat money, it's just two completely different things."
Now that we know the differences between these two coins, let's explore a few reasons Ethereum may be in a good position to usurp Bitcoin in the future.
Discover the benefits of trading crypto at tastytrade*

Ethereum May Soon Be ESG Compliant

After sharding is introduced, Ethereum may become ESG compliant.
A 99.95% reduction in energy consumption may be the catalyst for regulation.
Bitcoin will use dramatically more energy than ether post-merge.
Governments around the world are heralding Ethereum's Merge. Why? The Merge will reduce Ethereum's carbon footprint by 99.95%. This will make the network dramatically more energy efficient than its current state.
This may very well make the network ESG compliant. This compliance may help governments to look more favorably upon blockchain, and this favorability may even give public officials the push they need to step in and regulate cryptocurrencies.
It is almost universally agreed upon that regulation (particularly US) would be favorable to the industry. This "stamp of approval" from the government may help pave the way for wide-scale crypto adoption.
Post Merge, there is a chance that governments demand all blockchains meet ESG compliance. Energy-heavy Bitcoin does not have Ethereum's plasticity: even if a plan were launched to migrate to proof-of-stake, it would probably take years to enact. This would be unfavorable to the price of bitcoin.
Additionally, the Bitcoin community is widely set on bitcoin remaining proof-of-work, primarily because of this consensus mechanism's great security. Even if it wanted to change, a shift may not be possible.
According to Kyle McDonald in a CoinDesk article, "Bitcoin doesn't have the coordination like Ethereum to leave proof-of-work," and it could be "the first to be regulated away.

 Millennials Favor Green Investments
Millennials choose environmentally friendly investments 9 times out of 10.
The market share of millennials in crypto will only increase with time.

Regardless of government intervention, young investors demand clean investments.
As reported by CNBC, nine out of ten millennial investors prefer to invest in ways that leave a positive mark.
Ethereum's switch to proof-of-stake will help to garner the support of green-minded investors. The new Ethereum network will be 99.95% more energy efficient than its current state, and even more when compared to Bitcoin.
Over time, as the wealth of this generation increases, their market share will inevitably increase.
When given the choice between two similar products (bitcoin and ether), Millennials almost always favor the greener options. Advantage Ethereum.

  Ethereum Will Soon Be Deflationary
A higher burn rate and lower validator rewards may cause Ethereum to be deflationary.
Less coin issuance may help to raise the price of existing coins.
In its current state, Ethereum is an inflationary asset. When the Merge is complete, Ethereum is positioned to be a deflationary asset. Aaron Samsonoff of InvestDEFY expects a 90 percent drop in new Ethereum token issuance post-merge.
This may be advantageous to the price of Ethereum: with fewer tokens being issued, the value of existing tokens may rise in value. This may also help make Ethereum compete with Bitcoin as a store of value coin.
Bitcoin, on the other hand, will remain inflationary until all of its coins are mined, which won't be until 2140.

  Ethereum Investors Earn Yield by Staking
Proof-of-stake coins (e.g. Ethereum 2.0) offer staking.
Staking allows investors to earn a yield from their crypto.
Bitcoin is proof-of-work so staking is not possible.
Proof-of-stake blockchains pay validators a reward for staking their ether.
In this lottery system, validators are chosen at random to verify transactions and validate blocks. If a validator's computer is chosen to solve the cryptographic puzzle to help secure and advance the network, the validator earns a reward.
Staking can be compared to a traditional interest-bearing account in that staked crypto earns a yield. This staking can either be done by yourself, or through a third party (a more popular option).
Though you can already stake ether via ETH2, all ether will be eligible for staking post-merge.
Bitcoin, however, will remain proof-of-work, which does not permit staking.
When given the choice of investing in two similar assets, investors tend to choose the one that pays yield, particularly in inflationary times as these.

   Sharding Will Make Ethereum Faster and Cheaper
Post-sharding, Ethereum will be able to process 100k transactions per second.
Fees will be dramatically reduced on Ethereum in 2023.
Bitcoin's transaction throughput will be 20,000x slower than Ethereum's.
The second stage of the Merge, called "Paris", will effectively switch Ethereum's consensus mechanism from proof-of-work to proof-of-stake. This upgrade (as we mentioned before) will reduce Ethreum's energy consumption by 99.95%
This switch will allow Ethereum to introduce sharding down the road (sometime in 2023). Sharding, according to ethereum.org, will dramatically reduce transaction fees while increasing transactions per second.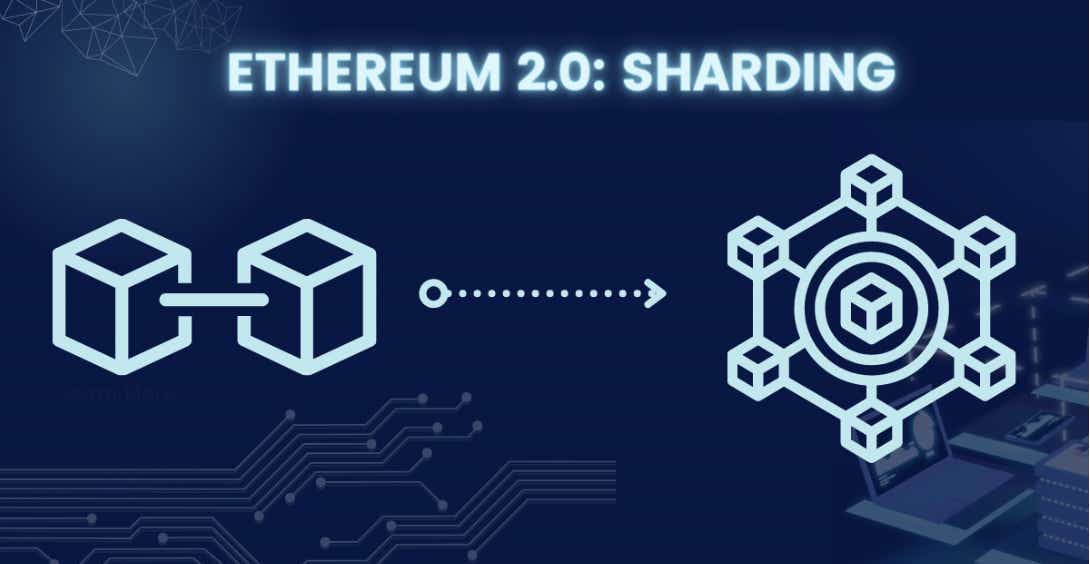 Currently, both Bitcoin and Ethereum have low transaction throughput. Bitcoin currently processes between 3.3 and 7 transactions per second while Ethereum processes about 25 transactions per second.
After sharding is introduced, Ethereum's transaction speed will increase to 100,000 transactions per second, which is greater than that of Visa.
This will make Ethereum capable of processing transactions ~20,000x faster than Bitcoin.
We mentioned before that Bitcoin is viewed by investors as a store of value. Though this is indeed true, it will be hard for investors to ignore the great utility the Merge will introduce to Ethereum.
Final Word
We have presented a case for Ethereum's potential outperformance of Bitcoin in the future. Though nobody knows what the future has in store, we can look to the past for clues.
The below graph, created from koyfin, shows the price of ether quoted in bitcoin over the past 3 years.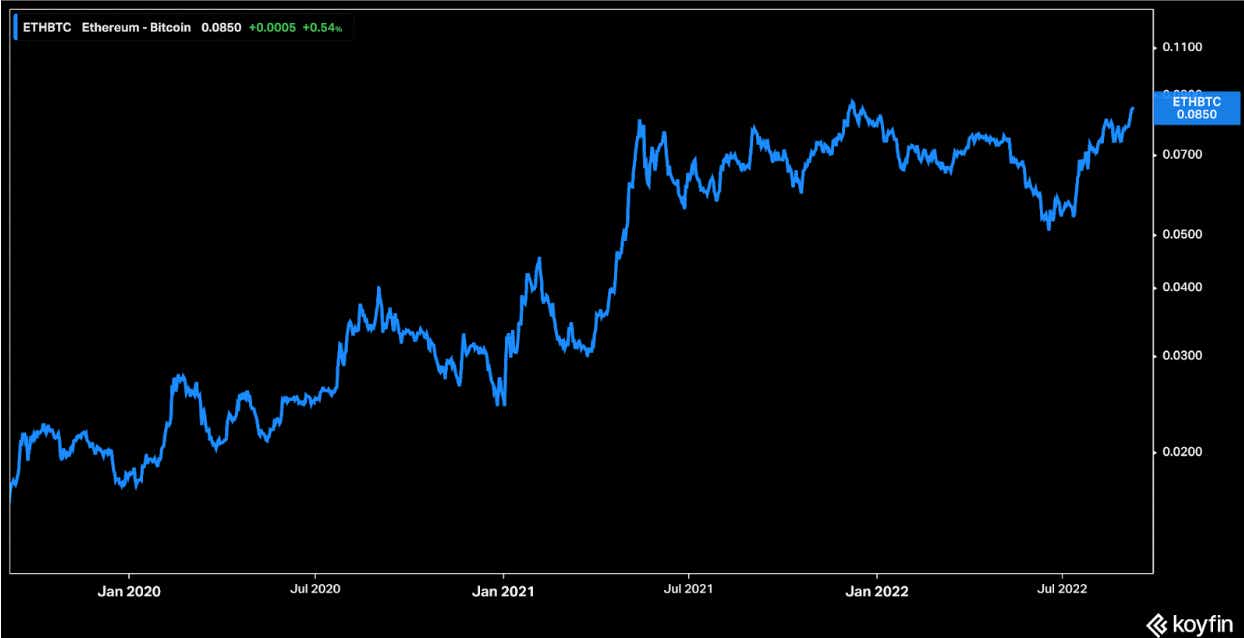 As we can see, the market is already beginning to tip in ether's direction.
Check out the tastytrade coin Bible to learn the basics of the cryptocurrencies offered on tastytrade including Bitcoin and Ethereum.
*tastytrade, Inc. and tastylive, Inc. are separate but affiliated companies.