While the U.S. economy looks vastly improved on a year-over-year basis, some new warning signs have emerged
The U.S. economy is chugging along in 3Q' 23, with the Atlanta Fed GDPNow growth tracker at a robust +5.6% annualized in real terms.
The odds of a U.S. recession in 2023 are minimal.
However, beneath the hood, some concerning signs still appear.
The soft landing for the U.S. economy has arrived. Or there may not be a landing at all, at least according to conventional wisdom spouted by a growing chorus of financial pundits. Granted, if you're a viewer of Futures Power Hour (Monday-Friday, 1 p.m. Eastern Time/12 p.m. Central Time) and Overtime (Monday-Thursday, 4:30 p.m. Eastern Time/3:30 p.m. Central Time), you've probably heard me say "check the scoreboard." So, let's do just that:

As Larry David might say, "pretty, pretty good." Growth is faster than it was a year ago; inflation is down meaningfully; and the job market remains in fairly good shape. The headline macro figures remain strong, without a doubt.
And yet, there may be more reason for concern over the coming months as some red flags begin to pop.
Labor market data has been inconsistent, with several of the recent nonfarm payrolls reports revised weaker. Job openings are rapidly declining. Bankruptcies are rising, and consumers are becoming more delinquent on revolving credit as they run down pandemic era savings. The September Federal Reserve Beige Book released this week indicated that growth was only "modest" in July and August, that "retail consumer spending continued to slow," and "hiring slowed."
That's not to say that a recession will wreck the U.S. economy in 2023 – there's simply not enough time left on the calendar to achieve two consecutive quarters of widespread contraction across several industries, as the National Bureau of Economic Research, the body that dates recessions, would say. But a deceleration of economic activity through the end of the year, culminating in a 2024 recession? Distinctly possible.
Here are three perspectives to consider on either side of the argument.
No immediate recession
1) GDP-based Recession Indicator Index

This index measures the probability that the U.S. economy was in a recession during the indicated quarter, and it corresponds to the probability (measured in percent) that the underlying true economic regime is one of recession based on the available data.
2) Smoothed U.S. recession probabilities

Smoothed recession probabilities for the U.S. are derived using four monthly coincident variables: NFP employment, the index of industrial production, real personal income excluding transfer payments, and real manufacturing and trade sales.
3) Real-time Sahm Rule recession indicator
The Sahm recession indicator signals the start of a recession when the three-month moving average of the national unemployment rate (U3) rises by 0.50% or more relative to its low during the previous 12 months.
Recession likely: A matter of when (not if)
1) New York Fed 3m10s spread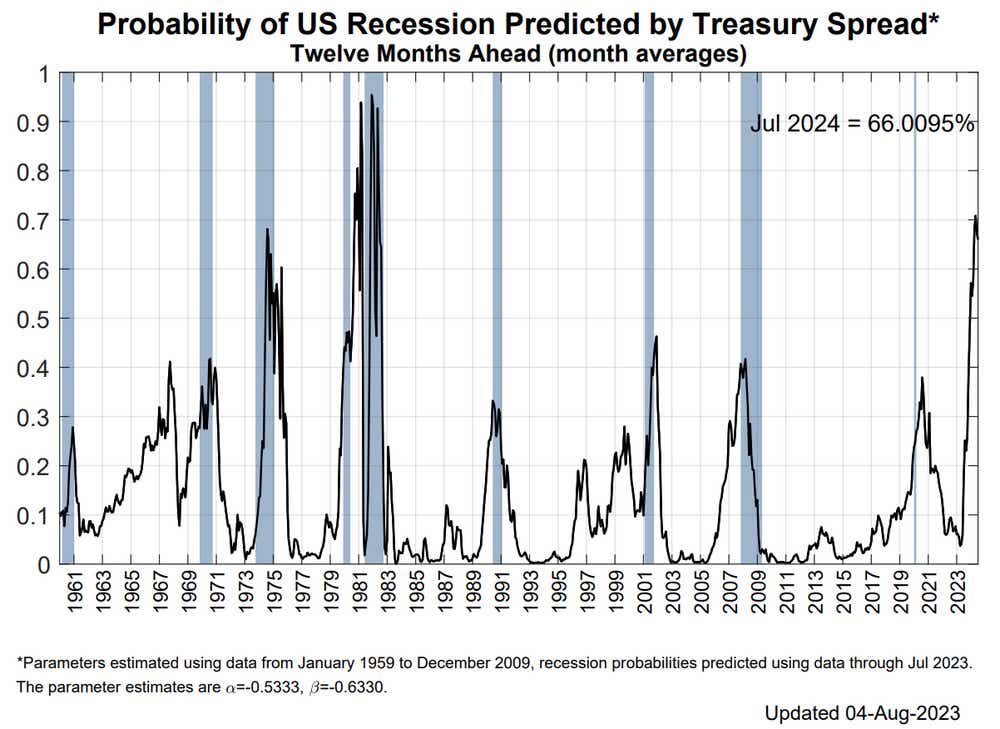 Parameters estimated using data from January 1959 to December 2009, recession probabilities predicted using data through June 2023. The parameter estimates are α=-0.5333, β=-0.6330.
2) Conference Board Leading Economic Index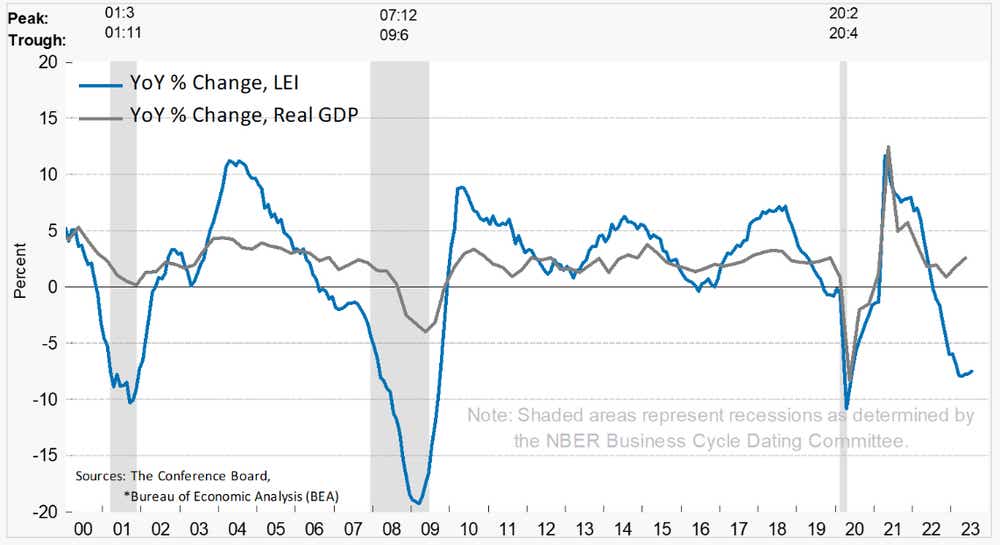 The LEI is comprised of 10 indicators that cover a wide range of economic activity, including job growth, housing construction, and stock prices. The index is designed to provide a broad-based look at the health of the economy and can be used to predict turning points in the business cycle.
3) Federal government tax receipts

Taxes collected by the federal government on a year-over-year basis. Shaded areas indicate recessions.
Signal or Noise?
In the prior US recession watch, we noted that "the U.S, economy continues to chug along, hurdling any obstacles thrown in its way. While net-short /ES positioning has been mostly cleared out, there are still a sizable number of market participants that continue to express disbelief in the state of the US economy. While the easy money may have already been made in betting against a recession in the near-term, it makes sense that, at least for the next few months, betting against a recession may still be best choice traders have."
This may no longer be the case. Contemporaneous slowdowns in Asia and Europe, led by China and Germany, respectively, suggest that two of the three legs of the global economic stool have been, or are in the process of, getting kicked out. The third leg, the U.S. consumer, is being actively targeted by the Federal Reserve's rate hikes—which have yet to fully filter through to the broader economy. With autumn upon us, a typically unfriendly time of the year according to seasonality metrics, it may be the case that we're due for choppy, sideways price action in U.S. stocks as warning signs of an economic slowdown begin to accumulate.
Christopher Vecchio, CFA, tastylive's head of futures and forex, has been trading for nearly 20 years. He has consulted with multinational firms on FX hedging and lectured at Duke Law School on FX derivatives. Vecchio searches for high-convexity opportunities at the crossroads of macroeconomics and global politics. He hosts Futures Power Hour Monday-Friday and Let Me Explain on Tuesdays, and co-hosts Overtime, Monday-Thursday. @cvecchiofx 
For live daily programming, market news and commentary, visit tastylive or the YouTube channels tastylive (for options traders), and tastyliveTrending for stocks, futures, forex & macro.
Trade with a better broker, open a tastytrade account today. tastylive, Inc. and tastytrade, Inc. are separate but affiliated companies.