Movie sequels have never been a certain path to box office success. Case in point,
Police Academy 4.
But, they do offer a worthy metaphor for the markets.
S&P 500 (SPY) volatility in 2023 is beginning to look a lot like 2017.
A ratio of VVIX-to-VIX helps to determine if the current volatility environment is one of complacency or fear.
Covered calls, long puts and calendar spreads are a few potential strategies to deploy in a low vol environment.
Hollywood loves sequels. If a movie has been a huge box office hit and the storyline has the potential to be extended, then a sequel is an absolute no-brainer.
Markets are more complicated. But sequels happen there as well.
In Hollywood, sequels have proven successful. While they have come a long way since The Fall of a Nation (1916), the first-ever feature length sequel in movie history, the formula remains the same. Studios typically choose a franchise they know will make money based on the success of the first (or previous) movie. Even better than that, the studio is essentially guaranteeing itself a profit by producing a sequel.
A sequel is certainly not assured of being better than the original. However, some do eclipse their predecessor in dollars and entertainment factor. Some of my favorite sequels that fit the bill: Return of the Jedi (1980), Star Trek II: The Wrath of Khan (1982), The Dark Knight (2008), The Godfather Part II (1974) and Rocky III (1982)—don't judge me.
But a sequel does not offer a magic formula for box office success. Movie series eventually run out of steam and must still display sufficient story originality with each new episode to keep audiences interested.
Volatility could remain low for the next few months
Why all the talk about sequels? Well, there is a ton of debate over whether the stock market is heading for a sequel of sorts. Since the regional banking crisis in March, equity volatility has been waning with each trading day that passes. Recently, the Volatility Index (VIX) has been flirting with the 13 to 15 range, which is well below the long-term average of 19.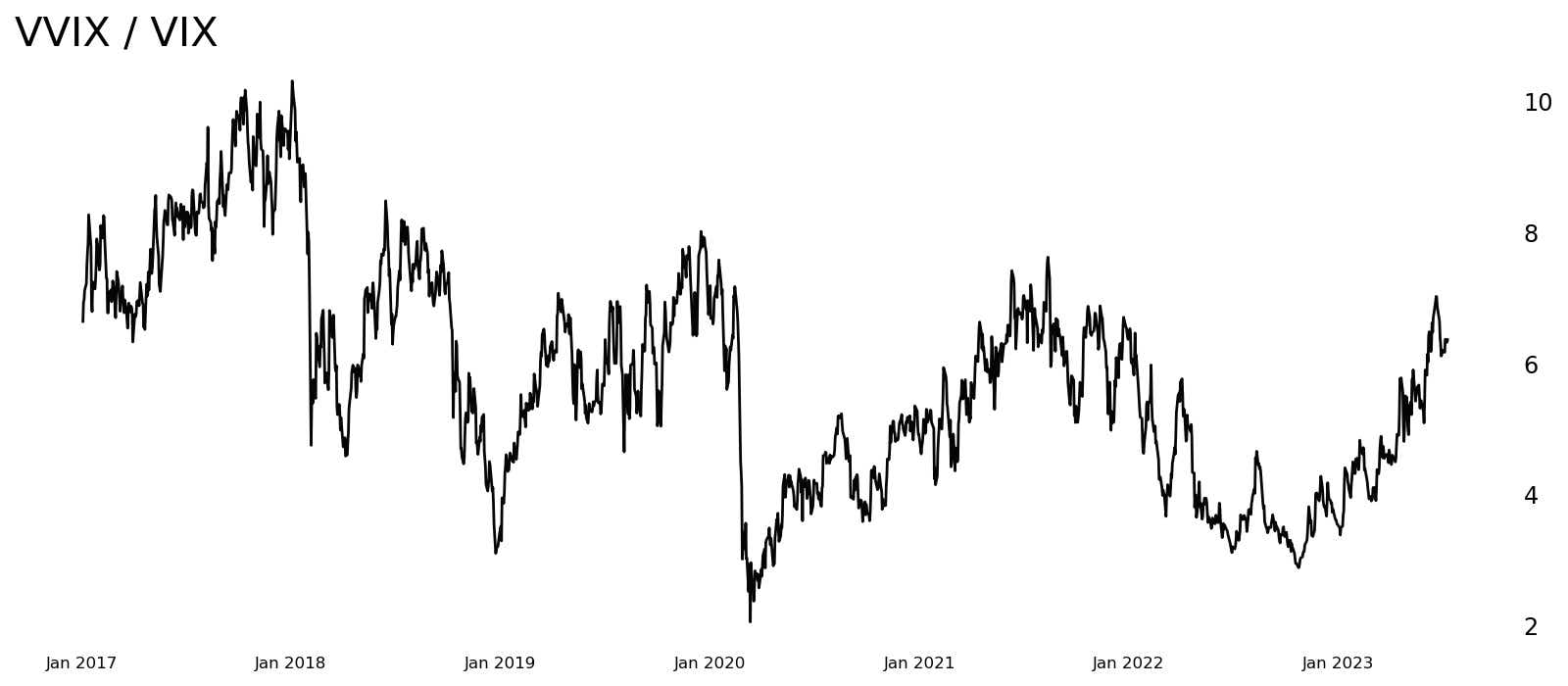 These low levels are reminiscent of the 2017 trading year in which the VIX saw a high of 17.28 and a low of 8.56, both intraday numbers, along with a yearlong average of 11.75. The lack of volatility and its potential trajectory can best be viewed in the chart above. Dividing the volatility of the VIX (VVIX index) by the VIX index itself immediately displays the level of fear (2020) or complacency (2017) in the market.
The current ratio level of seven is above average and could be heading higher as the year progresses.
How do you trade in a low volatility environment?
While current market volatility is not that low (yet), many traders are pondering the go-to strategy to trade this environment. Are covered calls the way to go?
If the market is going to continue to grind higher, then this makes sense. Maybe long puts are the answer? If the market has a sudden, violent fall, then this provides short deltas as well as a benefit should volatility rise again. Perhaps calendar spreads are in order? This is a strategy that traders can deploy in the absence of volatility, but they should remain patient regarding direction.
The best strategy to trade a low volatility environment might remain elusive or it simply might require trading restraint until the next volatility spike. Whatever it might be, just know that the sequel is not always better than the original.
 Jermal Chandler, tastylive head of options strategy, has been in the market and trading for 20 years. He hosts  Engineering the Trade, airing Monday, Tuesday, Thursday and Friday. @jermalchandler
For live daily programming, market news and commentary, visit tastylive or the YouTube channels tastylive (for options traders), and tastyliveTrending for stocks, futures, forex & macro.
Trade with a better broker, open a tastytrade account today. tastylive, Inc. and tastytrade, Inc. are separate but affiliated companies.