--Updated 10/21/2022-- 
What happened to the Instacart IPO? 
Current market volatility has frightened investors, forcing Instacart to scrap its plans to offer an IPO in 2022. In a statement on Thursday Instacart said, "In Q3, our revenue grew more than 40% year-over-year, and our Net Income and Adjusted EBITDA more than doubled from Q2." 
It's clear that factors outside of Instacart's control influenced their choice. Investors are tightening their pocketbooks and not taking on unnecessary risk in 2022. Market volatility is playing a large role in the lack of substantial IPOs in 2022. 
What about other IPOs in 2022? 
There have been 167 IPOs so far this year, which is not an unusually low number compared to previous years, but the value of the IPOs this year is down drastically. IPOs in the technology sector are especially down this year. 
2021 was a record-breaking year for IPOs and represents a unique outlier. When you look at the lack of market volatility in 2021 you can understand why investors were willing to take risks on IPOs 
Will Instacart IPO in the future? 
It is likely that Instacart will postpone its IPO until the market takes on a more confident stature. That could be 2023-2024, or later. 
The market needs to stabilize for investors to be comfortable enough to take on large positions in IPOs. It appears that the institutions that take on large amounts of risk to make IPOs possible are not willing to make that trade in 2022.  
Final thoughts
If Instacart continues to grow their client base and overcome the obstacles outlined in this article, it will be only be a matter of time before Instacart brings their IPO to market. 
An IPO can be very lucrative for the employees that own stock in the company and they are going to want an IPO to happen in the future. It is understandable why Instacart would see not offering an IPO in 2022 as a disappointment.  
On the bright side, as the market recovers the valuation that Instacart receives will increase. If business goes well, Instacart will also be a larger business in the future, which would also increase their value. Patience can be difficult and profitable.  
--Instacart IPO background--
On May 11th, 2022, Instacart announced that it had confidentially submitted a draft registration statement on form S-1, which is a document that the Securities and Exchange Commission will review when a private company that operates in the United States intends to go public. This is an announcement that is required by Rule 135 in accordance with the Securities Act of 1933. As investors, this announcement informs us that a company is going to be made available to purchase publicly, and that we will be able to review the S-1 document in the future to perform due diligence.
Instacart's IPO represents an opportunity for investors to gain access to an investment that directly operates grocery delivery and pick-up services. Instacart has often been referred to as a "pandemic stock" that gained an incredible amount of value during the peak of the Covid-19 pandemic. With that in mind, it is understandable why Instacart wants to capitalize on its recent success and popularity by going public via IPO to raise capital.
Instacart's announcement did not provide an intended IPO date or any financial targets.
What is Instacart?
Instacart was founded in 2012 by former Amazon employee Apoorva Metha.  Instacart was originally launched in and is currently based out of San Francisco. Instacart offers its services via a website and mobile application. This service allows individuals to purchase grocery products via a webpage and mobile app, where a personal shopper selects, packs, and delivers the order within a certain timeframe. Customers pay a minimum service fee that increases with the size of the order.
Customers can also provide the personal shopper with gratuity during the purchasing process and receive real-time text alerts if a product is not available. The shopper can then send potential substitutions that the customer can pick or choose. In addition to this, Instacart offers a paid monthly and annual membership program, which waives delivery fees on orders over a specified price.
Retailers that participate in Instacart's partnership program set the individual price of items that they offer through Instacart's marketplace. The prices for items that these partners offer often represent similar prices to what is offered in-store. For stores that do not participate in the Instacart partnership program, customers are often charged a markup that varies greatly. Anywhere from a negative markup to more than 50%.
Additionally, customers are offered the opportunity to pick up their Instacart orders in store. These orders are often processed through a third-party service that is offered by the store that the customer is picking up from. If an order is incorrect or does not arrive, customers can contact Instacart directly to assist in remedying the order.
Key Takeaways:
Instacart was founded in 2012 by Apoorva Metha, who has experience working at Amazon on developing fulfillment systems.
Instacart customers have access to Instacart's network of store partners, as well as stores that are not in the network.
Instacart acts as an intermediary to resolve customer problems with orders.
Why does Instacart want to IPO?
Instacart has been operating for 10 years and now operates in all fifty states with more than 40,000 stores, in more than 5,500 cities. Experts have long projected Instacart's IPO and most recently stated that Instacart will likely go public in the second half of 2022. It is likely that these recent projections are based on the record-breaking pace of IPO valuations set in 2021. However, 2022 has seen a significant pullback in the rate of IPOs, which has thus far been dwarfed by 2021.
Due to the success Instacart has seen over the last 10 years, accelerated by the last two years of pandemic-related lockdowns, Instacart has been one of the most anticipated IPOs in recent history. In March of 2021 Instacart's valuation was stated at about $39 billion, following a round of funding. However, in March of 2022, Instacart reported a valuation of about $24 billion, cutting its valuation by about 39% from one year prior.
For Instacart's IPO to be successful, it is vital that Instacart leverages its current business relationships to create a stronger foothold in the grocery delivery industry. The relationships that Instacart has with companies such as Sam's Club, Kroger, and Costco are essential to its valuation.
As time passes and these relationships age, it is likely that the companies Instacart has partnered with will diversify and expand the number of delivery service companies that they operate with. This incentivizes Instacart to capitalize on the added value of these relationships now, rather than later.
Why did Instacart cut its valuation in early 2022?
The reason for the recent drop in valuation could be contributed to several different factors. It is likely that in early 2021 Instacart was benefiting from a change in consumer behavior that directly correlated to pandemic-related lockdowns. Going public, or stating that they would go public soon, in early 2021 built interest for investors. Riding the "pandemic stock" wave likely gave Instacart a valuation higher than what would be sustainable in the future.
Now that we are in Q2 of 2022, and pandemic lockdowns are easing in the United States, it is likely that Instacart cannot confidently state that a $39 billion valuation is reasonable for their current operations. This decrease in valuation would have to be in relation to a decrease in the amount of business that they are currently conducting. Thus, the recent and significant drop in stated valuation.
That said, we must also consider current market conditions. 2022 has seen turbulent market conditions. Steadfast index-related stocks across the board have seen large declines in value. Global economic conditions have proven detrimental to the ability for even the largest of companies to continue to do business at rates that were common in pre-2022 markets. Technology companies have been among those hit the hardest.
Instacart's Competition
Instacart's timing and interest in pursuing an IPO has much to do with the industry it operates in and the competition that is being created in its wake. The bigger Instacart gets, the more customers it attracts, and the larger the target grows on Instacart's back.
Companies such as Amazon, Walmart, Target, and DoorDash, are all competing to grow their market share of grocery delivery services and customers. Amazon now offers AmazonFresh, Walmart is developing its Walmart+ services which include grocery delivery, Target has been developing fast delivery services, and DoorDash has added its own grocery delivery services and continues to advertise those services to its existing customers.
As time passes, Instacart's competitors are better able to leverage their existing customer base and technology to compete with Instacart. Soon these name brand retailers, as well as smaller market retailers, will have alternative partnership programs that are more attractive than what Instacart will be able to offer.
We are already seeing the success of secondary and tertiary markets that don't market themselves to an audience as large as those that Instacart does. These companies include Shipt, FreshDriect, Blue Apron, Postmates, Peapod, Thrive Market, Cornershop, and Dumpling, among others. Each of these companies operates more regionally than or targets a market that is not as diverse as those that Instacart targets.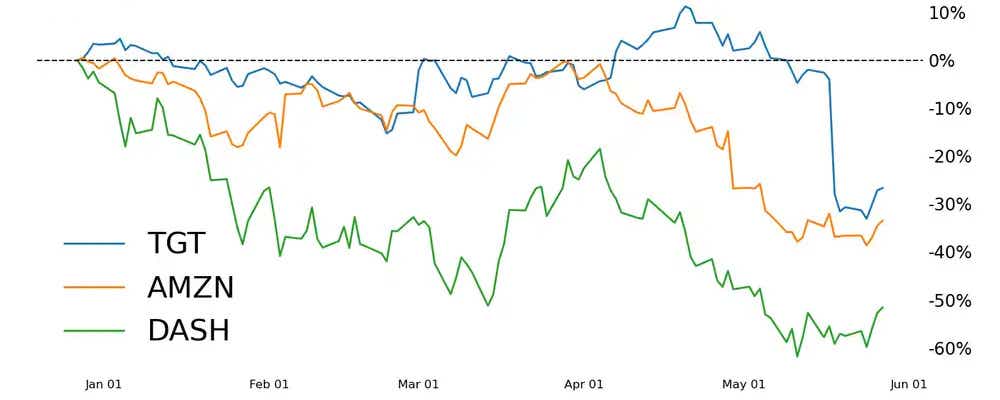 Does the future favor Instacart's model?
In the last decade, Instacart has proven that there is a market for grocery delivery and pick-up services. The "gig economy" is proving to be a sticky concept that has benefited the individuals that operate as independent contractors to perform the task and the individuals making the purchases that fund the activity. Consumers have shown that they are willing to pay for the increased convenience. 
It is possible that as the globe transitions out of pandemic-related lockdowns individuals will be more likely to forgo the convenience of having their grocery shopping delivered to them and return to the store themselves. At the same time, there is a portion of the consumer base that now relies on the added value that companies like Instacart can provide them. 
Instacart faces challenges related to a large and growing employee base, as well as laws that vary from state to state within the United States. On top of that, any international aspirations for Instacart will be met with increased competition and the cost associated with operating in countries that don't have a contracting structure for employees that they rely on in the United States. 
The grocery industry already operates on tight margins and Instacart brings a model that adds fees and value-added costs to the consumer. It is likely that consumers are going to become less likely to consider Instacart services as fees and expenses increase. If Instacart can find a way to mitigate additional fees it can continue to build its clientele and provide value for its customers. If it cannot, it will lose customers who opt to return to the store themselves.
How should you trade the Instacart IPO?
Projections indicate that 2023 will see an increase in Instacart's sales and operations. Many signs point to continued success for Instacart. If Instacart does IPO in 2022, it will likely be the largest IPO of the year.
Negotiations between Instacart and investment banking institutions are likely ongoing. JP Morgan Chase and Goldman Sachs are reportedly continuing to work on the deal. If negotiations go well for Instacart an IPO is likely in its future. If negotiations do not go well and Instacart cannot provide financial reports that indicate future success, an IPO may not be in Instacart's future. If Instacart does not IPO, alternatives such as a direct listing are more likely.
Assuming Instacart does IPO this year, investors are going to seek out value. Instacart's decision to cut its valuation is a great way to indicate that value to investors who think its business model will thrive in the future. At the same time, it indicates that Instacart cannot justify the valuation it received a year before. Investors must decide if Instacart can continue to provide the value and technology that customers have been taking advantage of so far.
If Instacart decides to go public, they open themselves up to the scrutiny and short-term competition that comes with being a publicly traded company. The question will then be, can Instacart's model continue to be profitable after the changes that come with being a publicly traded company? The answer will only be available once investors are able to analyze Instacart's financials for themselves, after they become a publicly traded company.
To trade Instacart options or invest in shares after it lists, open an account on tastytrade
tastytrade, Inc. and tastylive, Inc. are separate but affiliated companies.